As the Defense News weekly reported on Thursday, the Pentagon decided to rearm its newest "invisible" destroyers of the Zumwalt class (aka the project DDG-1000) and change their purpose. The publication notes that the 2019 fiscal year, which will start on October 1 of the current calendar year, the Defense Ministry has requested from the US Congress $ 89,7 million to re-equip other rocket systems of two such ships that are currently available.
After a comprehensive analysis of the requirements for Zumwalt class ships, the Navy leadership decided to reorient the main destinations of these destroyers - from attacking ground targets to fighting surface ships.
- cites the publication of an excerpt from the Pentagon's draft budget sent to members of the February 12 Congress.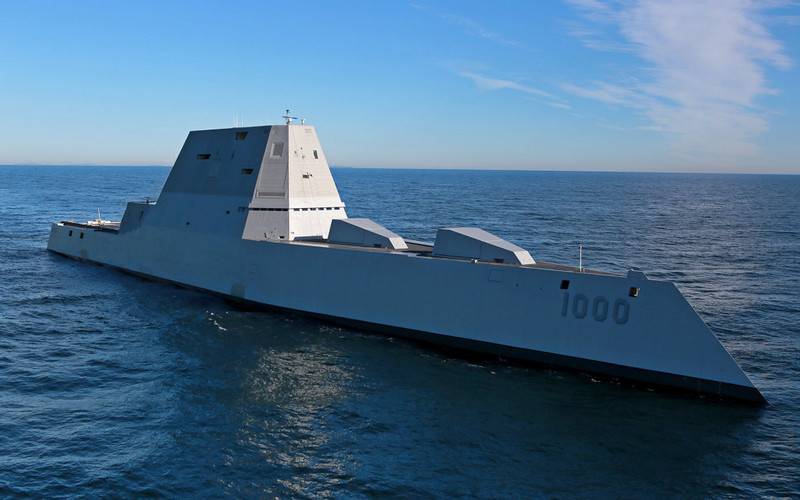 For these purposes, it is supposed to equip the destroyers with SM-6 anti-aircraft missiles with an active homing system. Their range is over 370 km. They can also be used to destroy surface and ground targets. In August last year, during tests conducted by the Navy, with the help of the SM-6, a medium-range ballistic missile was shot down.
For the Navy, it is planned to purchase 125 of such missiles manufactured by Raytheon Corporation over the next five years.
In total, the Navy should receive three destroyers of the project DDG-1000, and all of them will be based on the Pacific Ocean.
Initially, the ships of the project DDG-1000 were intended to provide fire support in amphibious operations and combat operations on coastal directions, launching missile and artillery strikes against ground targets, including in the depth of the enemy's territory. In addition, their task will be to provide zonal air defense and anti-missile defense of aircraft carrier multipurpose groups.
The lead destroyer, who was given the name Zumwalt, was laid out in the 2010 year, launched in October 2013 of the year and entered into the Navy in October 2016 of the year. But so far in the port of registry - San Diego (California), the additional equipment and the vehicle's additional equipment continues.
The second - Michael Monsoor is passing the sea trials. The third - Lyndon B. Johnson was founded in January last year, reports TASS