Representatives of Ukraine in the humanitarian subgroup in Minsk refused to discuss the second stage of the upcoming exchange of prisoners, reports
RIA News
the message of the Ombudsman of the Donetsk Republic Darya Morozova.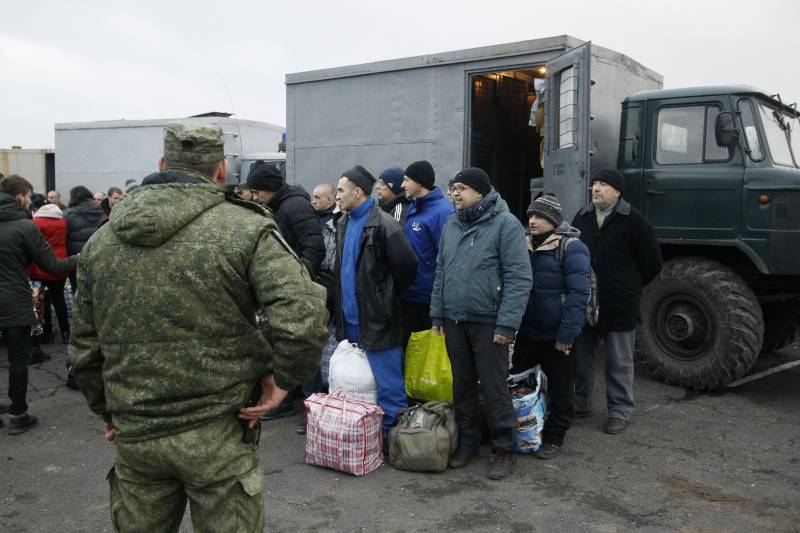 At the next meeting in Minsk, which took place on 14 February 2018, the Ukrainian side refused to discuss the second stage of the upcoming exchange of held persons, as well as the remaining issues on the agenda, voluntarily and without motivation leaving the meeting of the working group on humanitarian issues, thereby showing disrespect to all participants in the negotiation process,
told Morozova.
She also noted that the proposal previously voiced by Kiev regarding the next stage of the exchange is unacceptable for the DPR.
The formula "16 on 6", proposed by the Ukrainian side, includes persons who were previously divided into so-called categories: especially serious crimes - one person, crimes not related to anti-terrorist operation - 11 people, four people recently detained by the special services of Ukraine, but not included representatives of the DNI in the list on the exchange. This proposal is not acceptable for us, since we regard the termination of the categorization by the Ukrainian side as an opportunity to carry out a full-fledged second stage of the exchange according to the formula "all installed on all established"
Morozova told reporters.
Recall that at the end of December 2017, the first exchange of prisoners took place in 15 months. After that, the Kiev authorities announced the preparation of the next stages of the exchange.