Finnish military experts were alarmed by the tests of the newest Russian reconnaissance ship Ivan Hurs passing in the Baltic. They believe that the communications ship, as the ship is officially called, can not only conduct electronic intelligence, but also suppress the GPS navigation signals of NATO missiles. This is reported by the largest Finnish newspaper Ilta-Sanomat.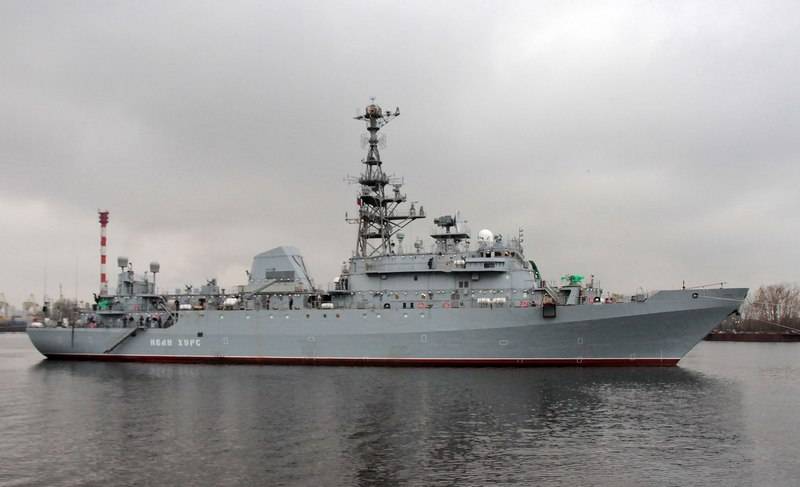 However, Petteri Lalu, a professor at the National University of Defense of Finland, believes that "Ivan Khurs" is intended primarily to collect data on the exchange of information between the armed forces of other countries, as well as to learn the characteristics of radio-electronic equipment. However, he does not exclude that Russian designers are developing a system to create interference with rockets.
It is possible that the "Ivan Khurs" and the ship of the same class have such radio countermeasure systems. However, weapons systems that use GPS, make it resistant to interference, and it is impossible to influence inertial navigation missiles
- quotes the publication Petteri Lalu.
He is also confident that the reconnaissance ship will not interfere with the testing in the Baltic Sea.
Recall, the reconnaissance ship of the 18280 project "Ivan Khurs" is the first serial ship in the series. The communications vessel was laid in 2013 and launched in May 2017.
The design of the communications vessel has incorporated the characteristics of a variety of shipboard life support systems, including the cost-effectiveness and operational characteristics of the ship's power industry, which makes it possible to have the required autonomy of navigation. Most of the management processes of standard technical means and airborne armaments are automated.
- informs the Ministry of Defense of the Russian Federation.
The ship's displacement is about four thousand tons. The length is about one hundred meters. Cruise range over 8 000 nautical miles at speed in 16 knots. The crew of the sea reconnaissance is 131 people, reports "RG-Force"