Commenting on the prospects for the Russian threat to the Baltic region, Lithuanian President Dalia Grybauskaite said that it is not the assessments that are important, but what happens near the borders of the republic.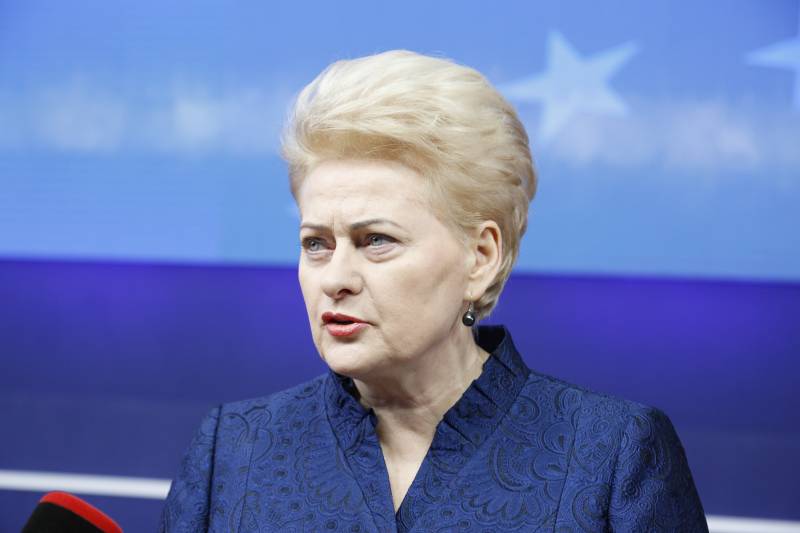 According to her, Lithuania witnessed aggressive offensive exercises directed directly against the West.
They demonstrated a significant readiness to concentrate large military potential on our border - not only the border of Lithuania, but also of all the Baltic states. The West-2017 exercise also demonstrated that Russia will be ready to launch an attack within 48 hours across the border line with NATO states: the Baltic states, Poland and even in the Arctic region,
quotes Lithuanian president
InoTV
.
Grybauskaite is sure: this indicates that "there are now more security challenges than in the 2014 year." In particular, "last week the Russian Iskander missile systems were deployed on a permanent basis in the Kaliningrad region, and this means that the threat is affecting already half of the European capitals." And this suggests that the republic needs to further strengthen its harrow.
She expressed confidence that her country "became the object of a certain type of attack" by the Russian Federation.
I mean an unusual attack, we can even sometimes call it a military situation. We are witnessing information attacks, interference in our policies, certain influences in some media groups. Consequently, from this point of view, we already feel very strongly that in an unusual area we are in a state of serious confrontation between the eastern flank of NATO and Russia,
explained the president.
She does not believe in the claims of Russia that the deployment of Iskander is a response to the expansion of NATO's infrastructure at its borders.
Today, on the eastern border of NATO and in the western regions of Russia, there are ten Russian soldiers per NATO soldier. So, the fear of 1 from thousands of NATO soldiers in Lithuania or a little more in Poland, and in general four thousand soldiers in the whole region, in the three Baltic states - this argument does not work,
said Grybauskaite.
The Lithuanian president is confident that Russia has taken such a step, as usual, in order to demonstrate its strength and its aggressive position.
This is not surprising, since the annexation of the Crimea, we see this behavior. Therefore, we must be prepared and invest very seriously in our defense. We have created a rapid reaction force, we invest two percent of GDP in our defense capability, we are modernizing the army. These are the lessons that we have learned from Russian behavior,
she concluded.