The reaction of individual users of social networks to the publication of the image of the "Soldier of the Future" equipment had to be commented on by Rostec officials. Recall that after the publication of the image in the vice-premier Dmitry Rogozin's microblogging, users declared that the equipment was "plagiarized", pointing to a certain kind of similarity to the equipment of virtual fighters in one of the computer games. Attention was drawn to the fact that even the perspective of the "Soldier of the Future" is similar to the perspective of a computer game presentation.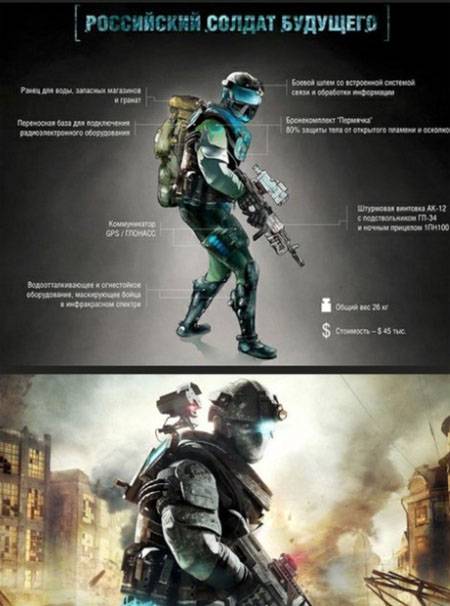 Rossiyskaya Gazeta publishes statements from the spokesperson of Rostec. From the statement:
To put it simply, the images of the soldiers of the future, which we see now in science fiction, are the ideal towards which absolutely everything moves, and which in the future will be embodied not in 3D graphics, but in reality. The equipment developed in different countries is designed to solve the same tasks: protect the fighter well, multiply his capabilities on the battlefield, allow him to better hear, see and navigate. On this basis, a stable set of equipment elements has been formed. It is repeated not only in military developments, but also in computer games, science fiction films.
Speech in this case is about the similarity of equipment with the graphics of the computer game "Tom Clancy's Ghost Recon: Future Soldier".
At the same time, Rostec adds that in fact only the concept of equipment has been published, and its real appearance and detailed "composition" are currently classified.