Former Italian Prime Minister Silvio Berlusconi, who does not give up political ambitions, today announced that he was depressed by the state of affairs with international security. According to the Italian politician, he believed that the world had left forever the Cold War, but the current situation suggests otherwise. At the same time, Berlusconi calls himself "one of the architects of the world after the end of the Cold War."
According to the ex-premier of Italy, the Cold War did not really end in 1990, but 2002. Italian media quoted Silvio Berlusconi as saying:
When I worked in the government - in 2001 - I then said publicly that I was going to put an end to the Cold War. It lasted about half a century and was in fact terrible. And I got my way. I managed to put an end to the Cold War, because here in Rome, in Pratica di Mare in 2002, I persuaded George Bush (Jr.) and Vladimir Putin to end the confrontation. I used all the opportunities I had at that time.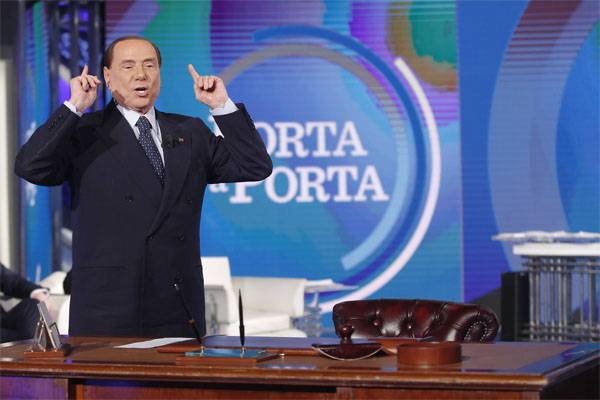 From Vladimir Putin's statement in Italy on 2002, at the very meeting Berlusconi is talking about:
I heartily thank our Italian friends and Italian Prime Minister Silvio Berlusconi for the hospitality and the excellent organization of the meeting.

I can imagine how difficult it was in such a short time to do what was done. The value of this meeting is difficult to overestimate. More recently, a similar meeting of the leaders of Russia and NATO member countries, given its current format and considering its quality, would be simply unthinkable. These days it has become a reality. This is a reality that has become possible thanks to intense joint work and readiness for an interested and absolutely open dialogue.

We adopted a Declaration, which clearly defined the principles of interaction, established a mechanism in the form of a new Russia-NATO Council, and have already formulated the initial areas of joint efforts. And therefore we firmly hope that the Roman document is not a statement of intent, but a solid basis for joint constructive work.

In conclusion, I would like to note once again: the new reality of our relations is a direct reflection of the new level and quality of mutual understanding. I believe that the efforts we have jointly spent in favor of peace will continue. We have no alternative to this.
Sociologists in Italy believe that in the upcoming elections (4 in March), the conservative alliance of Silvio Berlusconi "Forza Italia" and the League of the North will take first place. NATO has already announced that this could "lead to the rapprochement of Italy with Russia."