The President of the Russian Federation today signed a decree awarding the Order of Zhukov to the legendary warlord of the Great Patriotic War, General Alexander Lizyukov (posthumously). From the official statement of the press service:
For the skillful organization of combat operations of troops during the strategic operations of the Great Patriotic War in 1941 – 1942, award Major-General Lizyukov Alexander Ilyich with the Order of Zhukov (posthumously).
Rewarding General A.I.Lyzyukov was actually a gift to Voronezh, the military
история
which is associated with the name of the famous general - to the 10 anniversary of awarding the honorary title of the City of Military Glory.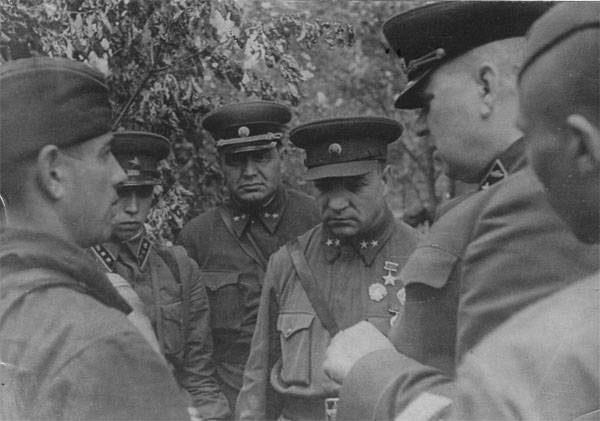 General Lizyukov in the center
It was near Voronezh in the summer of 1942, General Lizyukov died in battle, during which he tried to inspire tank fighters with his personal example. From the memoirs of Konstantin Rokossovsky:
In these battles, the commander of the 5th
tank
Army General Lizyukov. He moved in battle formations of one of his formations. To inspire the tankmen, the general rushed forward on his KV tank, burst into the enemy's position and folded his head there.
Historians argue about the details of the death of the general and what prompted him to directly participate in a tank battle.
In the name of Alexander Lizyukov one of the main streets of Voronezh is named, which today is known far beyond the borders of the capital of the Black Soil Region.
For reference: Alexander Lizyukov was born in 1900 year in the Gomel region. During the Great Patriotic War, he showed himself to be an outstanding commander. During his lifetime, he was awarded two Orders of Lenin and the title Hero of the Soviet Union.