Representatives of the Red Crescent delivered humanitarian aid to the Eastern Guta. Residents of Ar-Rastan in Homs forced the terrorists to leave the city. Reports about it
FAN
with reference to Syrian sources.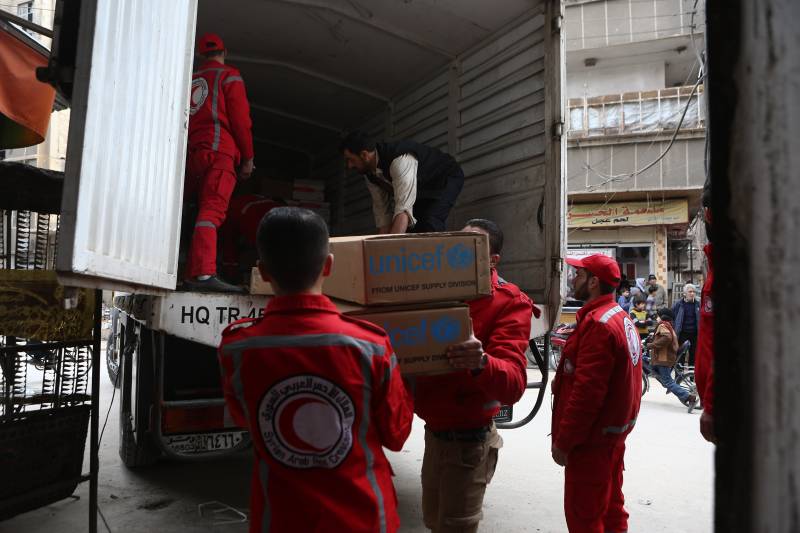 One of the cars with humanitarian aid in Eastern Gute.
In the past 24 hours, residents of An-Nashabiya in Eastern Ghouta received humanitarian aid from the organization of the Red Crescent. Nine trucks of food and medicine were distributed among the civilian population. This was made possible thanks to an agreement that was concluded during negotiations between the opposition and the authorities of the UAR. By the evening, there was information about the beginning of a new offensive by militants of the IG (the group was banned in the Russian Federation), based south of Damascus, against Dzhebhat al-Nusra (banned in the Russian Federation). The fighting took place in the Hajar Al-Aswad area, as well as in the area of ​​the Al-Yarmuk refugee camp.
It became known that during the military operation of the Syrian Free Army (FSA) and the Turkish forces in the north-west of Aleppo, Kurdish units lost at least 10 percent of the territories of the canton of Afrin. Turkish military aircraft throughout the day did not stop air strikes against the positions of the Kurdish National Self-Defense Detachments (YPG). At least 46 objects were destroyed. The Syrian Democratic Army (SDF), in turn, destroyed the tank of the Turkish army ACV-15 near the city of Bulbul in the western part of Afrin.
In the morning, there were reports that the Syrian army intends to launch a full-scale offensive by stripping the Rastan boiler from the Al-Nusra terrorists. The UAR forces are also planning to once again attempt to peacefully resolve the conflict with the groups of the so-called "moderate opposition" and conclude an agreement on the evacuation of the radicals in Idlib. Meanwhile, the residents of Al-Rastan managed to rid the city of the presence of the Al-Nusra militants. Recall, people took to the demonstrations, demanding the group to leave the city, after the Islamists shot one of the members of the civil council.
In the province of Deir-ez-Zor, CAA soldiers found another repository with
weapons
Igilovtsev to the west of the strategic city of Abu Kemal. All ammunition has been removed.
Russian and Syrian military aircraft carried out a massive attack on Islamist positions in the vicinity of settlements of Sarj, Huwain, Al-Taman, Raf and Umm Jalal in the south-east of Idlib province. At the same time, the SAR artillery bombarded the positions of the radicals near the villages of Bedam, Khuvain and Zarzur. Also recorded fights near the city of Tal Sultan. On the losses of the parties are not reported.