The French company Nexter Systems (KNDS) has received an order for the development and production of advanced VBMR Leger armored vehicles for the French Armed Forces with the wheel formula 4х4, reports
bmpd
.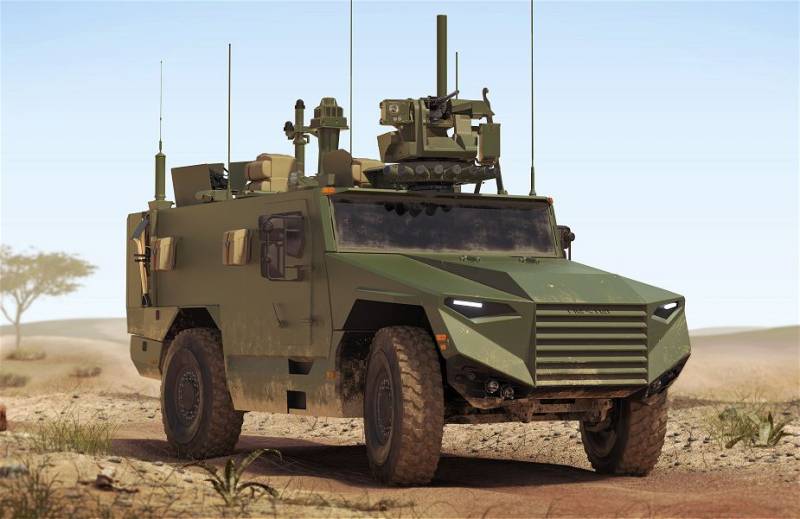 The design image of the promising French armored vehicle Nexter VBMR Leger with the 4 x4 wheel formula in the reconnaissance version.
It is reported that the VBMR Leger will become the third model of promising wheeled armored vehicles of the French army under the SCORPION program after previously contracted armored vehicles with 6x6 VBMR Griffon and EBRC Jaguar wheel formula (to be produced by the Nexter consortium, RTD and Thales).
"The VBMR Leger machine will be designed and manufactured in five contracted options, including a patrol (armored personnel carrier), reconnaissance vehicle, communications vehicle, EW vehicle, and sanitary. In the future, it is possible to develop several more variants (commanding, engineering, vehicles of advanced artillery observers), "the material says.
According to the recently announced French state armaments program for the period 2019-2025, by 2025, the French armed forces are supposed to supply 489 VBMR Leger machines. The cost of one serial machine should be from 500 to 700 thousand euros.
Characteristics of the machine is not disclosed. Presumably, its combat weight will be about 15 tons. Capacity patrol options - 10 paratroopers.