Serial production of an upgraded version of the heavy helicopter Mi-26Т2В, which will be able to work in all weather conditions and at any time of the day, will begin in the 2019 year, reports
RIA News
a message from a representative of the Russian Helicopters holding.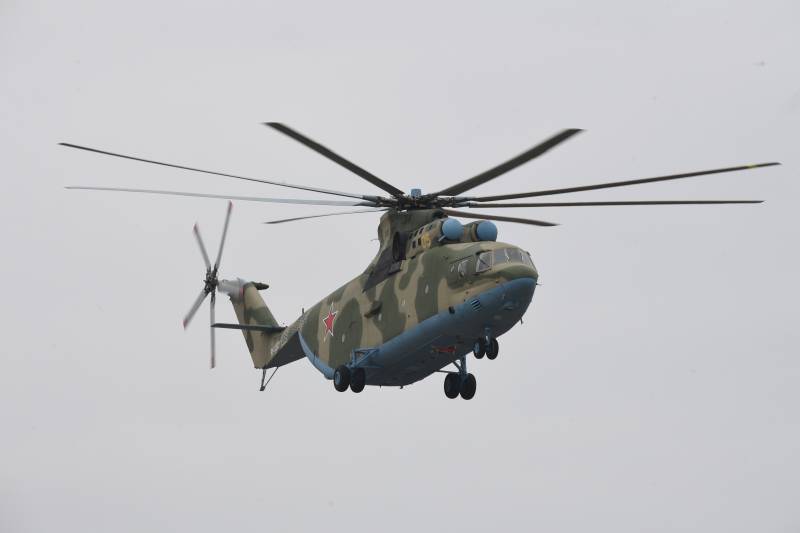 Currently, on the basis of the design documentation developed by the Moscow Mil Helicopter Plant (MVZ) named after M. Mil, the Rostvertol plant is working on creating a prototype new Mi-26Т2В helicopter for the Russian HVAC. After the production of the OP-1 (first prototype), in the second half of 2018, the helicopter will be transferred to the cost center for the flight test complex. Serial production is planned for 2019 year,
told the agency companion.
He recalled that "the main requirement of the military department for a new car is the ability to fly in conditions of any region, including those with difficult geographic and adverse climatic conditions, at any time of the day, along equipped and unequipped routes, and over the terrain with a lack of landmarks, in the conditions of fire and informational opposition of the enemy ".
The company also reported that the helicopter is equipped with "a modern integrated on-board electronic equipment complex NPK90-2, which provides piloting of the helicopter day and night with automatic flight en route, exit at a predetermined point and landing, as well as pre-landing maneuvering and return to primary or alternate airfield. "
The airborne defense complex protects the helicopter from being hit by air defense missile systems "by detecting threats and countering attacking weapons with radio and optical-electronic guidance."
The helicopter can carry up to 82 paratroopers with a full complement of weapons or up to 20 tons of cargo inside the fuselage or on an external sling.