Georgian citizens who participated in the 2014 Maidan events of the year told about who got the sniper
weapon
in Ukraine. According to the Georgian snipers, they received weapons for its subsequent use in the center of Kiev from Sergey Pashinsky, who a few weeks after the Maidan bloodshed was acting head of the presidential administration of Ukraine. Today, Mr. Pashinsky heads the Verkhovna Rada Committee on National Security and Defense.
In an interview with a correspondent
RIA News
, one of those who participated in the Kiev events - Koba Nergadze - said that on February 14-15, he and other representatives of the sniper teams gathered at the Ukraine Hotel in the center of Kiev. According to Nergadze, Andrei Parubiy and Sergey Pashinsky conducted the gathering. At the same time, Pashinsky declared that Georgian snipers should help the "brotherly people" and "will soon receive an important task."
During the interview, it was noted that February Pashinsky 19, along with the escort, brought weapons to the Ukraine Hotel. These are Kalashnikov assault rifles, caliber 7,62 mm, SVD, SKS carbines and foreign-made carbines. According to Pashinsky, "all these weapons are for protection."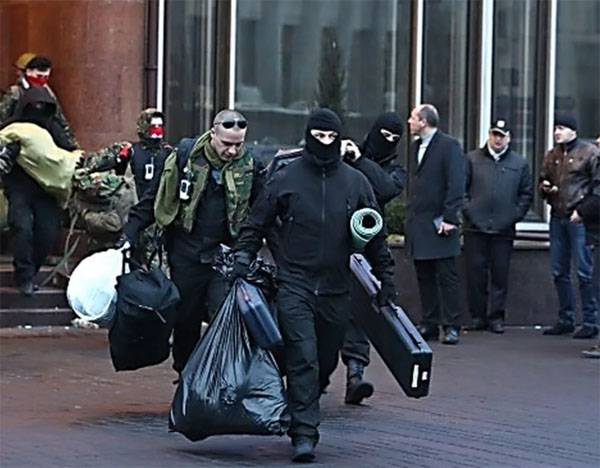 Of
interview
with another Georgian participant of those bloody events - Alexandrov Revazishvili:
At night, around 4 or 5 in the morning (February 20 2014) I heard shots, as it seemed to me, from the side of the October Palace. Pashinsky jumped up, grabbed the walkie-talkie and started screaming to stop the fire and that was not the time. Shooting stopped immediately. Around 7: 30 in the morning, maybe later, Pashinsky ordered everyone to get ready and start shooting. Make two or three shots and immediately change the position. The shooting took about 10-15 minutes. After that, we were ordered to drop the weapon and leave the building.
Earlier, an interview with Georgian gunners released the Italian "5 channel", in which it was reported on the actions of mercenaries from Georgia to participate in the coup d'état in Ukraine.