The Russian Ministry of Defense reports that it has received information concerning the plans of the terrorist group "Front al-Nusra" (* banned in the Russian Federation) in Syria. According to the information department of the Ministry of Defense of the Russian Federation, the terrorists of "Al-Nusra" *, together with the White Helmets, controlled by the pseudo-legal advocacy organization, are preparing another provocation using chemical
weapons
in the province of Idlib.
It is reported that the militants are ready to bring over 20 cylinders with chlorine to the city of Serakib. Also, the "Front of Nusra" * distributes personal protective equipment between the controlled forces.
In the Ministry of Defense of the Russian Federation it is reported that this information was reported by one of the local residents.
RT
cites a statement by a representative of the main defense department of the Russian Federation:
According to the caller, representatives of the local White Helmets conducted rehearsals for "first aid" in personal protective equipment for the allegedly injured local residents from poisoning. All this, the Syrian drew attention, was filmed by cameras by professional television correspondents, who, commenting on the actions of the representatives of "White Helmets", put a case with the words "CNN" on the microphone.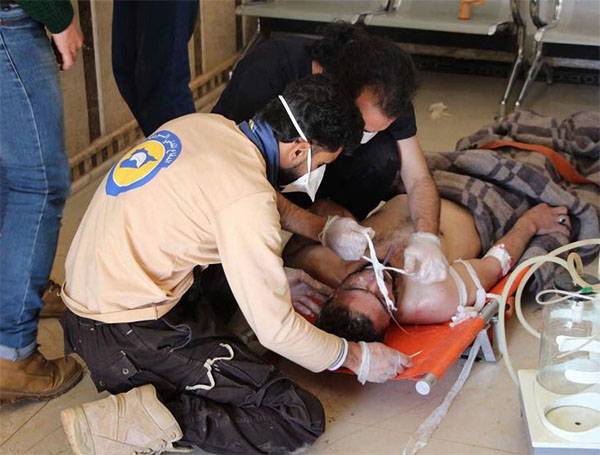 It is noted that the negotiations during the filming of fake material were conducted in English.
Recall that earlier "White Helmets" accused the Syrian government army of using chemical weapons (sarin) against civilians. At the same time, video materials were shown on which "human rights activists" ran among the "victims of Assad's hardening strike" without elementary personal protective equipment, which the Russian side repeatedly pointed out, calling for an objective investigation of the attack. Western partners did not respond to these calls, eventually issuing a report, even without visiting the territory allegedly subjected to sarin infection.