Large-scale field exit of scouts serving in the marines, motorized rifle and
tank
compounds, began at the test sites of the Eastern District in eight regions of Russia, reports
TASS
message press service BBO.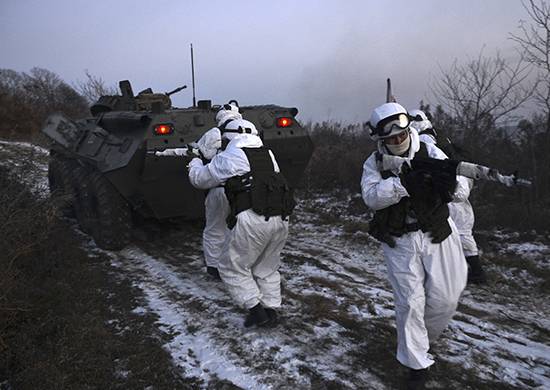 On the grounds of the Eastern Military District, stationed in the Republic of Buryatia, Trans-Baikal, Khabarovsk, Primorsky, Kamchatka Territories, Amur, Sakhalin and Jewish Autonomous Regions, a large-scale field output of the marines, motorized rifle and tank units began. In total, over two thousand servicemen were involved in combat training activities, more than 100 units of combat and special equipment were involved,
says release.
It is reported that the military "on various reliefs work out the search and liquidation of groups of conditional terrorists with the help of UAVs and reconnaissance radar stations SBR-5 and ПННР-8".
Scouts are engaged in the organization of ambushes, including using various methods and techniques of masking, install explosive devices along the route of equipment of the conditional enemy.
In addition, the participants of the field exit "work out a covert approach and assault on buildings that imitate command posts and communication centers of conventional terrorists, using a scout's shooting knife, silent shooting
weapon
, throwing grenades, bayonet knives and sapper shovels for accuracy, told the press service.
The servicemen will also perform "a set of practical exercises in fire, special tactical and physical training, driving standard equipment, in particular trucks, BMP-2, tracked tractor MTLB", added in the district.