How did human culture begin? When and in what form did he cease to be an animal and became a rational creature? Obviously, this happened when he began to reflect the world around him in spiritual images. And also try to reproduce them. After all, no such animal has so far succeeded! But what did he start with? From the images on the walls of caves or something else was added to them? And yes, indeed - he wanted to reflect what he saw and felt, and he did it. But for some reason in the sculptures of the obese "Venus Paleolithic" - the name that has become generalized for the many found prehistoric figurines of women who have many common features between themselves and are dated back to the Upper Paleolithic. These figurines are mainly found in Europe, but they are also found far to the east, for example, at the Malta site in the Irkutsk region, so it can be said without exaggeration that their territory is all of Eurasia: from the Atlantic coast to the Siberian taiga region.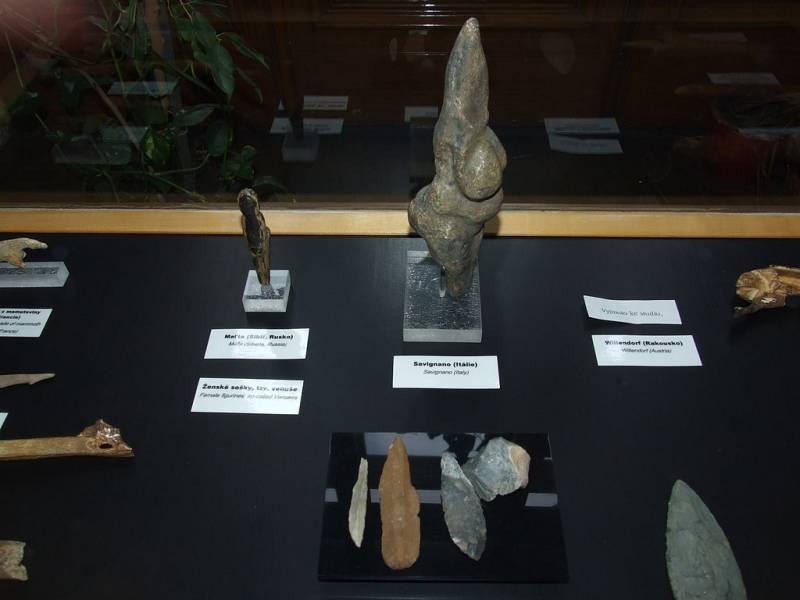 Prehistory of Bohemia, Moravia and Slovakia (National Museum, Prague)
As is known, the culture of the Upper Paleolithic included several successive cultures: the Orignac (existing in France and Spain 30 — 25 thousand years BC), Gravetta (35 — 19 thousand years BC), Solutrei - 19 — 16 thousand years BC. er and Madeleine culture. There were cultures of their own, of course, from other territories, just the majority of the finds belong to the Gravettic culture, although early figurines that belonged to the Orignac culture were discovered. This is the famous "Venus of Hole-Fels" (made about 35 thousands of years ago); and those figures that experts refer to the Madeleine culture.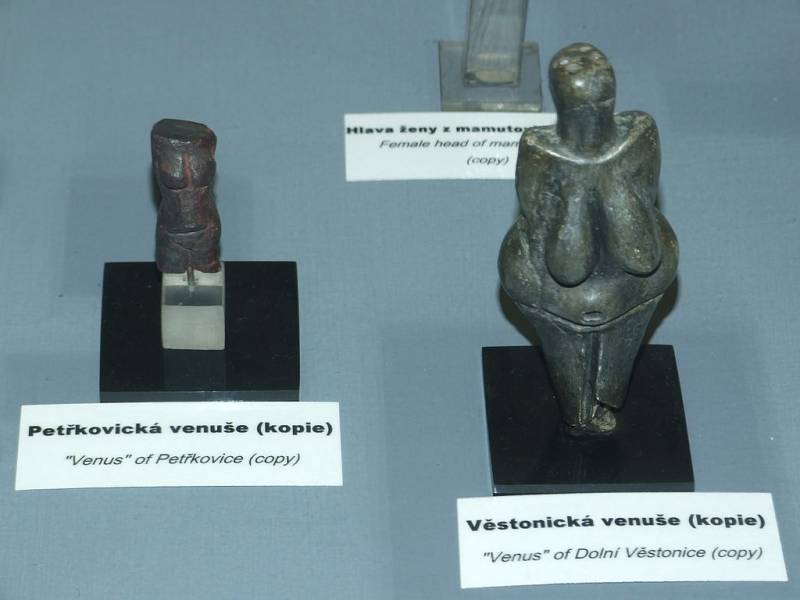 "Venus from Petrakovitsy" and "Venus from Vestonitsy" - the national treasures of the Czech Republic. The originals are stored in a safe and transported in an armored car protected. (National Museum, Prague)
The material from which they are cut are bones (for example, mammoth tusks) and soft rocks (marl, limestone, and the like). There are figurines made of clay and burned on fire, that is, ceramic, the oldest of its kind, since ceramics appeared only in the Neolithic era, and not even at its very beginning. Well, in total, to our XXI century, more than a hundred of such "Venus" have been found, all of which are small in size and have a height from 4 to 25, see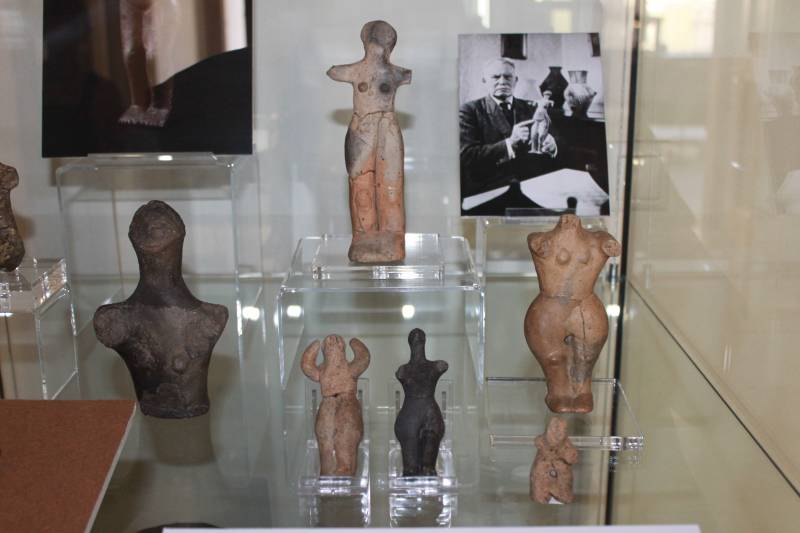 Figures from the museum in Brno. Also copies ...
The first "Venus" of the Upper Paleolithic was discovered by the Marquis de Vibre in the town of Lozheri-Bass in the Dordogne department in southwestern France as early as 1864. famous "Venus Medical". Over time, it turned out that it belongs to the Madeleine culture, that is, this creation is extremely ancient. The figure had neither a head, nor arms, nor legs, however there was a clearly made incision indicating its gender identity. The next recognized pattern "Venus" happened to be "Venus Brassempuyskaya", which Eduard Piett found in 1894 in the territory of the town of Brassempui in France. At first, the term "Venus" was not applied to it, as to other similar figures, but then four years later Salomon Raynakh described a whole group of statuettes of this type from the caves in Balzi Rossi made from steatite, and it became obvious that they were necessary as to typologize. Well, and then experts of the beginning of the 20th century, who studied primitive society, considered that these figures, quite possibly, embodied the prehistoric ideals of female beauty and called them "Venus" by the name of the Roman goddess of love and beauty, adding only the word "Paleolithic" in order precise indication of the time of their creation.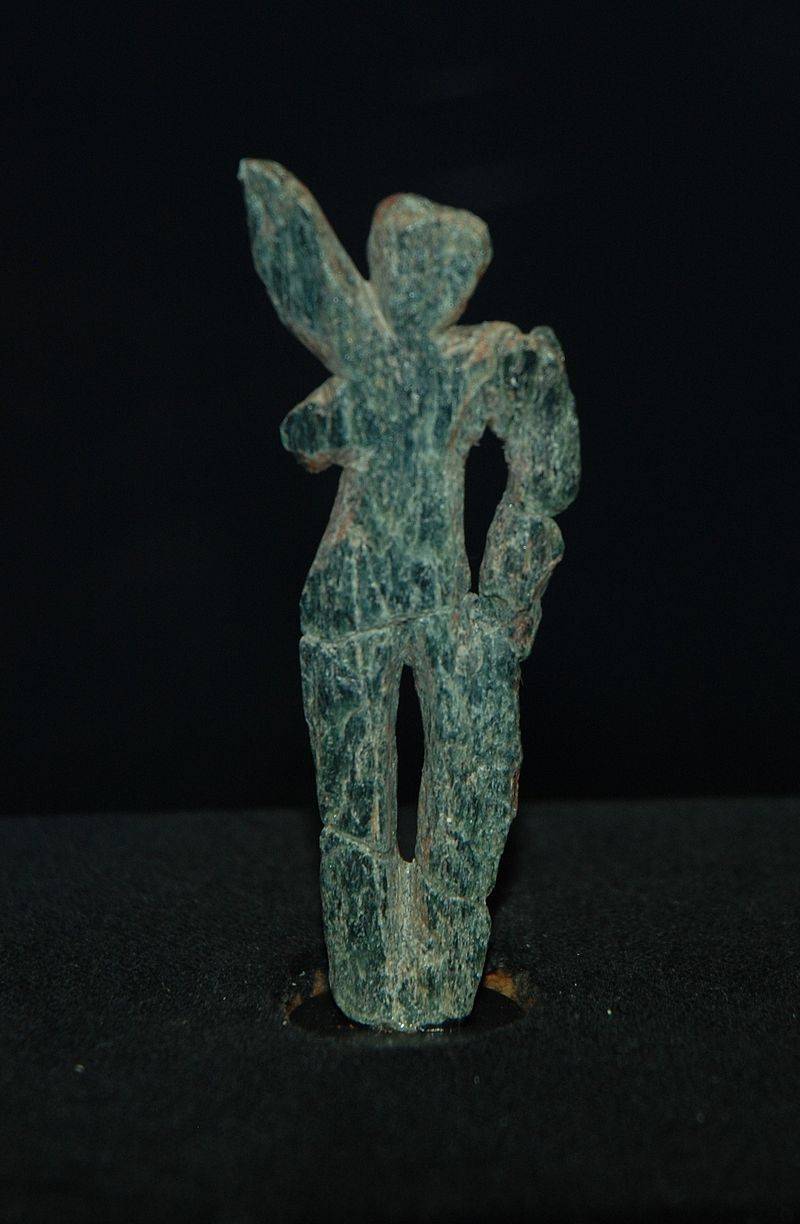 "Venus of Galdenberg." (Austrian Museum of Natural
stories
, Vienna)
September 2008 brought a new discovery to the scientific community: archaeologists from the University of Tübingen found a statuette of a woman from a mammoth's tusk six centimeters high, called the Venus of Hole-Fels. Its age was determined in 35 thousand BC. er At the moment - this is the oldest specimen of sculpture in general. True, there is still a statuette "Venus from Tan-Tan", and it is estimated at 300 — 500 for thousands of years, but its dating is controversial and there is no exact verdict on it. The figure from Hole-Fels Cave in Germany is the most typical "Venus" with an emphasized big belly, massive bust and wide hips.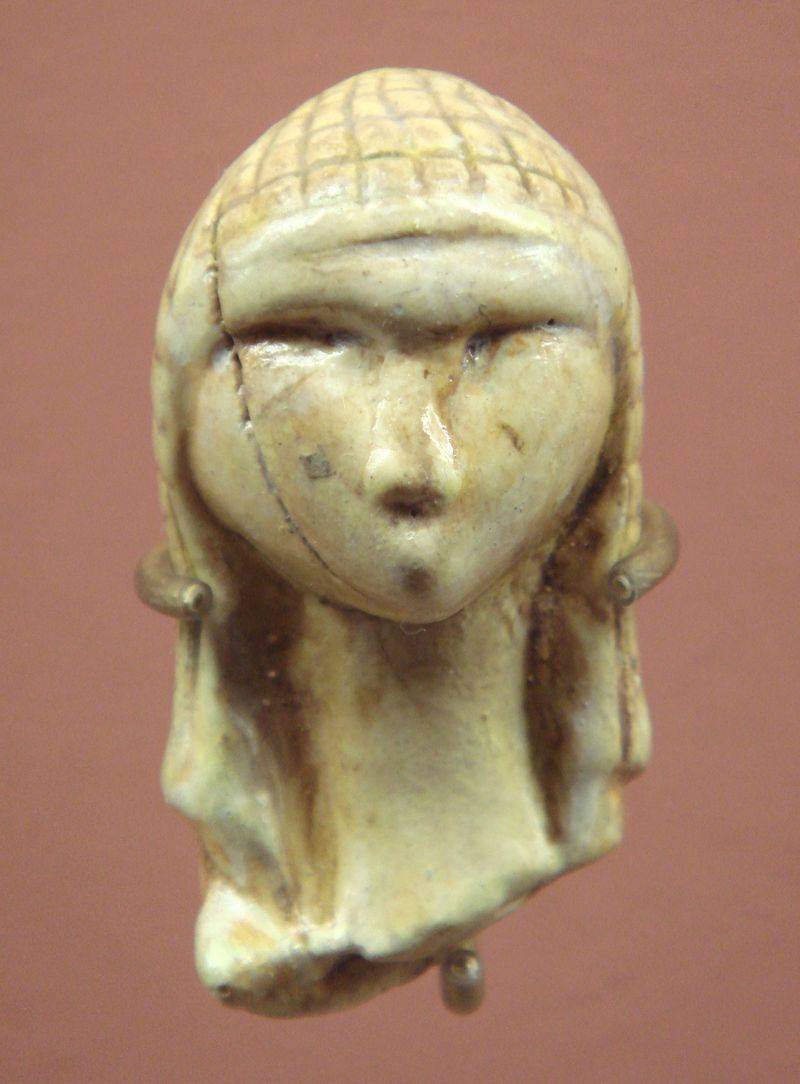 "Venus Brassempuyskaya." (National Museum of Archeology, Saint-Germain-en-Laye, France)
And all these features are just the common typological signs of the "Paleolithic Venus." The most common are the figures of rhombic shapes, tapering at the top and bottom (respectively, head and legs), and as wide as possible in its middle part (abdomen and thighs). The abdomen, buttocks, breasts and genitals are reproduced very carefully, whereas, for example, there are often no faces at all (apparently, according to the principle "you don't drink water from the face" or "it's still dark at night"), but there are also no arms and legs , although not always. Venus has heads, but they are relatively small in size and devoid of any conspicuous details. Although sometimes the head depicts a hairstyle or a hat such as a bathing cap.

And this is the part of the body found in the same place where the "Brassempui Venus was found. Mammoth Bone (National Museum of Archeology, Saint-Germain-en-Laye, France)
It should be noted, however, that not all of the "Paleolithic Venus" are too obese and have clearly emphasized feminine features. Nor do all of the figures have a face. But since there are most of the statuettes that are very similar to each other, both in style and in their basic proportions, it can be argued that in the distant past, the concept of a single artistic style or canon, for which the chest and hips fit into the circle, while the figure itself - in the rhombus.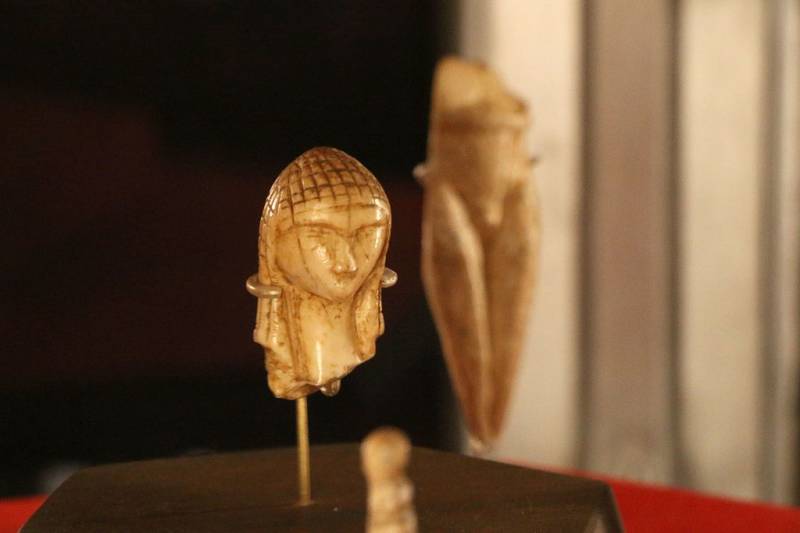 And this is their joint photo. Maybe they were once somehow connected to each other? Who knows? (National Museum of Archeology, Saint-Germain-en-Laye, France)
Some of the figurines, for example, "Venus of Willendorf" and "Venera Loselse" were painted with red ocher. Why this was done today is impossible to explain in principle, but the concept of red color, which comes from antiquity, as being a symbol of life, as "the color of blood," may clearly indicate some kind of rite. That is, they were made red not just like that, but with a definite and, most likely, magical purpose.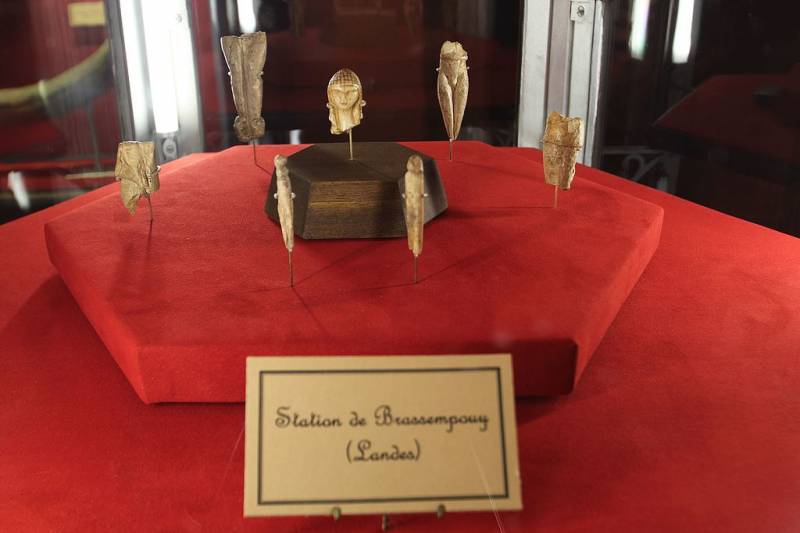 Well, these are all similar finds at Brassempui station.
Interestingly, the bulk of the "Paleolithic Venus" finds date back to the Upper Paleolithic (mostly they belong to such cultures as Gravettic and Solutrean). At that time, obese figurines were dominant. At a later time of the Madlen culture, their forms are more graceful, and besides, they are distinguished by a much more thorough study of details. They are usually distinguished purely geographically, in accordance with the classifications of Henry Delport, who simply named all those regions where they found this or that Venus. And it turned out that there are "Venus" Pirinean-Aquitaine (French-Spanish), there is "Venus" from the island of Malta, there is the Rhenish-Danube region, the Central Russian (Kostenki, Zaraysk and Gagarino burial) and "Venus" Siberian. That is, the area of ​​their distribution was extremely wide, but it also means that people of that time had certain cultural ties with each other.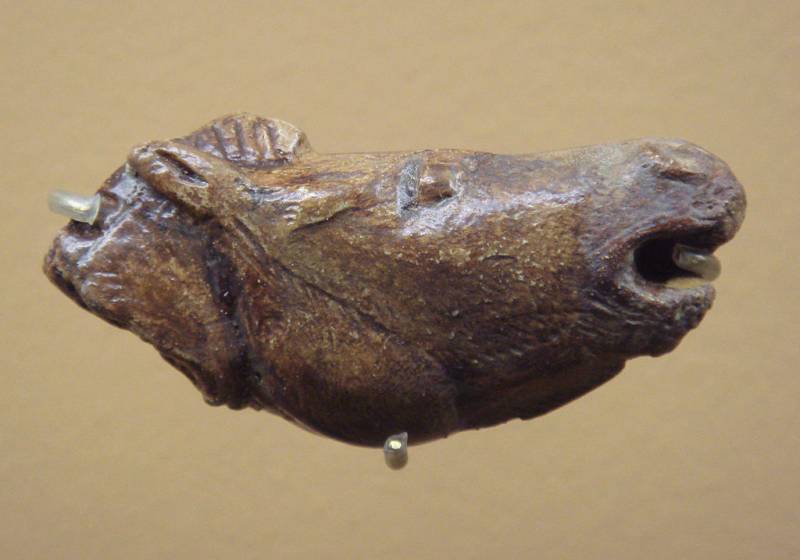 However, they depicted not only women but also such horses ... (National Museum of Archeology, Saint-Germain-en-Laye, France)
For what exactly they were necessary to our ancestors we will never know. But it can be assumed that they could be talismans, fertility symbols, or served as images of the Mother Goddess. It is also obvious that they could not have any practical application and, therefore, could relate only to objects of spiritual culture. They are found, however, not so much in the burials as in the caves and remnants of dwellings, so that, most likely, they were not associated with the cult of the dead.
So, near the village of Gagarino in the Lipetsk region, in an oval semi-dugout with a diameter of about 5 meters, seven such figures were found at once that could well serve as amulets. In the parking lot near the village of Malta in the Baikal region they were also found inside the dwelling. And, apparently, they were not only not hidden in the "houses" of that time, but on the contrary, they were in plain sight. So, when a person from a foreign tribe got into the dwelling, he saw them, and when he saw him, he took her image with him. Obviously the only way to explain such a wide geographical distribution of these figures.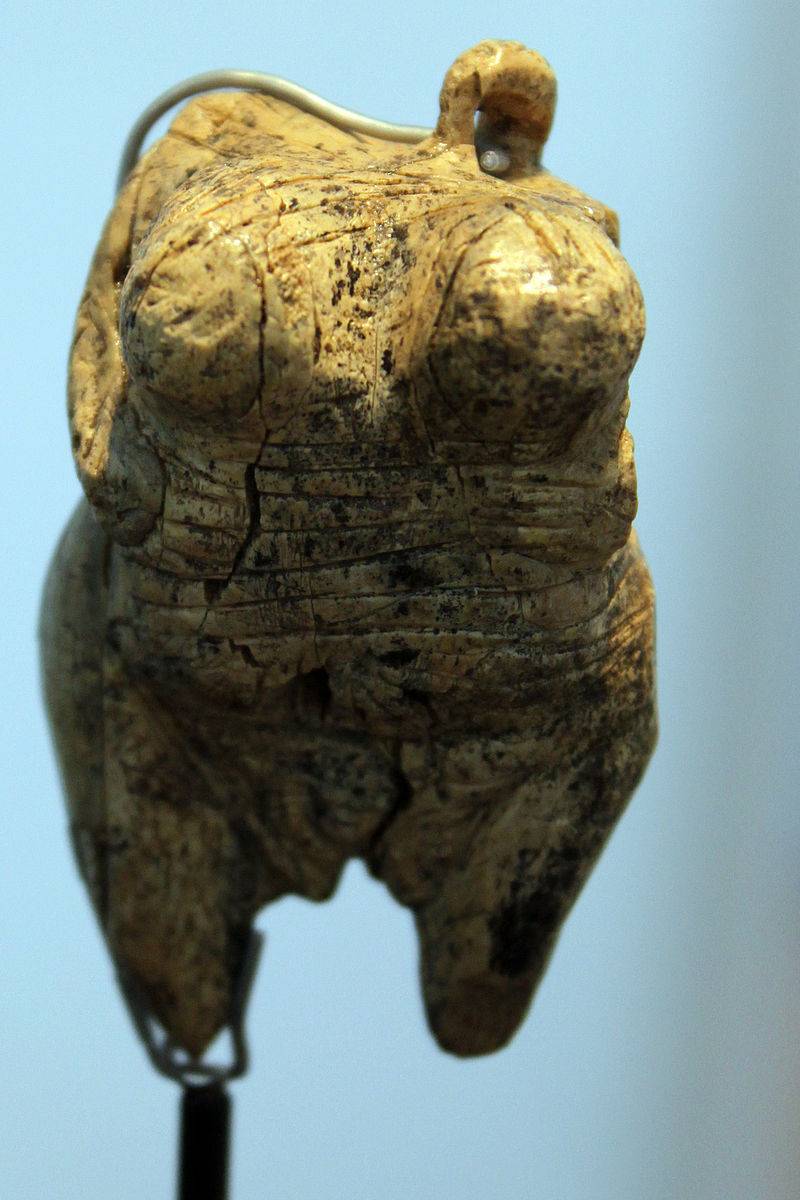 Region Alb-Donau, age 35000 - 40000 years. (National Archaeological Museum of Bad Wurstenberg, Germany)
As for the obesity of the figures, in the conditions of a half-starved existence, it was obesity that symbolized prosperity, fertility and seemed beautiful. Not without reason, even in the twentieth century in Russian villages (and Mordovian, neighborly!), The beauty of a woman was defined as: "What a beautiful girl, full!"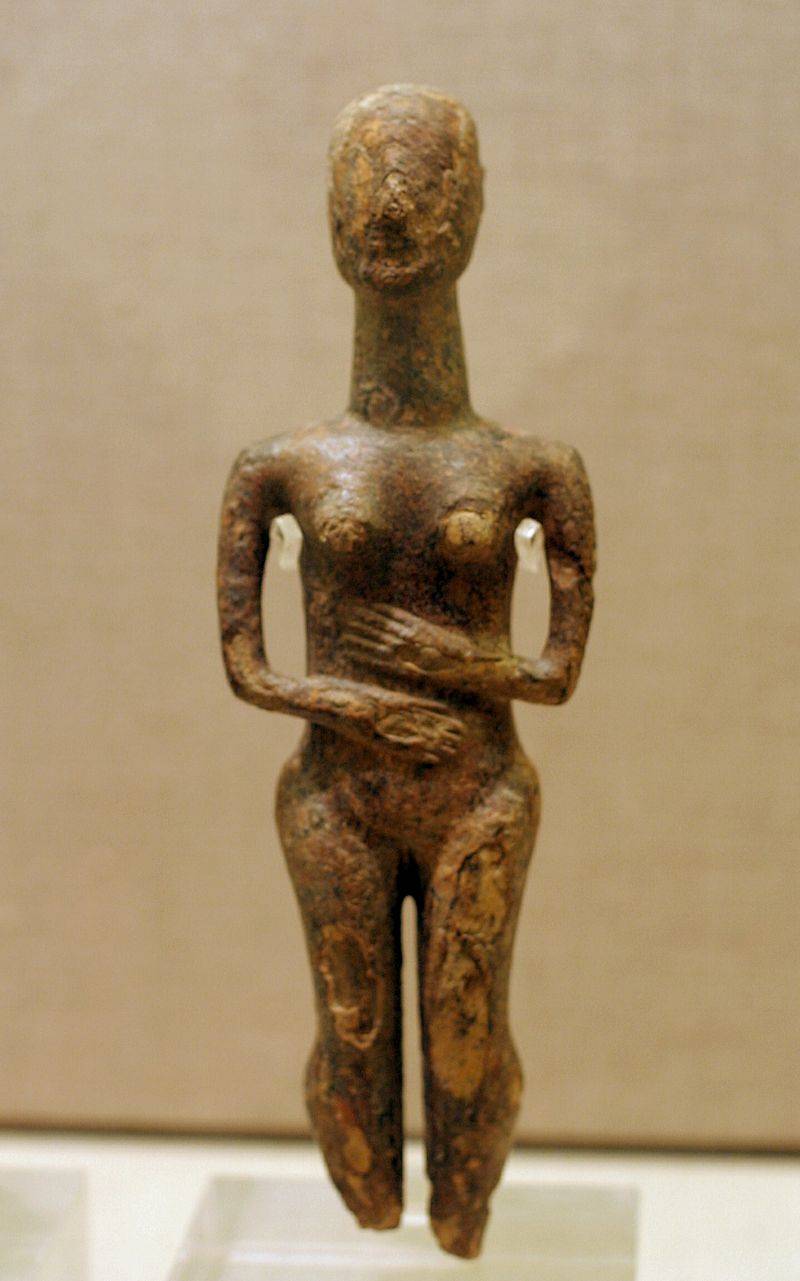 Female figure from Acroliti, 2800 - 2700 BC (Prehistoric Museum of Thira, Santorini Island)
Recently, two more very ancient stone artifacts (dating 500000 - 200000 years ago) have been found, which, according to some experts, are also images of women. These are "Venus from Berekhat Rama", found in the Golan Heights, and "Venus from Tan-Tan", which was found in Morocco. But the question is: did the people treat them, or did they take their form due to the influence of natural factors? So far, both of these assumptions have not been proven on 100%.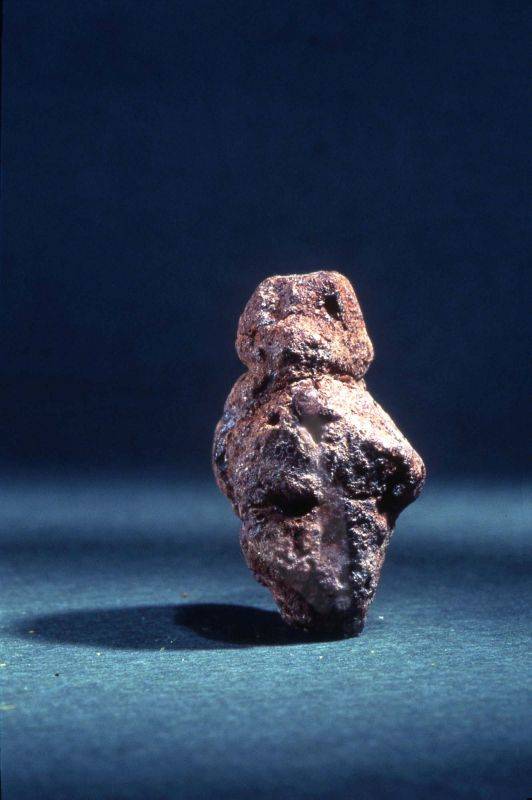 Figurine from Berekhat Rama. Now it is clear why there is such heated debate about its origin?
A number of scientists who studied the "Paleolithic Venus", believe that between them and the images of women of the later Neolithic era, and then the copper-stone and Bronze Age, there is a direct link. However, this point of view today is not consistent with the surprising fact that such images are for some reason absent in the Mesolithic era. What happened then that these figures stopped doing, and did it happen at all? Maybe they just changed the material, switched to, say, a tree and therefore all of them were not preserved? Who knows ... the truth is always there somewhere ...