Does the lingering circus show seem to be over? February 12 Mikheil Saakashvili was nevertheless expelled from Ukraine to neighboring Poland.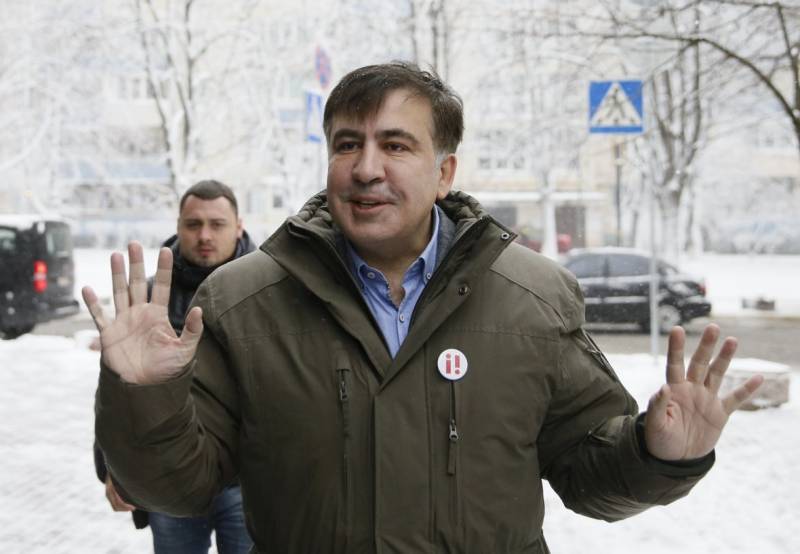 The behavior of the scandalous Georgian politician in the country of the victorious "euromaidan" could not but cause strange bewilderment: either he was incredibly brave, or everything that happens — a show coordinated from somewhere "from above". Well, a person cannot behave in this way under the conditions of a real dictatorship: first defiantly cross the state border against the will of the authorities, then ask for refugee status and at the same time call for another "Maidan", while trying to detain, climb onto the roof and broadcast from it like from the podium. At the same time, too often, chilling news comes from Ukraine about how the current junta's current political opponents deal with ... They are thrown into jail and tortured, they can be beaten and even shot in broad daylight.
So, Saakashvili is such a popular hero who is not afraid of either God or the devil? Suffice it to recall the year 2008, when the frantic Mishiko "heroically" hid from the mythical Russian fighter - and you cannot call him a hero. It remains to assume only one thing -
he has too reliable "roof". Only not the one with which he spoke, but the one that gives him the opportunity to speak.
And not just to speak, but also to arrange maydanchiki - this is where his favorite activity!
Got it? At first, the uninvited guest was rather severely detained in a Kiev restaurant, after which they were taken to Borispol airport and sent to neighboring Poland. Where he came from a few months ago, in September 2017, he triumphantly rode against the Kiev ban. As the Ukrainian authorities say, this is not deportation, but readmission. That is, the illegal was sent not to his own country, but to the state where he came from.
In any normal state (of course, in a normal situation) this citizen and a handful of his supporters no one would have allowed to break through the state border with such noise. Even if he had broken through, he would not have been able to hold out for a long time.
In December last year, this figure was already detained. But not for long. Supporters allegedly released him.
Would anyone try to seriously release from prison those who are being held in dungeons on charges of "separatism", "treason", etc.!
For example, those whom ukrohunta decided to keep in captivity in order to blackmail Russia ....
The reason for the current detention of Saakashvili was that he did not come for questioning to the prosecutor's office, despite the fact that he was called there. The reason - at first glance, is that he is in competition with Petro Poroshenko.
Is it possible to say that the expulsion of the scandalous figure was coordinated with the external patrons of the "euromaidan" and the authorities that fell on his shoulders? It is unlikely that Mr. Poroshenko jerked, without consulting with their masters.
Even if this is the case, Saakashvili was fairly humane - he was sent not to Georgia, but to Poland. Meanwhile, the Georgian authorities are already preparing to appeal to Poland demanding his extradition. They have certain questions for the ex-president, and in the event that Mishiko finds himself at home, a prison cell has already been prepared for him.
Saakashvili himself rather angrily comments on what happened. He calls Mr. Poroshenko "mean-minded huckster." Commenting on his own detention in a restaurant, he compares Ukrainian security officials with fascists.
The Ukrainian authorities and its henchmen certainly deserve such a comparison - not about the detention of Saakashvili, but at least because there are regular torch processions in the cities, that at the state level there is vandalism towards Soviet monuments, finally, because real political prisoners in prisons are subjected to harassment (which, in particular, there is evidence from people who recently freed themselves from exchanging prisoners with the DPR and LPR).
But
earlier, Saakashvili somehow "did not notice" fascism, moreover, was his accomplice.
It cost him a little shabby hair - squealing loudly about fascism. And this is - by the way, a man who is accused in his homeland (among other things)
in torture against their political opponents.
It can be assumed that what happened is just a continuation of the same circus.
If the Ukrainian authorities really wanted to get rid of Saakashvili, he could have been extradited to Georgia.
It's still not a fact that they would have put him there for a long time - after all, the Georgian authorities are also dependent on the opinion of Washington. But, at least, it would be more logical and more reliable to send him home.
If once he has already rushed from the territory of Poland to the place from where he was turned out, can someone prevent him from repeating this trick? Time will tell. But the feeling that from him continue to mold the "hero." Isn't it so that with the help of this figure Washington could keep Poroshenko on a short leash?