Beautiful, exactly, lightning. So it was yesterday 12 February 2018 of the year from Ukraine was expelled by the ex-president of Georgia, Mikhail Saakashvili. His supporters were just planning to organize a blockade, and a small private plane had already taken off from the Borispol International Airport and headed for Warsaw. And while everyone relished
news
, and waited, how the restless Caucasian bear's journey to Poland will end, the most far-sighted have already begun to wonder what will happen next ...
Yes, who will be next? Who will raise the banner of the struggle against the bloody regime of Poroshenko on his shaft and declare himself the new main opposition figure of Ukraine?
Useless Misha
Yes, Mikhail Saakashvili has long been turned into a useless symbol of the Maidan in his own name. No, he had a chance, they gave him money, organized media and public support on the ground, but the ex-president of Georgia, in his usual way, squandered everything.
Already on October 17, 2017, when the first march was organized in Kiev, to which no leader of any political party could enter, it became clear that Saakashvili would be difficult. During the 40 days of traveling around Ukraine and the persuasion of local and Kiev elites, he, despite the open support of the United States, was never able to become a figure uniting all. And who needs this? What washed away to keep on the Maidan a leader who for three months of Maidan could never even assemble an 10 000 man?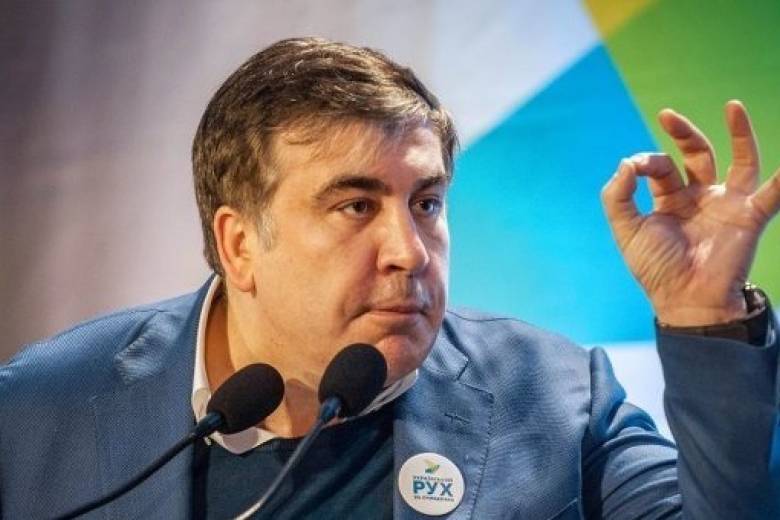 Meanwhile, the tension of the confrontation along the Washington-Kiev line was constantly growing. Poroshenko did not agree to comply with the requirements of the US State Department and the latter was obvious that in this situation it is necessary to change something. And the most logical here was to change the face of the Maidan.
Tymoshenko again puts on a battle scythe.
Did you notice how Yulia Tymoshenko acted during the last months?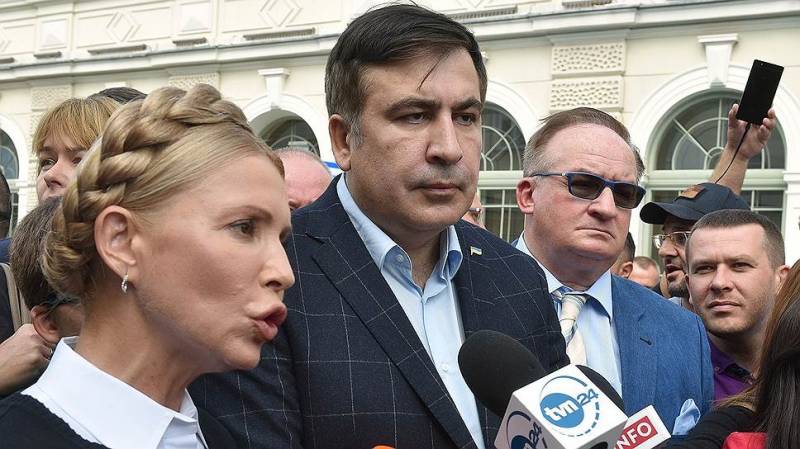 For the first time, she loudly declared herself while Mikhail Saakashvili was crossing the Polish-Ukrainian border. She, together with the leader of "Self-help" Andrei Sadovy, was one of the most active participants in the illegal border crossing, for which yesterday Saakashvili was expelled from Ukraine. And it was very strange not to see her after that next to him on October 17 2017 on the square near the Verkhovna Rada.
It will be interesting if it turns out that Yulia was already playing long and dug a hole to her "partner". It is just in her style.
Probably, by this time the "partners" were able to quarrel. Neither Saakashvili nor Tymoshenko will ever agree to play the game number two. And probably this is what caused their discord. Tymoshenko, not only during the whole period of standing by Mihomaydan, has never appeared on the square in front of the parliament, but also forbade her associates to help Saakashvili fight.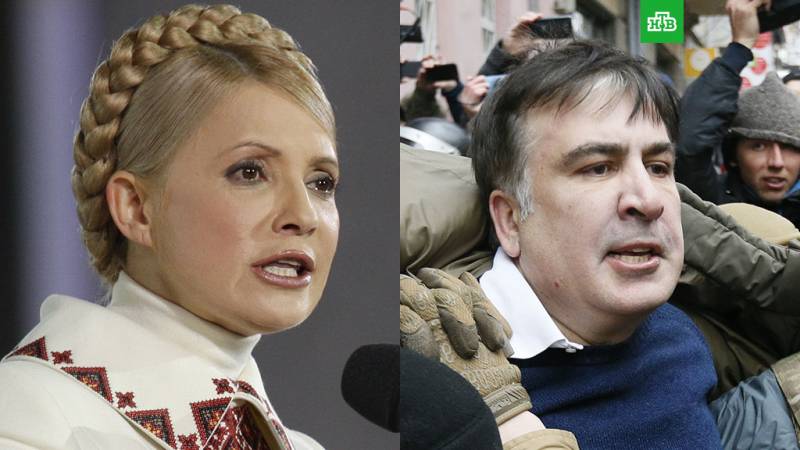 There was only one exception to the rule. Just on the day when Saakashvili was detained by the SBU. It was then that Yulia Vladimirovna again pulled her fighting scythe out of the closet and began to defend the poor and unfortunate "political prisoner" Saakashvili.
But as soon as he was free again and at the helm of protest, she again went into the shadows ...
Tymoshenko "emerged" only yesterday, immediately after the news of the detention of Saakashvili and his expulsion from the country. She addressed Petro Poroshenko with an angry and very interesting speech:
"Pyotr Alekseevich, it's obvious to me that this happened according to your personal instructions, otherwise no one would take such a derogatory step for Ukraine. The leader of the state is valuable for the nation, first of all, for its personal high morality, spirituality and righteousness of its actions. Considering that you and Ukraine are perceived as one, do not destroy universal human values ​​and do not humiliate Ukraine with reprisals against its friend, Georgian President Mikhail Saakashvili. "
Notice the phrase "her friend ...". Julia Vladimirovna never writes just like that. As we see, Tymoshenko, like all Ukrainian so-called elites, do not consider Saakashvili to be theirs. He is just a friend from Georgia.
This is very important for understanding further. It is not yet clear what kind of agreement Washington and the Ukrainian so-called opposition have, but the United States has already sent a clear message, Saakashvili has a stranger in Ukraine and no one will ever give him adequate support here.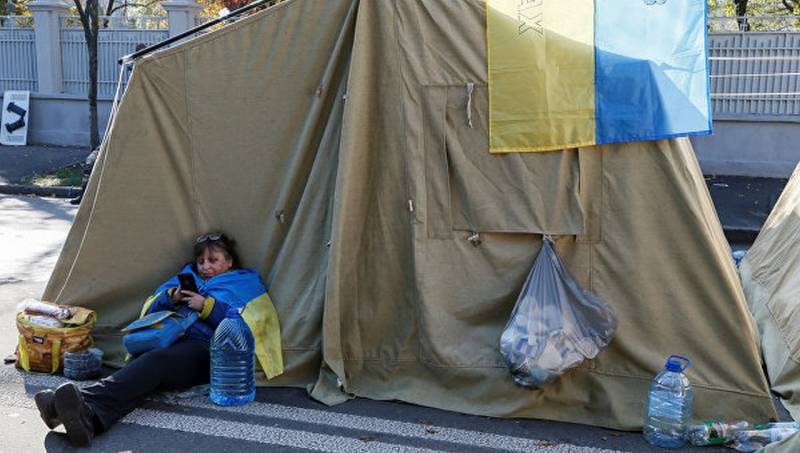 That is why we saw the last months in Kiev, the dying Mikhomaidan.
But now, when there is no Mikhail Niklozovich, another thing. I am sure that there will be leaders and the first who offers herself in this role will be Yulia herself, who would not mind getting her scythe again and trying to pull out its longtime enemy Petro Poroshenko from the presidential palace.
Let's look at the US response. If the message is understood correctly, Saakashvili will no longer be able to return to Ukraine and will not interfere with his "partners" to continue the work begun by him. And if that happens, it will be a big victory for the Ukrainian elites, who were able to impose a game on their rules to Washington.