Here, on the VO pages, we have more than once turned to the topic of knightly armor, and, first of all, we were talking about helmets, since head protection is extremely important for a warrior. And in fact, you can be mortally wounded, for example, in the stomach, but at the same time you can still fight for a while and even lay down a couple of enemies. But a blow to the head, even without any special consequences for his health, can easily be "turned off", after which he will be absolutely helpless. That is why helmets in the Middle Ages received so much attention. A warrior could only fight in the highway and in the quilt like our little jacket, but he also had a helmet on his head. The simplest bowler hat, the "iron hat" (chapel de fer) with brim, barbute, servilera, salad, bascinet, arme (or armet) - which notable seniors did not put on their heads, and "infantry from the people" . And, like the rest of the helmets, over the years they have also improved to match the trends of the times. It was necessary to protect the face from arrows and blows of a spear - tophelm appeared - "helmet-bucket". They used it - an, something was "not right", it was hard to breathe and the review was nasty - they invented a "Bundhugel", and so on. But when the riders acquired pistols and heavy swords, they also needed a new helmet. And now we will tell you about this helmet called burginot or burgonet ...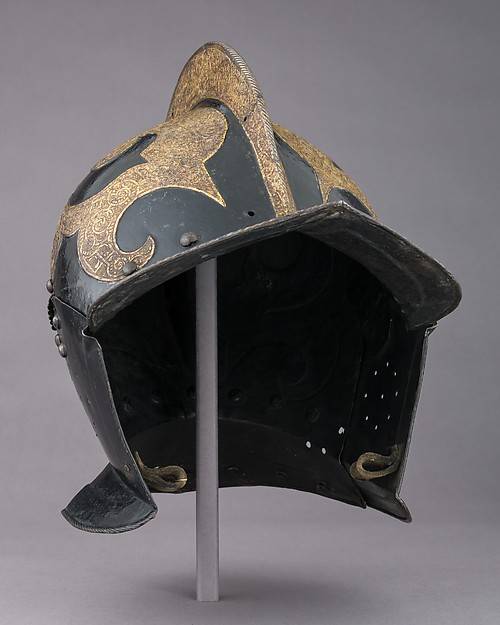 One of the simplest burgonets of the XVI century. Made in Saxony. It is decorated with overlaid chased gilded details and painted black. Weighs 1454,3 (Metropolitan Museum, New York)
When we talk about the European Renaissance (XIV-XVII cc.), We know that it was a "grandiose cultural leap after the dark medieval". But studying the ancient Greek and Roman statues and examining the excavated mosaics, bas-reliefs from the columns of Traian and Marcus Aurelius, the cultural revolutionaries of the Renaissance could not help but turn their attention to the military culture of ancient Greece and Rome. And not only on the culture itself, but also on its individual details and, in particular, the specific and often tastelessly lush helmets of that era. And so, as a result of the symbiosis of old culture and fashion, as well as new metal processing technologies, a characteristic type of neoclassical helmet emerged, which quickly supplanted the previous salads and bascinetts characteristic of the 15th century.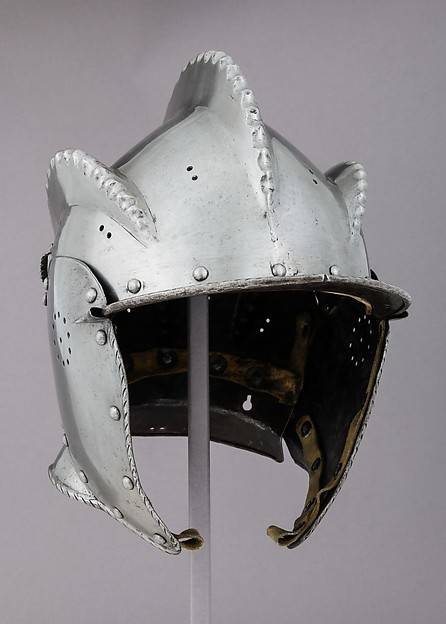 A characteristic feature of the new helmet was the comb, similar to the comb of the armet helmet, but in a slightly different shape. Moreover, there could be several such combs on the "Burgundy helmet" (that's how it is on this one). This helmet is made in 1540 – 1550. in Augsburg. Its weight is 2251 (Metropolitan Museum, New York)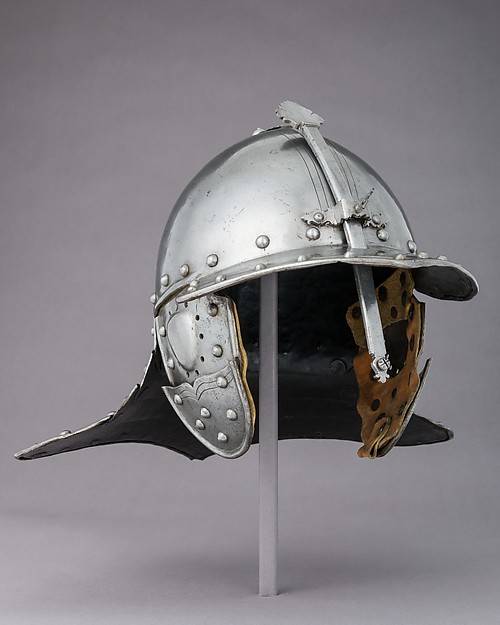 Very simple burgonet, but with a nose plate. Second quarter of the 17th century Northern Europe. Weight - 2101 (Metropolitan Museum, New York)
The new helmet appeared at the beginning of the XVI century, and had many characteristic signs borrowed from the past: first, a simple hemispherical shape; the lack of a complete cover for the face without restriction of vision and breathing; secondly, some helmets had a "collar" to protect the neck; and thirdly, it was characterized by plates to protect the face and head on hinges, modeled on Roman legion helmets and visor. Sometimes it was called the Burgundy Salad, but it was very little like the streamlined classic Salad of the XV century.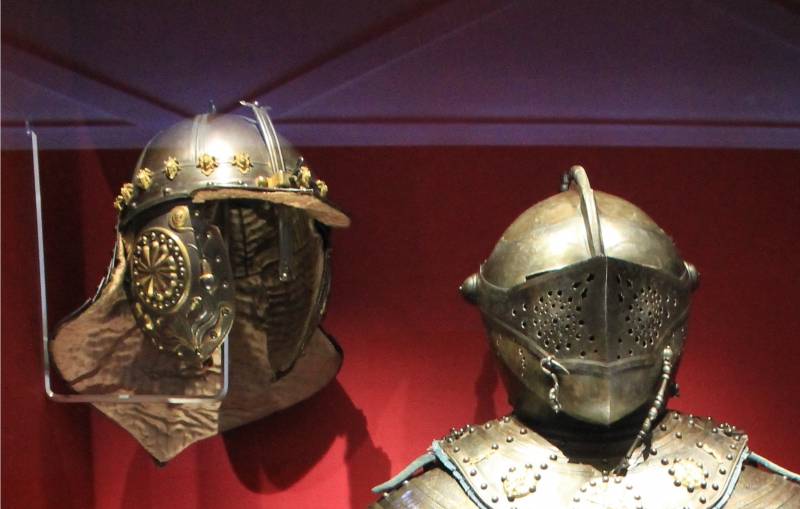 Bourguignot on the left, Armet on the right. The differences in design and construction of both helmets are clearly visible. (Dresden
armory
Ward).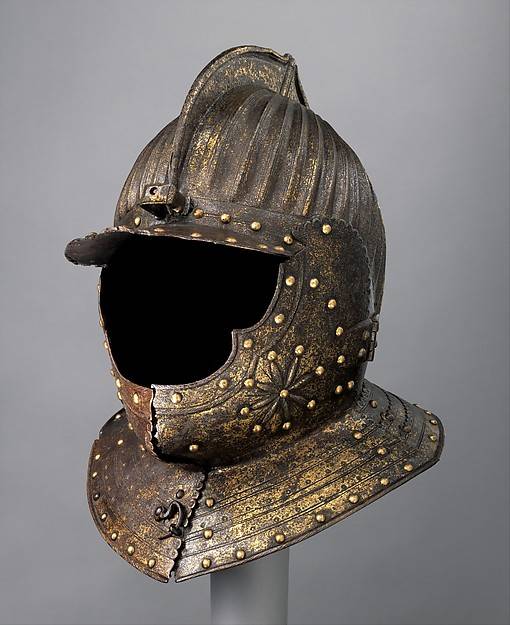 Richly decorated 1610 burginot. Typical "helmet with a collar". France. Material - steel, gilding finish, copper. Weight –2237 (Metropolitan Museum, New York)
English-speaking specialists have given this helmet the name of burgonet, which, apparently, is "tracing paper" from the French term bourguignotte. Whatever it was, linguistically traced the connection of the name of this helmet with the duchy of Burgundy, although the Italian gunsmiths played a very important role in its development.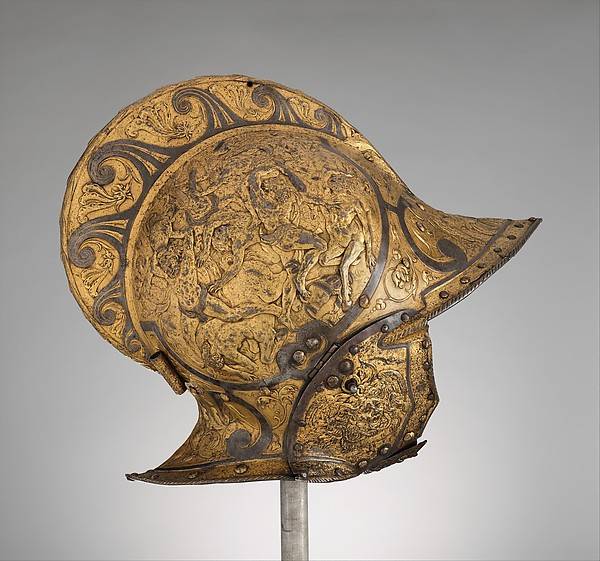 Since we are talking about the fashion of the Renaissance, it is clear that the new helmet, made for ceremonial armor, immediately received its portion of naked interlacing bodies, vine leaves and antique curls of the "traveling wave". For example, this typical bourgeois with a visor and headphones looks like this, approximately 1550. France. Weight 1905 (Metropolitan Museum, New York)
Of course, the burgonet not only corresponded to the Renaissance fashion. He had his advantages. So, he provided his owner with the best peripheral vision, and he breathed in it quite easily. So it is not surprising that he received the approval of all the soldiers of the Renaissance, ranging from infantrymen to kings, inclusive, but he gained special popularity in cavalry. Originally burginot appeared in Italy in the XVI century. From there he came to Spain, then appeared in France, Germany, and so spread throughout Europe, including Poland. These helmets were used until the 17th century, when new types of helmets, morion and cabinets, gradually replaced the burgonet from the infantry. But only from the infantry! In heavy cavalry, he continued to be used for a long time.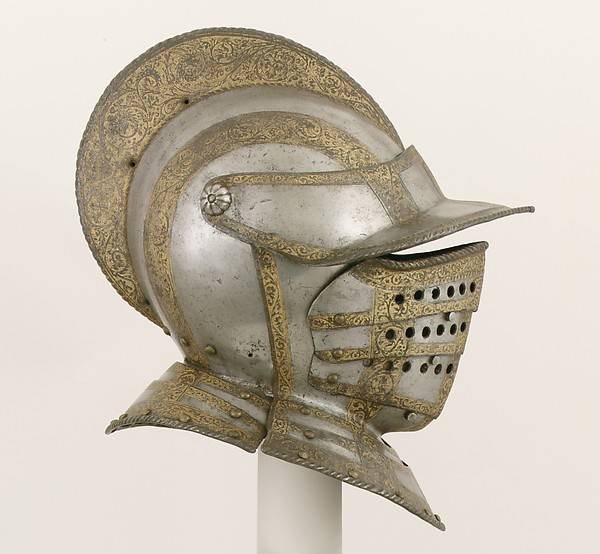 Burgonet, approx. 1560, Italy. Weight 3755 g. Belonged to the so-called "heavy" type, as it is equipped with a pre-counter - a buff. (Metropolitan Museum, New York)
Burgonet is often called the "light" helmet, which in fact means little, since there were many varieties of this helmet and some were really "light", and there were some that weighed four kilograms or more at the beginning of the 17th century!
A burgonet was usually forged from a single sheet of steel, but some of them were made of two plates interconnected along a central ridge. Since a good visibility was very important for a helmet of this type, but since it was also not desirable to do without a visor, many burgonets received different types of metal grills. Some of them directly copied heraldic images, or, let's say, heraldic images were made on real samples.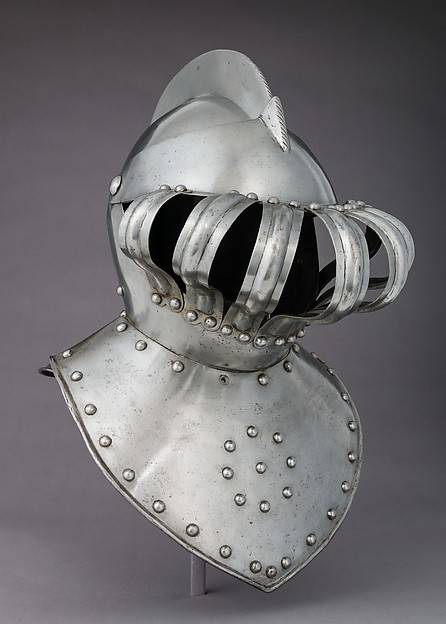 Original helmet with a "heraldic" fixed visor. Germany, XVII century. Weight 2892 (Metropolitan Museum, New York)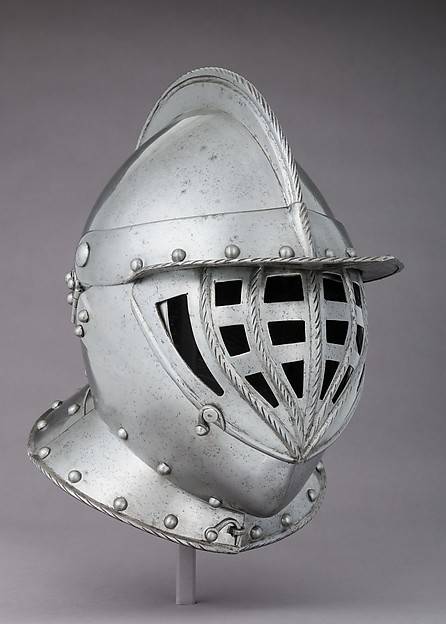 Burginot with visor "lattice", approx. 1600, Germany. Weight 2750 (Metropolitan Museum, New York)
In cases where nashi or naushi were present on this helmet, they were attached with hinges on both sides of its dome. On the chin, they could be fastened with a belt, like a Roman legionnaires, or crocheted.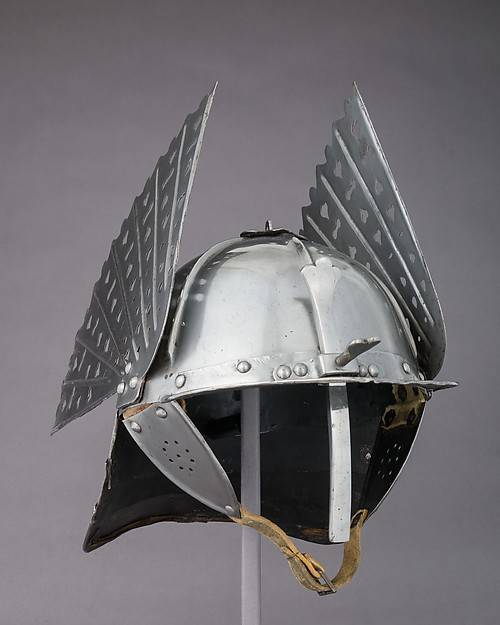 Polish burgonet XVII. Weight 1984 (Metropolitan Museum, New York)
In general, despite all the diversity of burgoon-burginot from country to country, from master to master, all these helmets have a rather strongly extended back dome, equipped with either a fixed or movable backstop. There is an upward visor on the front. On both sides, hinges could be attached to the hinges. And just according to them, the burgoinhots turned out to be the easiest to classify into "open-type" helmets, in which scientists connect with chin straps, and "closed-type", in which they form a chin, which is a kind of visor. There were three crests on the early burgointes, and one on the later ones. On the back of the head, under the ridge, they could fasten a sleeve for the sultan of feathers.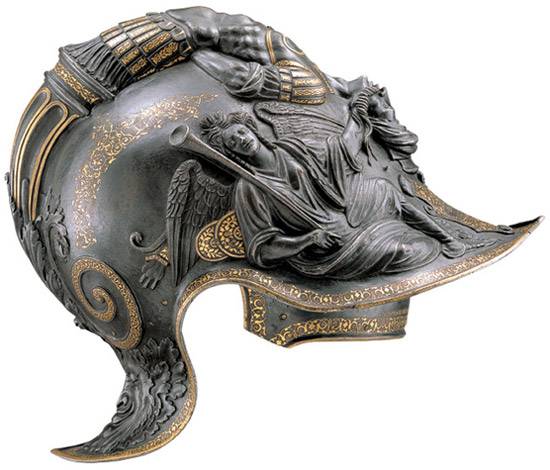 Burguignot by Filippo Negroli. It is decorated with a relief ornament and the image of a mermaid and the Gorgon Medusa. (Metropolitan Museum, New York)
Like all other parts of the armor of that era, the burgonets were decorated with engraving, etching, inlaid, they could be painted in different colors and simply polished. Some of them were covered with cloth - fashion, which had been moved from them by a helmet of salads. Many burgonets are so richly decorated that they were not suitable for any other purposes, except for the parade. To some helmets of this mission forged shields with a plot composition that repeats the main motif of the helmet's decoration. One of the later forms of the closed burgonet, which spread among the heavy cavalry of the XVII century, was the helmet "dead head", whose visor resembled a human skull. Its less gloomy name is "Savoyard" or "Savoy Helmet". That is, the place of their initial appearance was Savoy.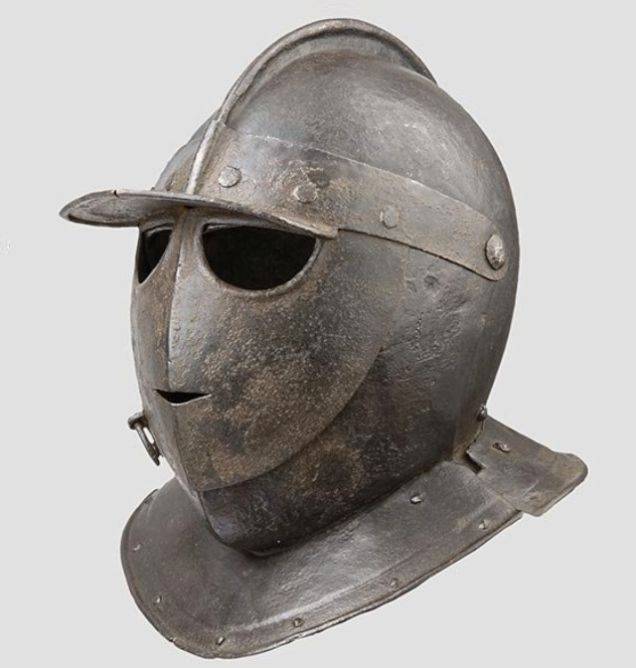 German or Italian "Savoy Helmet", 1620 - 1630 (Metropolitan Museum, New York)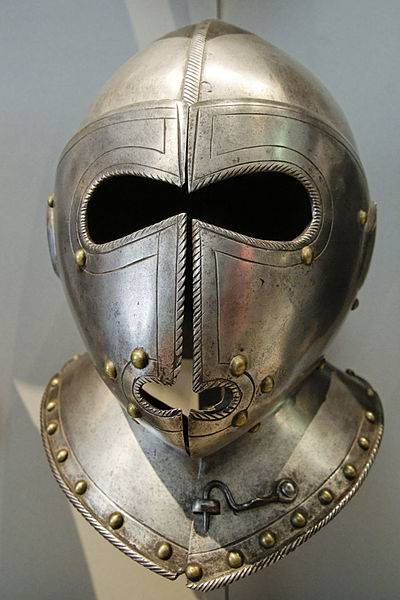 "Savoyard" from the Army Museum in Paris, 1629
The famous master who produced many remarkable "Burgundy helmets" was the Italian gunsmith Filippo Negroli (1510 — 1579), who lived and worked in Milan in the 16th century. He was so widely known for his remarkable skill that he could be considered as one of the most famous gunsmiths of all times and peoples. Filippo did not work alone, but together with his two younger brothers, Giovanni Battista (1511 — 1591) and Francesco (1522 — 1600), in the Negrole workshop, which belonged to their father, Jan Giacomo Negrole. Filippo himself was fond of chasing, while Francesco specialized in gold and silver armor inlay. Filippo's works are different from others in that they were made of steel, and not of iron, which is more convenient in processing. He made ceremonial armor for Charles V, emperor of the Holy Roman Empire and Guidobaldo II, duke of Urbino.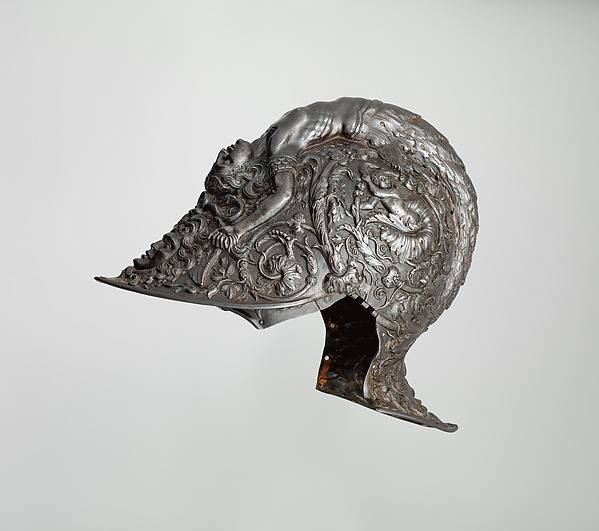 Burgonet by master Filippo Negroli (ca. 1532 - 1551). Weight 1800 (Wallace Collection, London)