Promising American heavy transport helicopter CH-53K King Stallion for the first time transported an armored vehicle on the external sling. According to Defense Aerospace, the aim of the tests was not only to check the helicopter itself, but also the new armored vehicle of the JLTV project, which in the future will have to partially replace the obsolete HMMWV in the troops.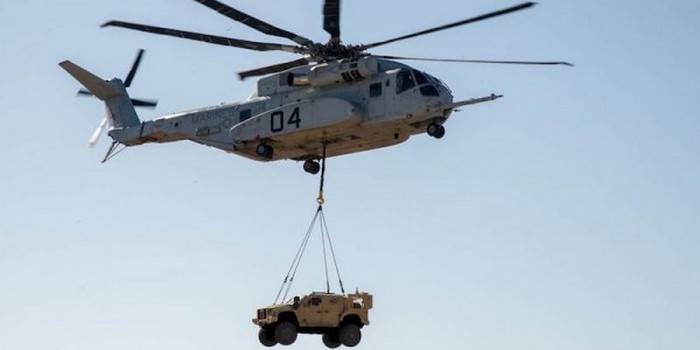 During the tests that took place on 18 on January 2018 of the year, but the details of which were revealed only now, the CH-53K helicopter raised the JLTV armored vehicle weighing 8,6 tons to the height of 30 meters, went into the hover mode for ten minutes, then lowered the armored car and unfastened the fastening cables.
King Stallion, the largest US helicopter, has a maximum take-off weight of 39,9 tons. The machine can carry loads of up to 12,2 tons on an external load. The combat radius of the helicopter is about 200 kilometers. The CH-53K, equipped with three GE38-1B engines, is capable of speeds up to 315 kilometers per hour.
The world's largest heavy transport helicopter, mass-produced, is the Russian Mi-26T. The maximum take-off weight of the car is 56 tons. A helicopter can carry loads of up to 20 tons or up to 85 fighters. The Mi-26T is capable of speeding up to 295 kilometers per hour, and its range with a maximum load is 475 kilometers, reports "N + 1".