The Moscow authorities received a proposal from the State Duma to rename the address of the location of the American embassy in the Russian capital. Deputy initiative was born in connection with the fact that the Washington authorities decided to rename the address of the embassy in the Russian Federation in the square of Boris Nemtsov (Boris Nemtsov Plaza). The initiative of the Russian parliamentarians is as follows:
Assign the address "North American Dead End, 1 House" to the building of the American diplomatic mission in Moscow. It is noted that the US Embassy will be the only building in Moscow located in the North American deadlock.
Mikhail Degtyaryov:
Moscow is ancient
historical
a city, unlike Washington with its teenage complexes. Therefore, we will not rename the existing streets and even alleys for the sake of any momentary political ambitions or disputes. However, we could well have changed the mailing address of the nameless dead end. (...) next to both buildings of the embassy there is a courtyard passage to the People's Commissariat House. It is necessary to call this passage the North American impasse.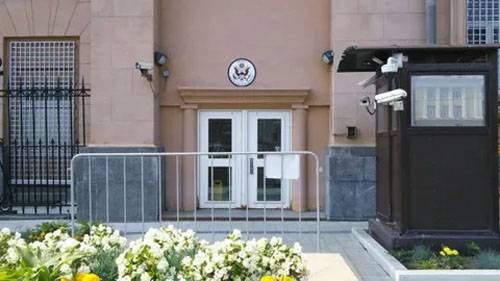 The initiative to the Moscow mayor's office came from a member of the LDPR faction Mikhail Degtyaryov a few days ago. Today, the Moscow authorities have announced that they will consider the proposal at the next meeting of the working group of the City Commission on the name of the objects of the city of Moscow.