The former president of Georgia, the former governor of the Odessa region, and now the "main fighter against the regime" in Ukraine, Mikhail Saakashvili, announced that his family had "saved" Joseph Dzhugashvili (Stalin) at one time. M. Saakashvili, who was once again unsuccessfully trying to detain the SBU special forces, once again unsuccessfully, describes the "exploits" of his ancestors, on Facebook:
We went with friends to the cinema at the Death of Stalin. Super cool movie. My great-grandmother Tamara told me how she saved Stalin from the royal gendarmes, took him by the hand from the house of her father, a wealthy industrialist, and Stalin repaid the property and the destruction of her father and brother for the good of her family. My English teacher, Gela Charkviani, often visited Stalin with his father, the party boss of the Caucasus, for several years before the leader's death, and the situation he described is very similar to the one shown in the film. So I recommend to go and see.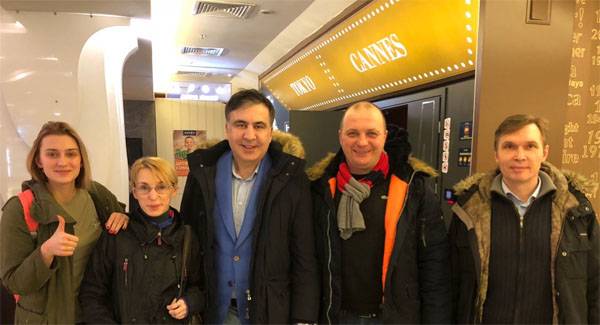 Meanwhile, the publication of the statement by Mr. Saakashvili (as well as his photo with a smile on his face) caused a lot of questions among Ukrainian citizens. Citizens of the "new motherland" Saakashvili are perplexed how the SBU works in the country if the detention of the ex-governor of the Odessa region once again turns into a performance, and the main character after the "detention" walks around Kiev cinemas. Ukrainians wonder: the current authorities do not have the authority not only to govern the country (after the well-known statements of J. Biden about the appointment of the prosecutor general), but even to detain a person whose extradition is required by the state, called Ukraine "one of the most important regional partners"?