Paratroopers from Volgograd Kamyshin make a ski super marathon in Ryazan. This march of several hundred kilometers (with stops) is dedicated to the 100-jubilee anniversary, which this year will celebrate the Ryazan Higher Airborne Command School named after VF Margelov. The servicemen represent the 56-th separate Guards air assault brigade (Cossack brigade) airborne troops.
In the course of the super marathon, which is accomplished, accompanied by military vehicles with food and medicine supplies, paratroopers stop in various cities for demonstration performances. Today, Kamyshin servicemen held demonstrations for residents of Borisoglebsk, Voronezh Region, famous for its flight traditions (the legendary Valery Chkalov studied at Borisoglebsk in his time). Marines showed skill in handling
weapons
, demonstrated spectacular skills in hand-to-hand combat.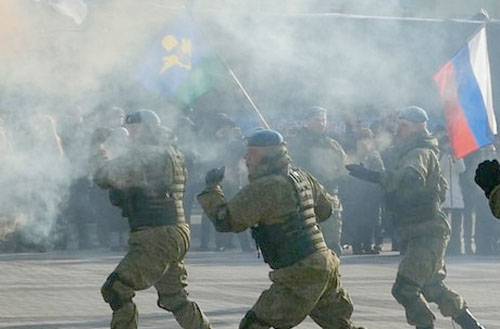 It is noteworthy that in the course of their journey in honor of the centennial jubilee of the Military Highway Command Military Command Command, the military personnel of the 56 unit did not stop at a military facility. Borisoglebsky College of Industrial and Information Technologies (BTIT) provided its services to accommodate a company of paratroopers - the servicemen are accommodated in a dormitory for several days.
For reference: Ryazan VVDKU conducts its
history
from the formation of the Ryazan infantry courses (November 13 1918 of the year).