The Kurds lost a number of settlements in the northwestern part of Aleppo. Turkish military trained about 500 SSA fighters to fight Kurdish units in Afrin. Reports about it
FAN
with reference to Syrian sources.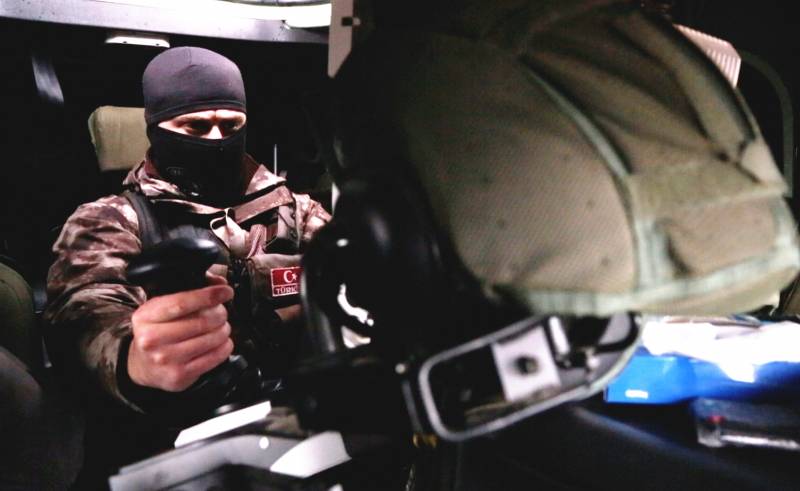 In the area of ​​Eastern Guta, armed confrontation between armed opposition groups and parts of the Syrian Arab Army (CAA) did not cease during the day. Residential districts of the city of Damascus - Al-Al-Barbarian, Al-Zablatani, Al-Abbasin and Al-Kasaah again came under fire from the Islamists. It is known that at least two local residents were killed. In response, the SAR artillery divisions, together with the Syrian air force, resumed shelling fortified militants on the outskirts of the settlements of Hamuria and Arbin, as well as in the vicinity of Dzhobar.
The Turkish forces, together with the detachments of the Free Syrian Army, attempted to break through the SDF defenses in the northwestern part of Afrin during the day. Clashes were recorded at the settlements of Bulbul and Raju, but the Allies failed to make significant progress in this area. In addition, at least 12 soldiers of the Turkish army were killed in the battles with the Kurds. However, in the afternoon, pro-Turkish forces defeated the settlements of Tadadil, Saar Najka and Arabviran, as well as several nearby peaks from the units of the SDF and YPG.
Having suffered casualties, Turkey redeployed additional troops to the region. According to the HalabTodayTV channel, reinforcements passed through the border checkpoint Kafr Lasin in Idlib and headed towards the city of Darat Izza. It also became known that about 500 of the radicals of the SSA brigade "Sultan Murad" were trained by the Turkish military and will also join the attack against the Kurds.
Militants of the Syrian Free Army (FSA) are once again confronted with terrorists of the IG (banned in the Russian Federation) in the south of Idlib. Fled after the clashes with the Syrian army and the Russian Aerospace Forces in the north-east of Hama, attacked the positions of the Islamists in the area of ​​the village of Um Halal. According to the opposition media, several IS militants were destroyed during the confrontation. In the southern part of the region, clashes of the UAR forces with the Islamists of "Dzhebhat an-Nusra" (banned in the Russian Federation) continued. With the support of the Russian HQs, the military managed to eliminate at least the 32 radicals of the terrorist group.
In the north of the Hama province, shootings were recorded between the Islamists of the terrorist coalition and the government forces of the SAR. The militants fired on the positions of the Syrian army near the village of Helfay, after which the SAA artillery returned fire at the objects of the radicals in the vicinity of the cities of Al-Latamina, Murek and Kafr Zeta. In addition, several combat sorties in the area were carried out by the Russian
aviation
. By evening, the militants tried to attack the positions of the SAA at the settlement of Zelin, but thanks to the support of the Russian Air Force, the attack was repelled.