Deputy of the State Duma from the Republic of Crimea, deputy chairman of the Committee on Nationalities Ruslan Balbek commented on the words of ex-deputy of Ukraine from Crimea Andrey Senchenko, who explained Kiev's refusal to fight for the peninsula in 2014 by the provisions of the Constitution, reports
RT
.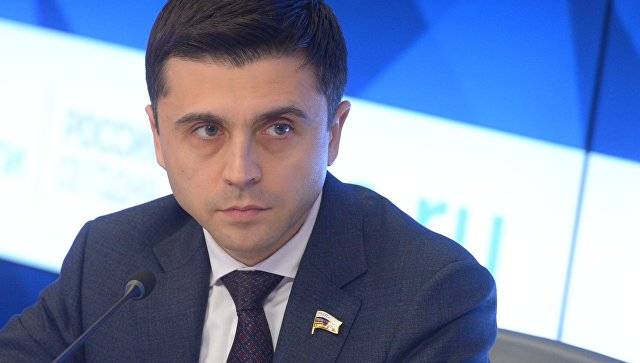 Ukrainian politicians, talking about the Crimea, are trying to replace the concept of cowardice with humanism. That is why they find many reasons for explaining their worthlessness in the events of March 2014. Kiev elites are doing everything to whitewash themselves and prove that their actions were the only correct ones.
said Balbec.
He also noted that in Kiev they are now engaged in "another political cheating", arguing that "among the leaders of the" Maidan "there were only pacifists," and Russia opposed them to the "hawks of war".
Earlier, Senchenko said that Ukraine refused to impose martial law in Crimea in 2014, "since the Ukrainian constitution does not provide for holding elections in such conditions."
At the same time, Turchinov (then acting as president) was ready to sacrifice elections.
From the point of view of Turchinov, the temptation was ... The temptation was, and if we agreed, Turchinov, maybe, would still be acting. President,
added Senchenko.
In late January, it became known that the Ukrainian authorities were considering the issue of delegating broad powers to Crimea and returning to the Constitution of 1992 of the year in order to prevent the reunification of the peninsula with Russia.