During the military exercise on the territory of the Khabarovsk Territory, an armored vehicle "Typhoon" was involved. With its help, it was carried out to cover the special forces detachment, which entered into battle with conditional terrorists. The press service of the Eastern Military District reports that during the special tactical exercise, Tiger armored cars were also used.
From the message
press service
BBI:
On one of the sections of the route, a group of conditional terrorists set up an ambush, undermining a controlled "landmine" to block the convoy and attacked. The servicemen completed the tasks of dismounting from the Typhoon armored cars, occupying firing positions, and interacting as part of a unit. In the course of the training battle, various tactical techniques were developed for conducting combat in a confined space using standard weapons, including Kalashnikov machine guns, and the "attackers" were destroyed. To create an environment as close to real as possible, a significant amount of imitation tools was used, in particular explosive packages, smoke, idle ammunition.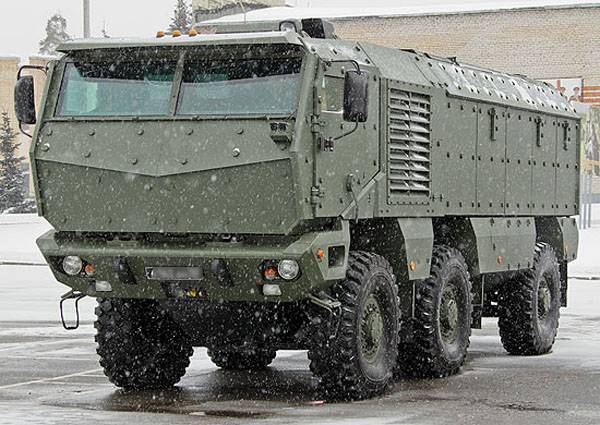 For reference: Bonded multifunctional modular armored vehicle "Typhoon-K" on the chassis KAMAZ-63968 can carry up to 16 people. The landing of troops from the armored vehicle can be carried out both with the help of a specialized ramp, and through the door. The front of the cab has enhanced reservations that can protect (according to unconfirmed data) from 30-mm ammunition; implemented the ability to install bolshichita, closing the windshield. The car has mine protection. The landing force is able to monitor the operational situation with the help of monitors that display a "picture" from several external video cameras.