On the website of the Ministry of Defense of Ukraine a communique of the Chief of the General Staff of the Armed Forces of Ukraine, General Viktor Muzhenko, was recently published. In his message, the commander tells about the high mobility and combat effectiveness of the units subordinate to him.
According to Muzhenko, the military exercises of the last few years have made soldiers of the Armed Forces of Ukraine especially effective when they have to force water obstacles. If desired, the Chief of the General Staff hints, they could conduct successful military operations even outside of Ukraine itself.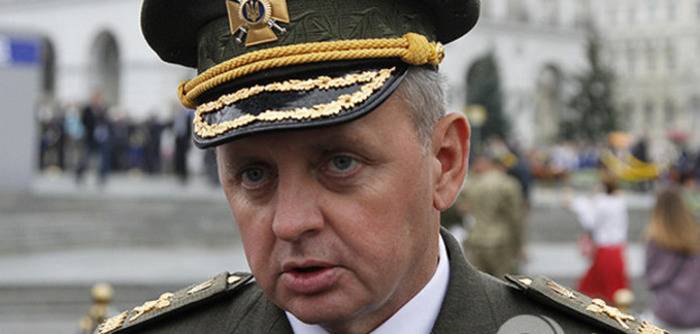 Given the current political situation, it is easy to assume that by this General Muzhenko wants to say that, if necessary, the Ukrainian army could launch an offensive against Russia. However, the commander of the Armed Forces of Ukraine immediately notes that he will not do that.
We are not going to force the Volga. We are going to go through our territory and our land. And no matter how whoever throws fake documents there, we have no tasks outside Ukraine's borders
- said Muzhenko.
He stressed that "threats to the security and territorial integrity of Ukraine" may appear in several directions at once. One of the key priorities of military reform and training of troops is to increase their mobility, the head of the General Staff added.
Earlier, Ukrainian politicians have repeatedly expressed themselves with regard to the seizure of Russian territory. In May, the Minister of Infrastructure of Ukraine, Vladimir Omelyan, stated that the air traffic between Russia and Ukraine would be restored only after the "return" under the control of Kiev to the Krasnodar Territory of Russia.
A month earlier, the head of the Donetsk military civilian administration (a representative of the Ukrainian authorities in the Kiev-controlled part of the region), Pavel Zhebrivsky, announced that in the future the Rostov region would be incorporated into Ukraine.
23 March 2017 was a deputy of the Verkhovna Rada, the former leader of the Right Sector extremist organization banned in Russia, Dmitry Yarosh predicted that the Ukrainian army would seize the Krasnodar Territory, the Voronezh and Belgorod Regions.