President of Ukraine Petro Poroshenko appealed to the Austrian Parliament to recognize the so-called famine. According to Poroshenko, "you can not leave forgotten pages
stories
", And therefore, according to the current president of Ukraine, the Austrian parliamentarians should recognize the Holodomor as" the genocide of the Ukrainian people. "
This statement Poroshenko made in Vienna during a meeting with the head of the Austrian National Council Wolfgang Sobotka.
In addition, Poroshenko expressed hope for the formation in the National Council (the so-called parliament of this country) "friendship groups with Ukraine."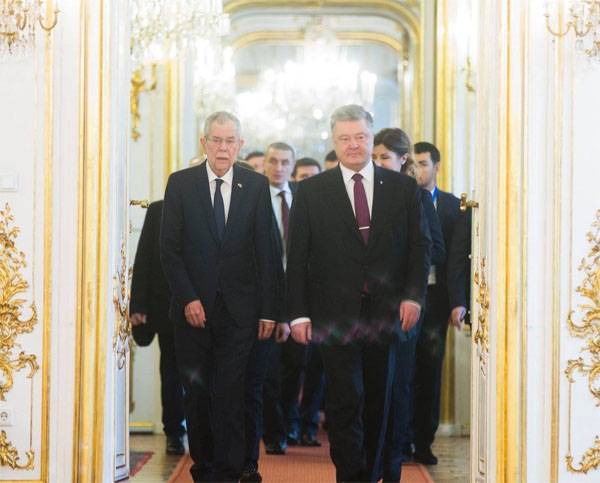 If you believe Poroshenko, then Wolfgang Sobotka in a conversation with him confirmed the intention of Austria to continue the sanctions pressure on Russia.
According to Poroshenko, the Austrian parliament should consider the issue of "crimes of the Soviet totalitarian regime against the people of Ukraine."
After such statements, it is worth asking Poroshenko several absentee questions:
Mr. Poroshenko, does not your activity as head of Ukraine lead to consequences that are more terrible than any "famine", given the economic decline, the civil war and the demographic hole?If during the times of the USSR there was a genocide of an entire people, how did you appear on the territory of Soviet Ukraine? Or do you emphasize that your family has nothing to do with the Ukrainian people?
On the reaction of the Austrian Parliament to the proposal Poroshenko on the "famine" at the moment information is not given.