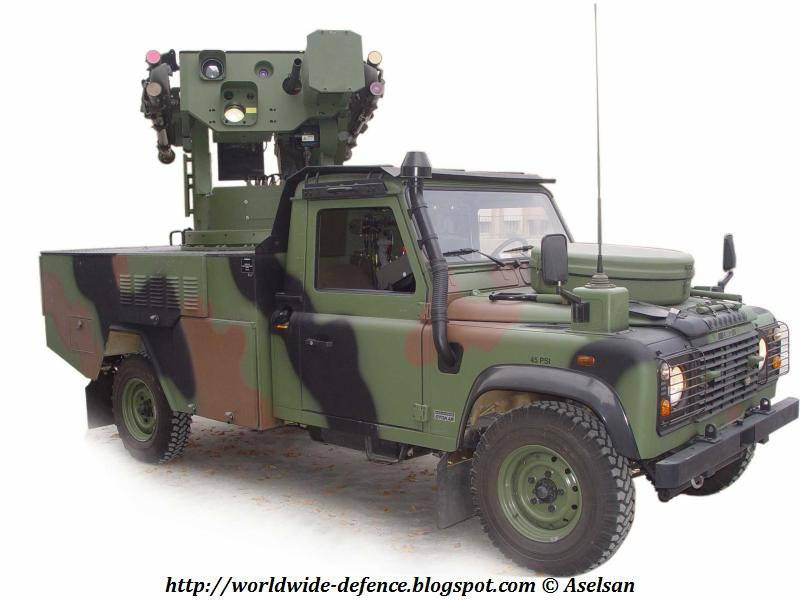 ZIPKIN SAM is an original design by Aselsan created based on the requirements of the Turkish Defense Industry Secretariat (Secretariat for Defense Industries, SSM). The subsequent mass production contract concluded with Aselsan in December 2001 of the year included the production and supply of a total of 158-systems (70 ATILGAN, 88 ZIPKIN) with the subsequent maintenance and training of the Turkish Air Force personnel. The ZIPKIN variant is installed on the Land Rover Defender 130 chassis in accordance with the requirements of the Turkish armed forces.
ZIPKIN PMADS (Pedestal-Mounted Air Defense Missile System) is a fully automated short-range air defense system using Stinger missiles, providing autonomous, coordinated work with command, control, communications and reconnaissance systems and other air defense systems. Currently, the system is integrated on a vehicle with a wheel formula 4х4, but can be integrated on various types of car platforms. The main task of the ZIPKIN air defense system is the lower level of air defense of fixed objects, such as radar, air base and base. The calculation system consists of two people, the gunner and the driver. The launcher is located at the rear of the vehicle and carries four ready-to-fire missiles. An additional four reload missiles can be transported by car in their original launch canisters. The operator can control the system as well as directly from the vehicle, as well as using the remote control at a distance of 50 m from the vehicle. Despite the fact that originally ZIPKIN PMADS assumed the use of Stinger missiles, the system can also be configured with other types of missiles of the super-close range. A set of sensors includes a second-generation thermal imager with two fields of view, as well as a daylight television camera with the possibility of increasing the scale. An integrated multipulse laser range finder can be used to determine the distance to the target.
The main tactical and technical characteristics of the ZIPKIN PMADS system:
• 4 ready-to-launch rocket Stinger
• 12.7-mm machine gun for self-defense
• Target detection and tracking system and fire control system at day and night conditions
• Electronic system of recognition "Own - Alien"
• The ability to remotely control system functions in 50 meters from the PU
The fire control system ZIPKIN PMADS provides the following functions:
• Remote control of all subsystems
• PU control and stabilization
• Automatic swivel PU towards the target
• Automatic target tracking
• Automatic target type recognition (airplane or helicopter)
• Automatic opening fire if the target is within range of the rocket.
As an additional weapon, the system has an 12.7 mm coaxial MX machine with a large-caliber machine gun M3 with 250 cartridges. The machine gun is used both for self-defense and for covering missile dead zones. The machine gun can also be controlled remotely. ZIPKIN can be transported by C-130 and C-160 aircraft.