The Minister of Defense of Ukraine is making a working visit to the USA, where he has already held a meeting with his American counterpart James Mattis. One of the main topics for discussion between Mattis and Poltorak concerned the decision of the United States to transfer to Ukraine the lethal
weapons
, including anti-tank missile systems "Javelin". Recall that the transfer, according to Washington, can be made free of charge. This is taking into account the fact that Ukraine decided a few days ago to transfer to the USA about 1 billion dollars of gold and foreign exchange reserves "for storage".
According to the head of the Pentagon, the United States focuses on the need for the successful completion of the military reform begun in Ukraine. The main goal of this reform is the transition of the power structures of Ukraine to the so-called NATO standards. In Mattis's office, Poltorak demonstrated one of the stages of such a "transition" - a new "de-communized" uniform.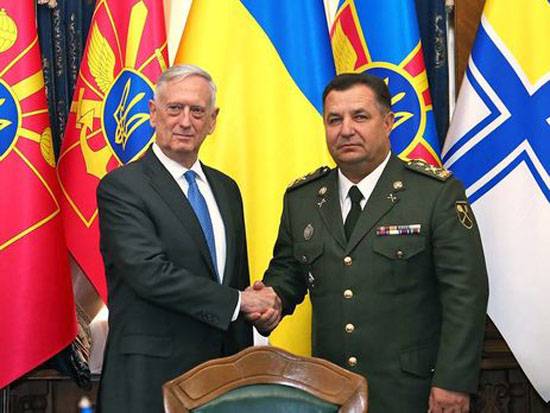 Photos of the visit of Mattis to Ukraine
For Mattis, this was not enough ...
Mattis, talking about the imminent supply of lethal weapons to Kiev, called on Ukraine to implement the Minsk agreements. According to the Pentagon chief, the United States "intends to strive to" ensure that "and Russia" fulfill the Minsk agreements. At the same time, Mattis did not clarify in which paragraph of these agreements the specific obligations of the Russian Federation are indicated.
Ukrinfrom
quotes Stepan Poltorak:
We considered all the issues, including the issue related to the decision of the United States to transfer Ukraine to lethal weapons. We discussed the mechanism of how this will evolve, there is already a full understanding of this. The US decision was timely and correct, and the transfer of weapons will be carried out in a timely and very thoughtful manner.