The Russian ambassador to the United States of America, Anatoly Antonov, commented on the new US nuclear doctrine. We are talking about the doctrine, which, according to the established American tradition, consists of two parts - open and secret. In the open part, it is stated that Russia "is violating its arms control obligations". This is announced by the state, which has not yet destroyed (and does not seem to be going) its own arsenal, for example, chemical
weapons
.
RIA News
cites the statement of Anatoly Antonov:
The document mentions the treaty on short and medium range missiles. We are talking on this topic with the United States. I will tell you frankly how a professional, the main thing is to conduct this conversation at the professional level. I am opposed to discussing all these issues through the media. And on this side and on the other hand, there are excellent specialists who are firmly convinced that they can sit together (...) and resolve these problems.
A Russian diplomat, who, incidentally, is under US sanctions since his work at the Russian Defense Ministry, noted that Russia is implementing all arms treaties that it had previously signed on arms control.
Antonov noted that he was extremely surprised by the statements of the United States that Russia allegedly rejected proposals by the United States to further reduce strategic offensive arms.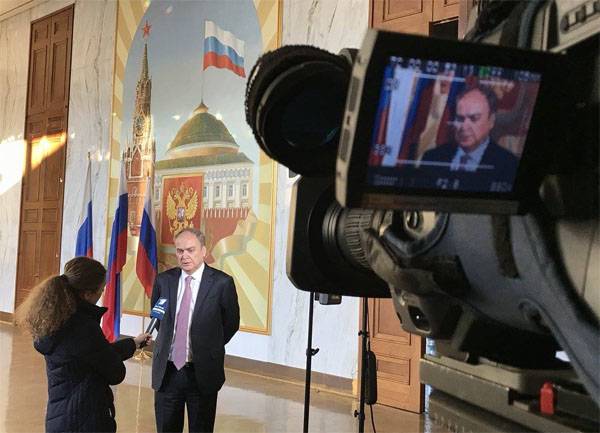 Anatoly Antonov:
And by February 5, both countries should make statements on how strategic arms reduction treaties are being implemented.
From the statement of the Ambassador of the Russian Federation in Washington:
When we concluded a strategic offensive arms treaty, we repeatedly said that there were official statements by the Russian Federation that we only sign this treaty at the level of anti-ballistic missile defense that existed at the date of signing. Let's see what the statements will be. Capitals will make the appropriate decisions. Will wait.