The President of Russia arrived in Volgograd, where solemn events are held today, timed to coincide with the 75 anniversary of the defeat of the Hitler army in the Battle of Stalingrad. Vladimir Putin, after arriving in the city on the Volga, went to the historical-museum complex "Battle of Stalingrad" on Mamayev Kurgan.
The head of state laid a wreath at the Hall of Military Glory, as well as flowers to the resting place of Marshal V.I. Chuykov.
Together with President Putin, the Governor of the Volgograd Region Andrei Bocharov and the Plenipotentiary Representative of the President in the Southern Federal District Vladimir Ustinov visited the memorial complex.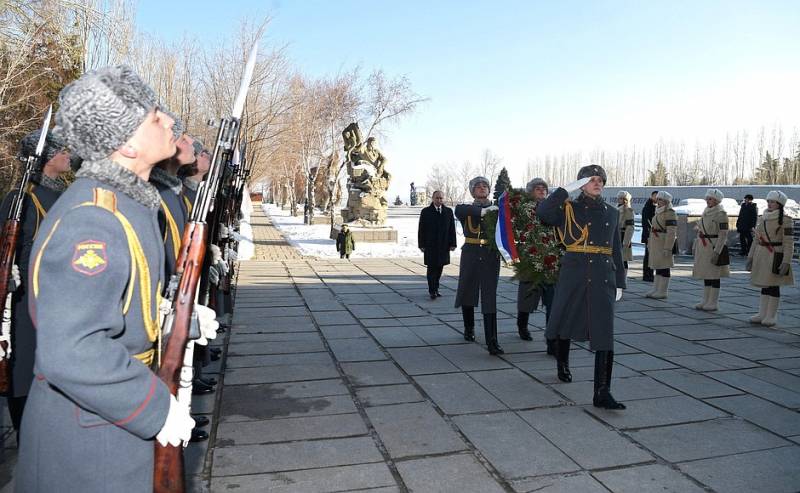 The celebration of the 75 anniversary of the victory of the Soviet troops in Stalingrad on the initiative of veterans bears federal status.
During his visit to the hero-city of Stalingrad, Vladimir Putin delivered a speech at a gala event held in the city on the Volga. From the speech of the president:
Dear friends, dear veterans! 75 years ago here, on the banks of the Volga, the legendary Stalingrad victory was won. Congratulations on this holiday. The triumph of the Soviet army ended the battle that went into
history
humanity as the most violent and bloody. Here the indomitable nature of our people is fully manifested. We must be equal in our actions to the accomplishments of fathers and grandfathers, to achieve more than we have already achieved and achieved. Based on this foundation, we will only go forward!
Famous artists perform at the holiday center in Volgograd. Among them is the national artist of the Soviet Union, Vasily Lanovoy.