Russian Prime Minister Dmitry Medvedev announced the dynamics of trade in the format of the Eurasian Economic Union. During the meeting of the EEU Intergovernmental Council, Prime Minister Medvedev noted that, as a result of 2017, trade volumes increased by more than a quarter.
TASS
leads Dmitry Medvedev's statement:
The volume of mutual trade between our countries, as predicted, increased by almost 27%. And the gross domestic product is growing, and industrial production is growing, and agriculture. The growth of deliveries was noted in almost all commodity items.
At the same time, the head of the government of the Russian Federation stressed that there is a leading trend in the export of goods not related to the raw materials sector of the economy.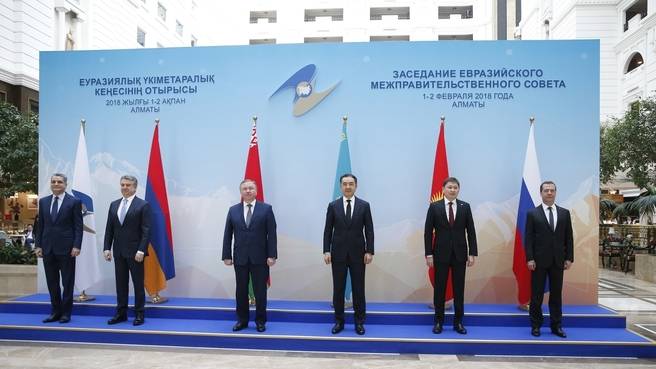 According to Medvedev, for the first time since the creation of the Eurasian Economic Union, inflation in all its states (Russia, Belarus, Kazakhstan, Armenia and Kyrgyzstan) did not exceed the limit value set by the agreement - in 7,5%.
The head of the Russian cabinet of ministers noted that now the countries of the EAEU should switch to labeling of goods, which will improve control over the movement of goods within the borders of the Eurasian Union and increase tax collection.
Medvedev on pensions for citizens of the EAEU countries:
This year, we hope, a contract will be signed on the provision of pensions to workers. With the adoption of this decision, it will be easier for people to change jobs within the Union, this is the very labor mobility that we strive for. People will get the opportunity choosing where to retire.
Does this mean that, for example, a Kyrgyz worker will be able to make a choice of retirement in Russia, and not in Kyrgyzstan itself?