In Ukraine, the authorities continue to comment on the Polish law on the institute of national memory. Recall that in its law, the Polish authorities decided to link the ban of Bandera ideology with the ban on covering the facts of Polish relations with Nazi Germany in the 30 of the last century. Ukrainian authorities "hooked" exclusively ban on Bandera ideology, adopted by Polish parliamentarians.
The Foreign Ministry of Ukraine said that Poland had taken a hostile step against the Ukrainians, and called on President Andrzej Dudu not to give way to the new law. At the same time, in Kiev, they even threaten Warsaw with the fact that they "complain" of it to Washington.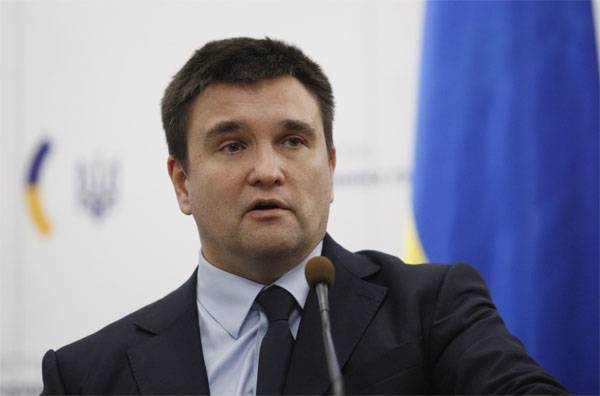 Connected to the criticism of Polish colleagues in the Verkhovna Rada of Ukraine. A number of Ukrainian people's deputies announced that the new Polish law "degrades the dignity of the Ukrainian nation". Ukrainian edition with a great name
"European truth"
leads the collective statement of people's deputies of Verkhovna Rada:
The adoption by the Sejm and the Senate of the Republic of Poland of changes to the law on the institute of national memory is considered a radical anti-Ukrainian step that could destroy the foundation of good-neighborly relations between our nations and states. This is the humiliation of the dignity of the Ukrainian nation, abuse
historical
the truth and objections to more than forty years of work on reconciliation between our peoples.
Rada said Poland "stabbed Ukraine in the back, which opposes Russian aggression."
According to the Foreign Minister of Ukraine Pavel Klimkin, "Ukraine is forced to prepare a response" to the law adopted by the Polish parliament.
Earlier it was announced that Kiev could recall its ambassador (the well-known Deschitsu) from Warsaw.
At the same time, it became known that Israel was withdrawing its ambassador from Poland, whose authorities disagreed with the fact that Warsaw was trying to turn into a criminal offense a reminder of the facts from the history of the contacts of the Polish government with Nazi Germany in the 30s.