Airborne Trooper answers questions to the complex "Ratnik"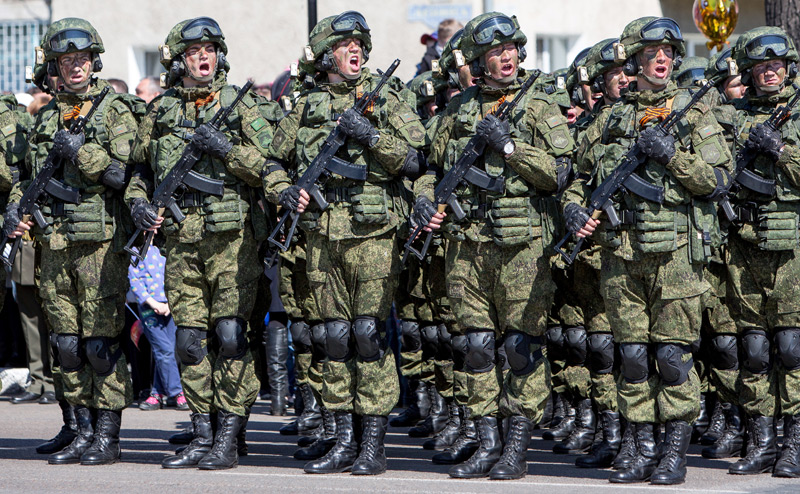 To begin with, the "Warrior" is a fairly large list of property, equipment, communications, weapons and optics. And the equipment can be issued, depending on the part and unit, completely different. You should not think that if the "Warrior" is issued, it means that everything was given: from the clock to the thermal imager. No, it is not. Moreover, the elements are held in different services - communications, RAV, clothing, etc. In addition, the kit is constantly being upgraded, and, accordingly, the kits also differ in delivery time.
There is also a big problem with obtaining new property - the chiefs do not want to give out. In order not to lose by the military field method and not to wear it, so that it would be new and beautiful for the "window dressing". And commanders do not want to receive it, because all these expensive elements will hang on them, as on financially responsible persons. Subtract something from the contractor who lost property, perhaps, only in theory. In fact, due to bureaucratic delays, it is almost impossible. About the conscripts, I generally keep quiet, there all the property hangs exclusively on the commanders. And these are multi-million sums.
Therefore, often all these new sets lie in warehouses for years and decades, standing out only for the "show". Now it's really easier and cheaper to buy the "Warrior" for the necessary parts in various Internet flea markets (where it seems to get from those warehouses) than to receive it. What many do.
- Recently there was a negative article about a warrior:
https://www.vz.ru/columns/2017/7/4/877092.html
I want to hear the comments of the operator.
I, the welder is certainly not real, but I still have questions:
a) But is a Warrior not just an MO?
b) Surely the Ministry of Defense began to send on business trips to the UK? unless the FSB / Rosgvardiya doesn't constantly go there on business trips.
1. The article is emotional, but in many respects true. About what they are wrong, I will write a little further. In principle, I can even say, a comrade from which unit and which compound wrote it.
2. "Warrior" and "Sagittarius" were really used and used by the units of the Defense Ministry in the TFR.
For specific points of the article:
If they do not see the correction of defects, it does not mean that they do not work on it. Yes, unfortunately, we, the users, are heard poorly, but there are some progress. There are users who are fortunately heard. I am about those who are supplied first of all with the newest and the best. Yes, it's not us, unfortunately.
By lightning. Not seen to tear the fabric. Yes, for two years not one sticky tape on the demi-season has been working for me, everything is sewn tightly with threads. I saw that the lightning sometimes broke, it happens. But so that everyone would tear the fabric? Not.
By Velcro for stripes. This is not a form manufacturer's problem.
On VVZ. Well, get more size. That's exactly what I did. VKPO is not included in the kit, it was not intended to be tested with equipment.
There is no such backpack as a small assault. There is a RP, there is a RSH from the 6B46 kit, there is a PP from the 6B38 kit (yes, this is a crappy backpack, I agree). But here I personally see users who have not even read the instructions, but have tried to carry the kit in the form it was packed by the plant.
According to SIBZ. Well, guys, the instructions are clear that reading is not interesting, but still necessary! And do not try to cross a hedgehog with a snake. Yes, in the expanded set in the technique it is inconvenient, but after all it was made for short-term assault operations, that is, for the city, and not for raids.
"Sugar" on the back can not be hung? So she should not hang there. She is a "cracker", she hangs herself on a belt under the RP, which is exactly located on the place where the sling is not (that is why it is not). To throw off the RP and stay with the necessary in the "cracker".
What can I say - you need to read the instructions !!! And yet understand - that the set of "OWNWAY"! That is, it is universal for all tasks and specialties. And what is the TTZ MO, which does not always coincide with our wishes. Yes, for specialists, it is already small, but such is the reality. Now, fortunately, there is a big choice.
- Is everyone using out of gear? How did the multitools, knives, watches, etc. small things manifest themselves?
By the set of 6B38:
Clock. Glitches, it happens that they stop by themselves. Most prefer modern electronic ones like Casio.
Torch. Normal, but there is no head-mounted mount, as in the original, and the IR mode is replaced with green. Often buy on their own.
Multitool Big and heavy. Who can - uses "Lesermans" or cheap Chinese multitools. It would be better sapper NA-2 purchased. By the way, I wanted to buy NA-2 privately - they say, even to a military man.
Spatula. Not bad
Filters. Nobody really uses and takes them, even when they were given out before the "Warrior". In IRP there is "Akvatabs", it is enough.
Active headphones 6М2. Polarmen has already passed by him, there is nothing to add to his words. "Well, no shmogl" (c) our industry normally copy "Peltora" and "Sordina". There is a shortage of 6М2-1 in the set to "Azartam", but I have not seen them except at the flea markets.
Shelter universal. Too complicated, no one can figure it out without instructions. And most do not even know that the instruction is on the wrong side of the case. It would be better to type the usual tent poncho.
Knee pads and elbow pads. Well, look, of course, cool! Especially on beautiful photo shoots))) Made from a fabric base like on Bijan and cups like on X-Tac. As a result, the legs and hands are too large in the large area closed and sweat. It would be better as the usual X-Tac did. And even better, as in the rest of the world, gradually, already on an integrated transition.
Raid backpack. Low quality, too large volume. I know cases when the straps of a non-loaded backpack were torn off when jumping from a KAMAZ body.
- Are there any problems with fogging of glasses, lenses, eyepieces?
Splinterless glasses. Not enough interchangeable dark lenses, like foreign counterparts. The helmet does not have a visor, like caps and hats for sun protection. Not enough complete and simple anti-splinter glasses (and not a mask) by the type of foreign ESS Crossbow, Oakley M Frame, etc. from the APEL list. Still, the mask application is limited. Therefore, in the pictures of beautiful glasses are usually on the helmet are, and not on the face.
- Hydrators put on a vest or a flask cost?
On 99% we get around a flask and ordinary bottles-one and a half. The fact is that young people, after watching films, go and buy hydrators. Where? That's right, in the near shtetl "voentorg." Any Chinese stuff for 5 bucks from Ali. It is clear that this r ... does not live long, breaks and flows. As a result, a fighter who has not heard about Source and Camelbak, begins to think and say that all hydrators are unreliable crap.
And where to hang the flask? On the back of the 6B45 there is no sling for this, and wearing a vest over a bulletproof vest is silly.
- What backpacks are used?
Basically, a patrol satchel from the 6ShX112-6ShNXXX and RD-117 kits for crews.
- Did he see the 6B45 fully loaded? How reliable is he in his opinion? (Precisely by the area of ​​coverage)
- Why created 6B46 - in what conditions is used.
- How often are external mounts used on 6B47?
- 6b45, as in a sock, how many plates are in fact worn?
6B45. Very good general armor. For an ordinary infantryman - almost ideal for security and comfort. Especially if there is no idiocy with putting on 6Ш117 over a bullet-proof vest with MOLLE system and a quick reset, as often happens. About the advanced set in the course, did not see, we do not need them. Here 6B45 is far from being provided for everyone. Staff wear two plates.
6B46: available in warehouses, not issued. He dealt with it earlier, the system is not bad for intelligence units for its layout and modularity.
6B47. Good helmet. I do not like the ribbon hanging, replaced by a foreign suspension. But this is an amateur, convenience and comfort increases, but at the same time increases the prohibition effect. Nobody bothers at all with the purchase of "Thors", LShZ and "Spartans" of every kind there. External attachments to 6B47 are not used, as there is simply nothing to attach to them.
- Do 6b45 bulletproof vests replace old batches that had problems with the strength of fasteks, threads, and without IR remission, on bulletproof vests of new batches, or are they missing?
Nobody can replace body armor for such reasons. Replace the old body armor, exhausted socks, when they are already ushatanny and there is something to replace in stock. About IR remission 90% of employees in the Airborne Forces have no idea what it is and what it is eaten with. They also do not know about new models and varieties.
- Sagittarius have to use? How is he?
- More detail about the system of targeting, communication, management. Well, if the system is already alien, alien. How everything is arranged, convenience, protection. And in the complex - a worthwhile thing, or is everything still the same way, do not use it?
The connection is provided by KRUS, "Azart" and the "Aqueduct" series.
At first, there are a lot of complaints, but I can't talk about them. The system is working. There are advances on the shortcomings, there is already a new set of KRUS, which has been very much reworked taking into account all the comments. But when they come to us is unknown.
"Excitement" - the radio station is just gorgeous, there's one gripe to it - GIVE THEM MORE !!! In the trash all these 168-e! And there is a lack of something like the "Bussol" radio station shown, that is, the radio station is slightly more powerful than "Azart", but with its capabilities, the "platoon-company-battalion" level.
By navigation. With KRUS, everyone has navigation. There are regular full-time navigators. The problem in the work of military topographers, which is not visible.
- What is the level of communication and navigation, does KO even have?
Depending on the unit. From - "KO has," to - "everyone has."
- I would like to reveal the theme of "usability" (adequacy of settings, interface length, ease of use, etc.) of various electronic devices. There is no one question.
With this trouble. With KRUS and navigators especially. Well, the trouble is that our people do not read the instructions (although they are often written in such a way that you can not figure it out without a half liter).
- How to recharge batteries in the field? Or simply old throw out, insert new? As far as I remember, the topic about the need for unification of used batteries was skipping (now everything seems to be unsuited).
Question on 5 points! With this all the trouble. Generators for the "fields" are issued only at the battalion level and above, and there is a lot of electronics in the modern army. Particularly pleased with some of the elements of electronics, which included only one battery and charging only 220 volts! Who can - drop off and buy diesel or gasoline (they are cheaper, but with gasoline in the fields more problematic) generators, or inverters for the on-board network of equipment. Who can not - goes with discharged devices and simulates their performance.
In general, with the forethought of providing for field conditions, everything is sad. There is a shortage of modern light mobile tents, field furniture (just like 50 years ago we put together wooden planks and floors), rapidly deployable mobile toilets, wash basins, shower rooms, and power supply systems.
- What are the most convenient batteries for equipment?
Uniquely finger-type (AA) batteries and batteries! But not the dismal filth with a capacity of 0,9 mA, usually already dead, which basically comes bundled.
- Declared that the composition of the Warrior should be a thermal sight / monocular. Was it? If so, is it Sahin? What are your impressions?
But with this, unfortunately, everything is sad. They are not.
- In general, what elements of equipment their user would prefer to replace with others, and which ones? :-)
What I wanted was a long time ago. I can not allow only normal (and domestic) PNV and thermal imager, unfortunately.
- Does the "Warrior" suffice to all in abundance (since it is sold so much in the shops) or, as in the "9 company", the clothing manufacturers give out trash and carry the nove to the store?
Just in stores in abundance, and this is what we use.
- Have you heard something Comrade. paratrooper about "Warrior-2"?
I heard. Advances in the right direction. The main thing is not to be fond of futurism, but to be closer to reality and users.
- Do you use the "Warrior" all the time, or only at the training ground, and take NATO, commercial, sport, alloy, etc., bought at your expense, for work?
At work I take my own to save issued. Fortunately, almost everything is normal domestic.
- Problems with the quality of sewing materials. If the difference in the form of sewn in different periods or different firms and whether it is significant.
Quality depends on the specific manufacturer and item.
- In all this equipment in the toilet for a large, interesting, you can go? Or - it is necessary to remove everything from yourself?
Can)
- Is upgrading welcome
weapons
or is it still full of parquet fools, forcing everything to be screwed before delivery to the warehouse?
With the modernization of weapons - no way. You can not and that's it. Such a position of the authorities.
- "The body kit" had a chance to test? Like a belt and a flame? How shit is everything else?
And yes - the tambourine on 96 and the four-row ratchet mukhonizmy store was not in the hands? If it was - how impressions?
It is interesting how the new night monocular, especially as the bracket is combined with the helmet 6B47.
Well, a bunch of collimator with a magnifying monocular.
"Kit" saw, felt, tried. But we are not given them, however, they are not given to anyone. The funny thing is that those from whom I took these machines, they were given out without regular patches on the pikatini slats (so as not to lose!), And therefore they swore strongly that they were scrapping the body and equipment. He didn't like the belt, it looks like a Chinese copy of magpulsky, and for some reason a black (!?) Color. I liked the aiming bar with two sets of sight - more and not needed. So in general - the kit is not bad, if you do everything correctly, to have and be able to use. And then I saw a company of conscripts with machine guns in the "Awesome", but with sights and other removable elements, closed in the safe at their company, away from sin.
Bubnov and new 60-current we did not have.
- What are the reviews on such elements as the 1P87 collimator sight; the 1P90 telescope; the 1PN138 night monocular; the 1K241 laser pointer;
All the 1P87 that I saw were with different types of grids and different TTX in passports. Some have 15 battery life, others have 60. Rough sight, definitely better than 1P63. Magnifer saw him, but did not use it. "Aimpoint" and "Iotech" they are definitely not superior, although the latter is not a fact.
1PN138 saw only on the site "Valdai", pictures from exhibitions and flea markets. I would have bought it with joy, but 100 thousands ((((We only have 1PN93 different options and BN-3. Maybe we have, but again - they are gathering dust in the warehouse).
- Do the sights go on the shooter?
Yes, collimator sights and optical multiples are used for all weapons.
- What do you envy of Western models - both in technology and equipment?
Equipment of NVD and thermal imagers and their quality. The procedure for issuing and decommissioning uniforms and equipment, the norms of its issuance. Field security.
- What are the complaints about the basic kit of uniforms, what would you like?
- How comfortable is the shape in particular heat / humidity / cold? Did you have to add / replace with other things, if so, what and why?
The summer uniform from the VKPO kit is very hot. Now the fashion has gone to take the form of one local firm: the exact replica of the charter is in color, but light, strong and breathes well, there is a mesh in the armpits and in the groin. Not enough Panama and battle shirt, normal "combat" pants. They are in new mountain sets, but they are not given to us.
Demi-season Normal, but Velcro is killed for a year and does not hold pockets and sleeves. On the thigh pockets, it is better to make a zipper and make a reinforcement on the bottom of the leg.
In general, now with the issuance of a form of trouble. An elementary telly once every two years to get one - and that is not bad. WCPO terms of socks exhausted - no replacement. Some shoes have not been received for years, we buy authorized copies for our copies, no "lightweight" can be. For vests as usual, confusion in the "tradition" - it is forbidden to wear the top of thermal underwear, even in the fields.
As before, winter jackets are worn with a belt, and summer suits again began to be tucked into pants.
A common problem in form is the timing of the socks of clothing property. One set is issued and carry it to the feast and to the world. First, crawl into the field in the classroom, and then step into the outfit in a clean and tidy. And so 2-3 of the year. And even if a new one is given out, the old one is rented, as the inventory property. As a result, the substitution, except for purchased at their own expense, no.
It would be desirable, that masksuits like 6Sh122 were issued on a clothing service, as a substitution for classes and fields. And issued for a short time or replaced by the fact of wear on the new.
By 6Sh122, by the way, there are also comments on the cut and pockets. Although the SSO "Partisans" from which they were copied, there are no such problems. Both of his colors are more successful than regular "numbers", especially the brown side.
- Shoes. What is worn in summer, in demi-season?
Despite the system of layers and other innovations, unfortunately, there are two seasons a year left in the army - winter and summer. So before ordering a garrison, we walk in summer or winter boots, respectively. Only give them out. Everything. And then, if there are sizes, and they are available. Winter in the near-zero temperature and indoors is hot. Summer olds were killed in the trash for the 2-3 of the month; it's not yet clear for the new ones, few have been given recently.
- Is it possible to use the equipment "according to the mind", or is everything regulated by the command? I mean wearing layers of WCPA according to the actual weather, and outweighing the pouches on unloading for themselves, as convenient.
Everything is regulated. Pouches all the same, regardless of the specialty. The form is similar: "I don't care that the beginning of April is already and + 15, it's winter season, so we're wearing winter boots!"
- During the operation, there are always losses of theft or just separate elements are broken. How does the repair work? Deduct the cost of salary and in what part?
About deductions and write-offs wrote above. Easier to buy on your own at the flea market. If there is a shortage of property, they will charge everything from the commander.
- What is with the washing of underwear? I heard from a recently retired conscript that putting in the laundry means not seeing more. No washing machines.
How to wash in the evening?
On washing and bathing in the PPD no problems. Issued washing machines are in the sink, after school and in the evening are loaded with work. Showers are also available.
- I apologize for the offtopic, but I wonder how your interlocutor will celebrate August 2?
No In the sense of no fountains, vests, torn at the chest, and berets with flags. I will go to the building, listen to the speech, and go home to the family. In the evening we will sit quietly with friends, talk under the shish kebab.