The Ministry of Defense of the Russian Federation recommends that the United States in the future either exclude flights from the Russian borders, or agree on the rules for their implementation. This was reported on Thursday at the Ministry of Defense of the Russian Federation.
The aerospace forces will continue to provide reliable protection of the borders of the airspace of the Russian Federation. If, for American pilots, awareness of this fact is the cause of depressions and phobias, we recommend that in the future, the American side exclude such flights from Russian borders or return to the negotiating table and agree on the rules for their implementation.
- said the department, commenting on the statements of the Pentagon about the unsafe interception of January 29 by the Russian Su-27 fighter of the American EP-3 electronic surveillance aircraft over the neutral waters of the Black Sea near the Crimea.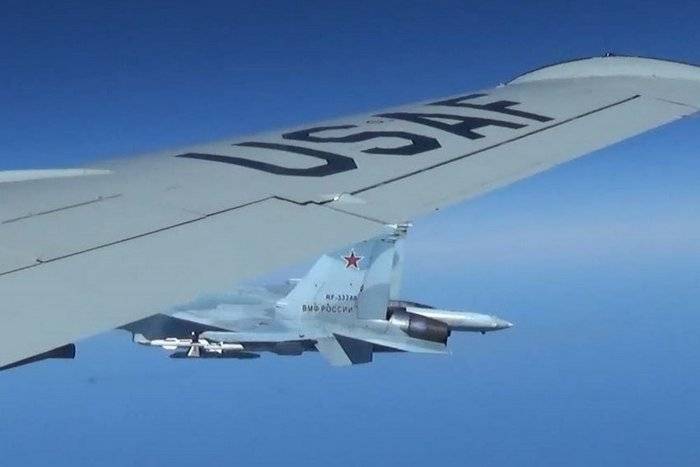 The Defense Ministry stressed that the Su-27 maneuvers were standard, legal and safe for an American aircraft.
We would like to remind the commander of the 67th tactical air group of the 6th
fleet
Bill Ellis that Crimea is an integral part of the Russian Federation
- noted in the Russian defense ministry.
According to the Russian military, the United States, sending pilots to conduct reconnaissance in this area of ​​the Black Sea, must take into account that they will be met there by Russian fighters, not by Ukrainian partners, or they will issue new maps to all the crews with correctly marked borders of Russia.
Also note that for the Russian fighter
aviation
The "interception" of air targets approaching the state border with the transponders turned off lasts a few minutes. Therefore, the actions of the Russian Su-27, which suppressed more than two hours and twenty minutes the attempts of the American reconnaissance aircraft ER-3E Aries II to approach the border of the airspace of the Russian Federation in the Crimea, are correctly called "escort"
- stressed in MO.
They also noted that the maneuvers of NATO fighters in relation to the aircraft of the Russian Aerospace Forces "absolutely do not affect the actions of our crews."
Similar maneuvers of NATO fighters in relation to the aircraft of the Russian Aerospace Forces flying over the waters of the Baltic, Barents, Norwegian, Northern and other seas have absolutely no effect on the actions of our crews
- Said in the department, reports Tass