Georgian Foreign Minister Mikhail Janelidze met with the NATO Secretary General Jens Stoltenberg. The main topic of discussion is the integration of Georgia into the North Atlantic military bloc.
The press service of the Georgian Foreign Ministry notes that Stoltenberg positively assessed the work that was done in Tbilisi for "the best compliance with the requirements of NATO." In particular, Georgia's ANP (Annual National Program) program was noted. This is a national program in cooperation with the North Atlantic military bloc.
Janelidze and Stoltenberg discussed the issues of the "territorial integrity of Georgia". The speech once again turned on the status of the Republic of South Ossetia and Abkhazia, the independence of which Georgia does not recognize, and without such recognition NATO (on the basis of the charter) cannot take Georgia into its "fraternal" composition.
Jens Stoltenberg made a very vague remark that NATO will continue to assist the Georgian partners in the process of strengthening the country's security.
Stoltenberg:
It was also stated at the forum in Warsaw that Georgia possesses practically all the main tools for joining NATO.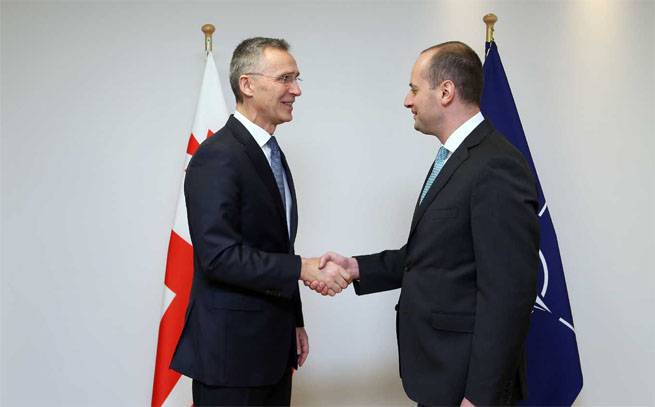 Against this background, a survey was conducted in Georgia on the subject of civil support for the idea of ​​the country's entry into the Western military bloc. 20% of respondents opposed joining NATO, 41% supported. The rest did not dare to provide a definite answer. At the same time, 19% of citizens were in favor of joining the Eurasian Economic Union, and 45% were in favor of integration with the EU. The survey was conducted on a grant from the American Carnegie Center.