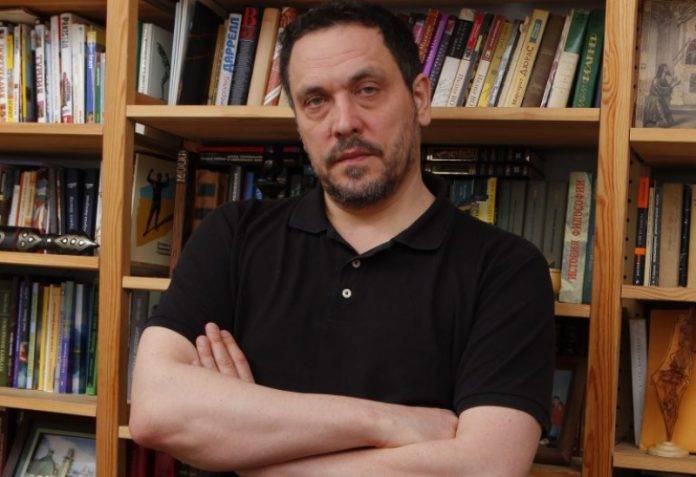 On January 26, presidential candidate Pavel Grudinin at the Lenin State Farm met with foreign journalists from leading European, Asian and American publications and news agencies.
Since the press conference was for foreign journalists, we probably had the right to expect that a candidate whom some forces are trying to present almost as marginal, of little interest, having no chance of winning, will not gather a large number of world leading news agencies. However, this did not happen. Representatives of the main world media attended this meeting. And, unlike other press conferences that were held for domestic journalists, there was no attempt to turn the press conference into a demonstration process about the "hidden billions". The questions seemed to be meaningful and, accordingly, we were able to hear the detailed and, again, informative answers of presidential candidate Pavel Grudinin.
It began immediately with a landmark question from a Japanese journalist: "How do you rate Vladimir Vladimirovich Putin's work over 18 years and what do you want to implement in Russia?" Somewhat later, Der Spiegel came back to this question, so Grudinin twice spoke on these topics. And the meaning of his answers was that one should move away from an overestimation of the role of the individual in
stories
. We see what is happening in Russia: we see 22 million official beggars, we see oligarchy feasts, we see indecent flat income tax, we see, as Grudinin said, "not a victory over corruption, but a victory of corruption". But one should not think that all this is merit or the fault of one person, in this case Putin. Similarly, what Grudinin proposes as an alternative is not the opinion of only Grudinin.
The presidential candidate repeated the words "team" and "idea" many times, emphasizing that he was proposing another idea and another team. Speaking about Putin's team, about "collective Putin", he called names - Kudrin, Gref, Abramovich, Dvorkovich with his judgment that there are no oligarchs in Russia, but there are socially responsible businessmen. Accordingly, speaking of his team, Grudinin also called names. Is this position correct? March 18 will meet ideas and teams - or will there be people, Putin and Grudinin?
Gudinin represents his team, as befits a patriot, a citizen and a socially responsible left-wing man, as a team. That is, Grudinin does not say - this is "my courtiers" or this is "my associates." He doesn't have this "yakan" at all. He says - "we." People's patriotic forces, the Communist Party, the Left Front - we. We are the totality of Russian citizens who love their country and treat political issues differently. Someone is a communist, someone is right (an anti-communist, unfortunately) - but we all love our country, we now have to free ourselves from our country's colonial dependence, from the West, from the full 1991 heritage of the year. And then, as they say, we will understand each other: which of us offers the development scenario more clearly - left or right?
And the Putin team is not a team at all. These are people who hide behind Putin, these are people who do their work behind Putin's back. Putin is a screen. A screen for a fairly large group of elites who either actually participated in the robbery and violence of 90's, or grab the stubs of the country by inheritance, privatizing them for themselves. They are trying to get into the shadows, they say - Putin. Volodin says: "Putin is Russia." But we do not say that. We say: "No one will give us deliverance: neither the king, nor God, nor the hero, we will achieve liberation with our own hand." The very concept that someone is Russia does not hold water. Of course, we are not fighting the Putin team (and I am part of the Grudinin team). We are struggling with the very concept of concealing dark affairs (or gray matters, and even bright cases) behind a certain political technology screen called Vladimir Vladimirovich Putin. It seems to me that Pavel Nikolaevich meant exactly that.
As for ideas. Our opponents have a poster: "A strong Russia is a strong president." Sorry, but a janitor Uncle Vanya can be a "strong president." In fact, a strong president is a person who is able to analyze and make decisions based on analysis. But they are imposing the image of Putin as the divine chosen one, without which we will all perish. These cynical people themselves are well aware that this is far from true. What irreplaceable we do not have. Of course, Vladimir Vladimirovich Putin is an outstanding politician and in many things outstanding, having vast experience in dialogues with world leaders, experience in solving geopolitical and strategic issues. But, in general, in the modern system, we have no irreplaceable ones. Even Comrade Stalin did not consider himself indispensable, by the way. Even Joseph Vissarionovich said that he was not above the party. It was not hypocrisy, he actually referred to this issue. And we almost impose a new king. I think this is a matter of principle.
A team of opponents of Grudinin from the government comes up with anti-democratic, almost non-monarchical, almost tyrannical slogans that may seem beautiful to them, but we hear them with political rumors, not religious rumors or any other subjects. distinguish already what they say and what they impose. "Putin is Russia," "Strong Russia is a strong president," means unique Putin. This is not related to a political program - they do not have a program as such. In fact, they can say: "Our program is what Putin will say." Well, yes, they are so related to this.
But we don't say that our program is what Grudinin will say. We say that our program is born in the discussions of the Communist Party of the Russian Federation, the NPSR, the Left Front, and other forces that support Pavel Nikolayevich. Today, the union of patriotic organizations is the most democratic community in Russia. We have a wide range of opinions. We have a fierce internal discussion, a controversy about the ways of Russia. The Left Front and the NPSR have different positions, different views. But we have a common look at the current situation - it is impossible to continue living like this. What Putin's technologists have turned into, and what Russia is turning into is for people who at least to some extent cherish the Soviet experience of the 20th century, when the people became the masters of the country, these concepts are unthinkable.
I believe that all monarchists, all lovers of tyranny, a bureaucratic power state - everyone should vote for Vladimir Vladimirovich Putin, I have no doubts here. Everyone who loves the Constitution of the Russian Federation (not this constitution of the Parliament that was shot, but the idea of ​​a constitution as a social contract), democracy, justice, socialism should all give their votes to Pavel Nikolaevich Grudinin.
Thus, we have the following conflict. Potential tyranny (albeit liberal tyranny) is against a social, constitutional, democratic, historical project called Russia. Soviet Russia - I like that definition. This is a fundamental choice.
I represent the left wing in the breast block and, of course, I am a supporter of the socialist choice. We rely on analysis. Lenin said quite clearly: without developed serious capitalism, socialism cannot be; socialism is not a utopia that arises in the heads of people, but an economic and social way of life that comes with the development of the economy; it is impossible to develop the economy by demagogic speeches and orders of commissars. The utopia of military communism in 1921 was a party that was realized and rejected after open democratic discussions. And there was a transition to a new economic policy, in respect of which Lenin himself, by the way, at different times held different positions. At first Lenin was strongly opposed, he said that this would be a revival of capitalism, that our party comrades would not understand us, that the Red Army men, who shed blood for victory, would not understand us, because it would be a departure from the ideals of the revolution. This, Lenin said, by the way, during a discussion with the workers' opposition. But when some time passed, Vladimir Ilyich, who was, I stress, one of the most prominent dialecticians in the political history of mankind, clarified and adjusted his position. He said that we cannot ensure the development of the national economy (in particular, industry in cities and normal barter) without introducing elements of the capitalist market. This will inevitably lead to the stratification of society in the countryside, to the emergence of the bourgeoisie, perhaps to the emergence of a fist. And Lenin was absolutely right about that. But the task of the party is not to abandon the goal of building socialism, to understand the course of the processes from the point of view of their historical and political expediency, and not demagogic or slogan. Understand that now we have to feed the country, that now we have to rebuild the economy - at least commodity production.
The next stage was industrialization and the restoration of a large industry. I am not discussing now whether Stalin was right or wrong, having intensified collectivization at the pace with which he carried it out. There are different points of view on this historical period. But, of course, today without the union of the left and national capital, which is under terrible pressure from state bureaucratic capitalism, we cannot move on. National capital must be released. Why, what is its difference? The historian Alexander Vladimirovich Pyzhikov drew our attention to this difference not so long ago in his work The Edge of the Russian Schism. In Russia, with a strong state, capitalist, even imperialistic, two classically conflicting types of capital take shape. The first is state-bureaucratic-aristocratic capital, which lives by borrowing from the West. It always has been. Before the revolution, they occupied from England and France, today - from the UK, the USA, international cosmopolitan financial centers. And Russia takes cheap borrowing. Then this money is expensive for the domestic consumer - business and the public. Further, due to the control of tariffs and various kinds of quotas, the bureaucracy backs out the money, lowers the purchase prices and overestimates the price of energy (such a plug), that is, still preventing the domestic market from developing. Then this money is taken abroad.
The antithesis of this is the national capital, which develops not at the expense of the state loan (which is unprofitable for it, bondage and which it does not believe), but due to the allocation of funds from the profit share. This conflict led to both the first Russian revolution 1905 of the year, and the revolution 1917 of the year. And the state cannot overcome this conflict with any reforms. To do this, he needs to change his own nature, to abandon the fact that the Russian empire was only a lackey education in relation to the Western masters, as it is. Any form of empire here is simply a derivative of imperial domination over Eurasia. And the owners will not sit in St. Petersburg or in Moscow (any imperial formations built on this demagogy and on this type of borrowing), but in London, Washington, Paris or Tel Aviv.
Only a nation-state that is not an empire (it's wrong to call the Soviet Union an empire) —the republic, the union of republics, the brotherhood of nations — is the antithesis of this type of state.
Therefore, I believe that the union of national capital in the person of Grudinin and left-wing forces is a fateful alliance for the history of Russia, which has once led to the liberation of us from foreign domination. It was, of course, the 1917 revolution of the year - February, which ended organically in October.
I explain my position as a leftist politician. I believe that the explanation is extremely important. Sometimes all patriots are mixed in one pile: they say, all the same. This is not true. We are dealing with an alliance, which is sufficiently many (at least by me) politically recognized as an alliance of left-wing democratic parties - and the people's patriotic right. Our block includes parties that are little distinguishable, in my opinion, from the "Black Hundred". But I resign myself to this. Because I understand that today the elimination of the colonial regime at any cost (political, of course) is a crucial task for Russia.
I believe that the union of national capital, whose interests are clearly formulated and represented by Grudinin, and political movements that appeal to the Soviet experience of anti-Western democracy, this union is the only possible one. I was waiting for him, this union. It happened. I think: we must go on. The Communist Party of the Russian Federation should create organizations like "Business Russia", work with entrepreneurs, create a business association. We need to create normal capitalism in Russia — people's capitalism, national capitalism — to protect the national business, which operates from a share of the profits. It is necessary to create an internal loan, to create an internal banking system that is not dependent on the colonial Central Bank or its owners, who sit in the World Monetary Fund or the World Bank, but is connected with the people. Such a banking system puts into circulation the personal, private savings that we keep at home, and they can bring income to the people. Having built such a system, we can then talk about socialism. I absolutely adhere to Lenin's position on this issue.
It is very important that more briefly about this (he simply did not have time - there were a lot of questions at the press conference) Grudinin also spoke. And he also recalled the NEP, recalled Lenin, and approximately in this context we heard the answer to the question of ideology that interests us.
That is, summing up the answers to the question about ideas, one can say that two ideologies have met. One sees the future of Russia as a colonial state built into the system of world global imperialism, and the other — Grudinina, Alexander Andreyevich Prokhanov, me and many tens of millions — sees Russia as an independent state, organized according to the Soviet model. It can be said that the word "Soviet" is key here. But only from the point of view of the Soviets as a form of democracy, and not from the point of view of the party secretaries, who subjugated the Soviets and then told the people what to think and how to vote. Again we will not follow this path - at least I will definitely not go. This path was disastrous, it led to the creation of a party bureaucracy, reborn and betrayed the people and the Soviets. We made a conclusion from this. I understand why Comrade Stalin shot parocrats. Because he understood their nature perfectly well and understood that the KGB trunk could have kept Yeltsin from doing what he had done in 80 — 90. But Stalin is no more, so we will not focus on the unrealizable. We will say this: The Soviets must be restored as democratic institutions. The prototype must be taken, of course, the Supreme Council 1993 of the year, which, probably, was the most democratic people's parliament in history. And precisely for this he was shot.
Do not be afraid of the experience of Lenin, Stalin, who did not hesitate to discuss such important, pressing political issues and give detailed articles on them.