The Syrian conflict has once again demonstrated that the troops need special modifications of armored vehicles for fighting in populated areas. Such a machine has existed for several years in Russia - it was created in Nizhny Tagil, writes
Messenger of Mordovia
.
"The main external difference of the modernized
tank
T-72 with an urban set of protective equipment is the presence of a powerful bulldozer blade, which is designated TBS-86. With the help of this device, "seventy-two" is capable of destroying barricades and various blockages, "says the material of Lev Romanov.
Also striking armored cabin mounted on the tower. It will save the life of the commander of the machine during the application of large-caliber machine gun.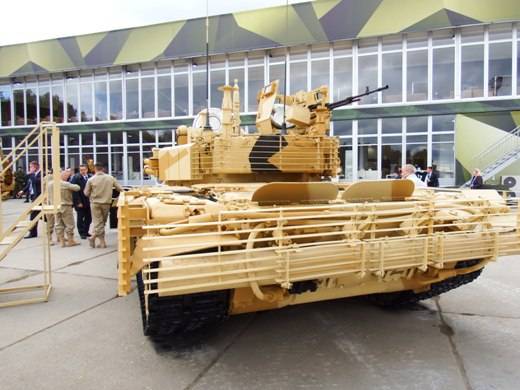 "The experts, however, still have not come to a single conclusion that it is better: such a cabin or remote-controlled installations. The fact is that this kit can be installed on existing tanks without significant rework, while remote control units will require more serious costs for upgrading, "explains the author.
It is necessary to mention the new modular dynamic protection installed in the front of the tower and the hull, as well as on the sides of the "urban" tank. The back is covered with special lattice screens. Also there is equipment that suppresses the work of radio-controlled land mines.
The tank is equipped with an 1000 horsepower engine, the maximum combat vehicle speed is 60 km / h, and the weight is 50 tons.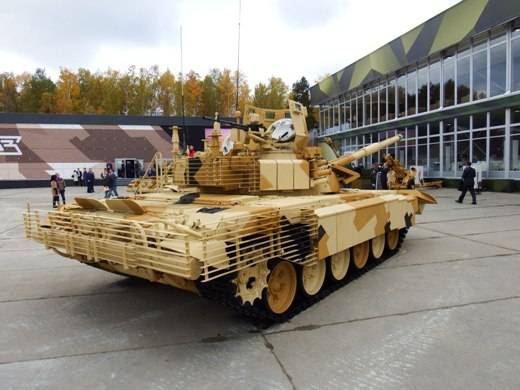 "Military experts spoke highly of the" city "tank from UVZ, rightfully considering this development one of the best in the world. It was expected that it, like the BMPT, would be tested in Syria, but so far we see this combat vehicle only at training grounds and
armory
exhibitions, "the author concludes.