As part of the verification of the combat readiness of the Belarusian army, a large-scale inspection of the actions of the air defense forces on duty was conducted, the Ministry of Defense of Belarus reported. Despite the difficult weather conditions, the fighter pilots and the calculations of anti-aircraft complexes worked clearly and destroyed the control targets. In addition, the aviators worked defeat ground objects.
740-th anti-aircraft missile regiment, equipped with air defense systems "Osa-AKM" on anxiety moved to a new positional area, set up a field camp and rose to combat duty.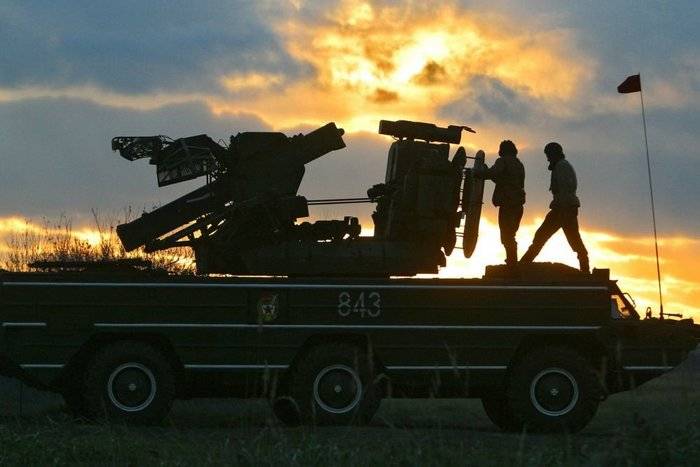 During combat, we receive target designation from the battalion command center. The actions of the enemy imitate airplanes and helicopters of the Air Force and air defense units. Making sure that the intruder is really in the sky, the calculation of the anti-aircraft missile complex proceeds to its conditional destruction: all the same actions are performed as in combat shooting, only without starting. My guys are well trained, constantly engaged in simulators and military equipment. I am sure of them, because everyone understands that the final assessment of the regiment will depend on joint concerted and skillful actions.
- said the commander of anti-aircraft calculation, Senior Lieutenant Anton Rogov.
At night, the anti-aircraft gunners repulsed several attacks on their positions as sabotage groups of the conditional enemy.
"Osa-AKM" - automated all-weather air defense complex of the near range. The target hit range is 6 kilometers. The combat vehicle of the complex is armed with four 9М33 anti-aircraft missiles. In the AKM modification, the affected area and the capabilities of the "Wasp" to work in conditions of dense electronic interaction were enhanced, and the overall noise immunity was enhanced. The air defense forces of the Republic of Belarus are also armed with MiG-29 and Su-27 fighters. In December, the 2017 of the year in Baranavichy took over the combat duty of a revived anti-aircraft missile regiment armed with Russian Thor air defense systems.