The press service of the Western Military District reports that the fighters of the special purpose brigade ZVO have begun to perform parachute jumps with certain conditions. Army Special Forces performs jumps from different heights both in daytime and at night, using the technology of delaying the opening of the parachute dome. At the same time, skills of landing brigade servicemen on difficult terrain, including those covered with dense forest, are practiced.
From the message
press service ZVO
:
The parachute training program provides for the performance of D-6 and D-10 parachute jumps from a height of 600-900 m, as well as 1200-1400 m with a delayed opening of the dome. In addition, military personnel will be taught how to load weapons and military equipment on board the aircraft, as well as
weapons
and equipment for landing in full gear. Before embarking on the jumps, the special forces fighters underwent a training course at the airborne complex, during which they mastered the skills of laying parachutes and performed special exercises for landing safety.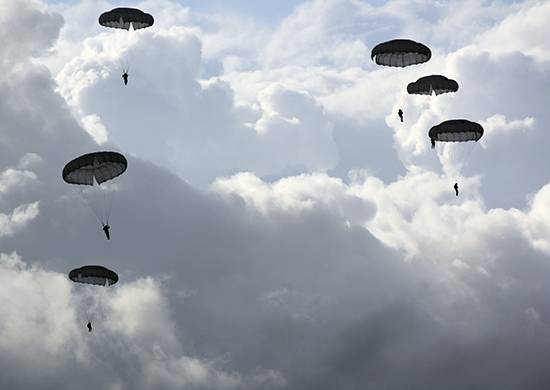 It is noted that as part of training in the Pskov region will be held over 2 thousands of parachute jumps.
For reference: the parachute D-10 was adopted by the Airborne Forces about 20 years ago. Allows you to jump at ejection speeds from 140 to 400 km / h with stabilization to 3 s (device AD-LSUD) and more 3 s (device PPK-U). A jump using D-10 can be made from a height of up to 4 km. Withstands up to 120 applications.