The experience of military operations in Syria must be promptly introduced into the practice of training troops and taken into account when implementing the state armament program, reports
RIA News
Statement by Defense Minister Sergei Shoigu.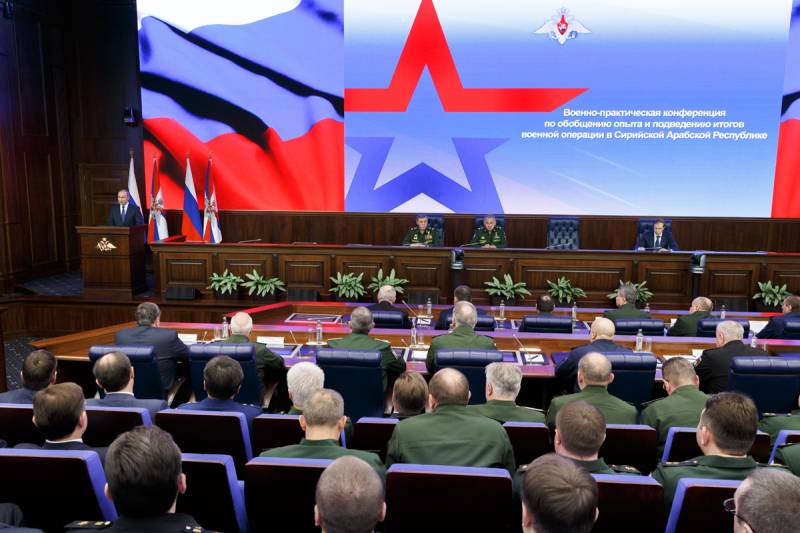 The Minister noted that "the experience of the hostilities and the technical support of the Russian group is comprehensively summarized and analyzed."
At present, it is necessary to promptly introduce it into the practice of training troops and take into account when implementing the state armament program,
set the task Shoigu, speaking at a military-practical conference.
He highlighted some aspects of the operation in ATS. Thus, in his opinion, the comprehensive support system effectively proved itself: "To Syria, 342 was flown by sea and 2278 by air. In total, over 4000 units of weapons and equipment, one million 608 thousand tons of cargo were transported. "
"The maintenance and repair of equipment was organized by forces and means of military repair units. For this, the necessary infrastructure has been created in Syria. In addition, 163 brigades of defense industry enterprises were involved in the elimination of deficiencies identified at the Hmeimim airfield and at the port of Tartus in the course of the fighting, "the Defense Ministry said in a statement.
According to Shoigu, "this allowed on-the-spot to quickly solve virtually all the detected technical problems."
From the point of view of the minister, the practice of concluding contracts of the full life cycle has justified itself.
The success of the operation in Syria was achieved thanks to the coordinated work of specialists from the Ministry of Defense and the military-industrial complex,
he declared.