The scramble interrupted the broadcast of "intellectual sparring" between Nikolai Svanidze and Maxim Shevchenko in the Komsomolskaya Pravda studio. Broadcast interviews with two journalists was conducted on YouTube, and therefore radio listeners could become both spectators of what is happening.
On the 52 minute of discussion of the twists and turns of the national (and not only)
stories
Svanidze decided that he could not sit still in his chair and attacked Shevchenko, who had previously accused the "historian" of spitting on the graves of Soviet soldiers. Svanidze, without removing the radio headset, hit Shevchenko on the cheek, to which he responded with his blow - and the "historian" was on the studio floor.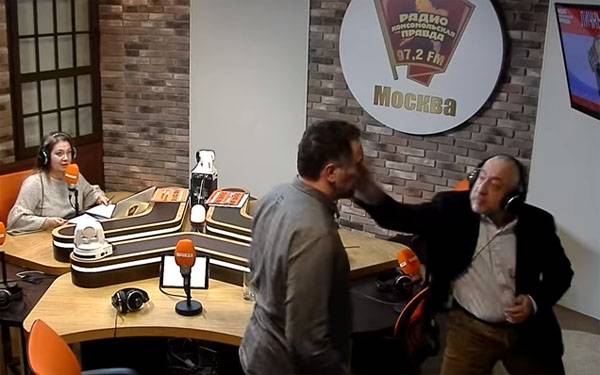 Initially, the verbal skirmish went hand-to-hand after Svanidze once again declared that Stalin had brought the country to a catastrophic state before the start of the Great Patriotic War, while the "historian" called Shevchenko a bastard because he did not think so. Shevchenko responded by calling Svanidze a complete demagogue.
The radio broadcaster tried in vain to urge the respected, in her words, men for calm and prudence, but other employees of Komsomolskaya Pravda radio station had to intervene in the matter, who separated the hot representatives.
cultural intelligentsia
.
As the practice of radio broadcasting has shown, Russian intellectuals are not always able to explain their point of view with the help of ordinary arguments, and therefore do not disdain with fistfights right before the eyes of the audience.
Radio Video
"TVNZ"
: