Today it became known about the next time shift of the first test flight of a military transporter IL-112В. If earlier at the Voronezh aircraft factory it was stated that the first flight tests of the new IL will begin in the first half of the 2018, now the dates have been postponed for another six months.
Alexey Rogozin, who heads the transport cluster of the United Aircraft Building Corporation, tells the media about the deadlines. According to him, in the spring of this year, the flight copy of the Il-112В is planned to be put under current, and in the spring several more planes of this model can be put into production.
For reference: The first TV7-117CT Il-112В engines were transferred to VASO last spring.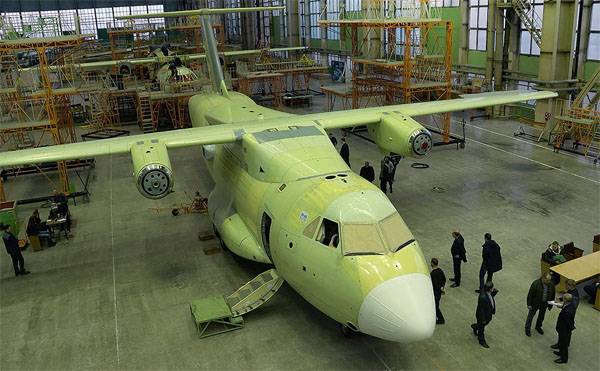 It should be recalled that the project IL-112В appeared as a shift for another transporter An-26. The right to implement the project was given to representatives of the Ilyushin Design Bureau back in 2004 year. Then it was planned that the plane would take to the air in 2007. But it's 2018 in the yard, and the first flight tests will not begin at all.
The Il-112V differs from the An-26 and An-74 in the fuselage - with an increased cargo compartment, allowing transportation as standard
aviation
containers, and various kinds of military equipment. Loading and unloading of the aircraft is carried out using 2 telphers moving along the I-beam in the center of the cargo compartment, and directly by the electric winch at its front wall.
Alexey Rogozin declares that after the start of flight tests, plans will be known for orders for this military transport worker, which can be fully used in civilian modification. According to Rogozin, in the conclusion of the contract there is an interest in "a foreign partner with whom Russia has been working for a long time."