In the Eastern Military District, preparatory activities have begun to organize the work of the consolidated environmental units, which in 2018 will continue work on the Wrangel Islands and the Great Shantar Islands, reports
press office
BBO.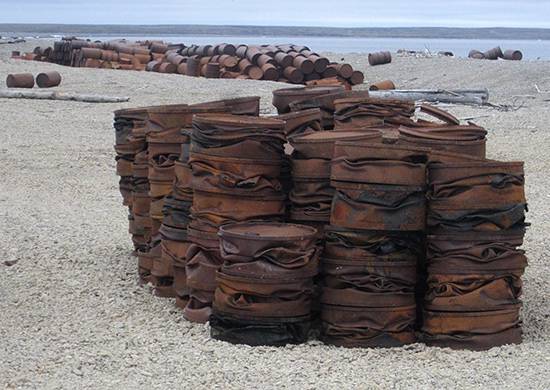 For the first time, work will be carried out on Wrangel Island in the area of ​​Doubtful Bay and the former Starfield airfield.
"It is planned to collect and remove by vessels of outside organizations about 2,5 thousands of metal barrels with various garbage, with a total weight of more than 320 tons. In addition, pressing for about 300 tons of empty metal barrels, which will be exported in 2019, is scheduled for the county environmental department. There will also be reclamation of about five hectares of land cleared of various metal and other debris, "the release says.
It is reported that "a bulldozer, modern cranes with a lifting capacity of 25 and 40 tons, scrap trucks with a crane manipulator based on a KAMAZ vehicle, dump trucks, a tracked carrier" will be involved for the assigned tasks.
In addition, two new baling presses for metal pressing will be delivered to Wrangel Island.
According to the press service, on the island of Bolshoy Shantar, "the collection and cutting of large-sized scrap metal, as well as the pressing of empty barrels with a total weight of more than 110 tons, are planned."
Specialists of the environmental unit will also dismantle and eliminate about 20 destroyed buildings and structures, perform tasks for cleaning and recultivation of territories on an area of ​​about 1,5 thousand square meters. meters
Work will begin on Wrangel Island in early June, and on Big Shantar Island in mid-July.