It became known about the postponement of the execution program for the modernization of American armored vehicles. We are talking about the program, which meant equipping the Stryker wheeled armored vehicles, as well as the Bradley BMP with modern anti-ballistic missile defense systems. According to the American media, citing representatives of the Pentagon, the modernization program is in fact disrupted - its implementation is already late for 8 months, and, apparently, this is not the limit.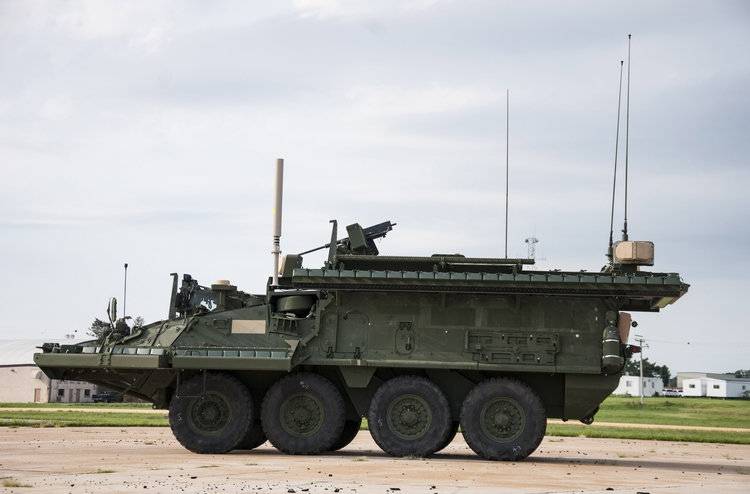 Iron Curtain on BTR Stryker (USA)
Stryker armored vehicle modernization program manager Colonel Glenn Dean in an interview with the portal
Defense News
reports that program execution slip is related to several factors. One of these problems is associated with underfunding. It's hard to imagine, but with the almost 700 billionth US military budget, programs are discovered that are not implemented due to lack of funds.
It turned out that the company, which acted as a contractor for equipping armored vehicles of the US Army with modern radars to track "rocket activity", announced "making changes to the design of the radar and the need for additional testing." This led to an increase in the timing of the introduction of anti-missile systems, as well as to the fact that the program began to go beyond the original budget.
It is reported that the Pentagon agreed not to force the events - they gave the contractor time to "re-equip the radar."
However, later it turned out that the missile defense system itself for armored vehicles, of which the new radars are a part, was initially "raw" in terms of the effectiveness of the program components. A contractor simply went to the trick - having received as a result the opportunity to refine the system, as well as to inflate the cost after the conclusion of the contract.
It is known that initially the modernization program for American armored vehicles involved the use of Israeli active defense systems "Trophy" from "Rafael" for
tanks
"Abrams", "Iron Fist" (IMI) from IMI for the Bradley BMP, as well as the American Iron Curtain system (Iron Curtain) for the Stryker armored vehicles. All of these missile defense systems had to go through software upgrades and improve efficiency.