The Turkish army continues military operations in northern Syria - in the area of ​​the city Afrin. Combat operations of the Turkish Armed Forces are conducted jointly with the so-called Free (Liberation) Syrian Army against the Kurdish armed forces PYD / PKK. Today, clashes are taking place in the area of ​​Mount Bursay - the north-western part of Afrin.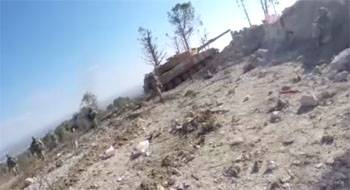 The mountain is covered with sparse vegetation, there were also buildings on it. Previously, several buildings in which Kurdish armed groups took refuge were destroyed by Turkish artillery. In the area of ​​Mount Bursey, Turkish
Tanks
, which in such conditions are used primarily for covering infantry.
Kurdish detachments in response carry out rocket attacks on the territory of Turkey. Today around 10: 20 local time, as reported by the Information Service
Anadolu
, frontier Kilis was shelled. The rocket exploded on Shih Mehmet Street without causing harm to the health of its inhabitants.
Against this backdrop, on the American television channel FOX, which is considered the most loyal to Donald Trump, a statement was made about the need to exclude Turkey from the NATO military bloc. Such a statement was made by a former US Army soldier, now a military analyst - Lt. Col. Ralph Peters. According to him, "Turkey's behavior is such that it has no place in NATO".
Lt. Col. Peters said that under the NATO charter, the United States should help Turkey as an ally, but at the same time, Turkey attacks the Kurds, who are allies of the United States in Syria.
Military expert:
The Kurds are the second largest ally in the Middle East after Israel.
Ralph Peters:
Is it not easier in this case to exclude Turkey from the North Atlantic alliance?
Attention is drawn to the fact that the host of TV Lisa Kennedy actually supported the statement of the American officer.