Tankers of the Russian military base deployed in Abkhazia fired live from modern
tanks
T-72B3, transmits
RIA News
message of the press service of the Southern Military District.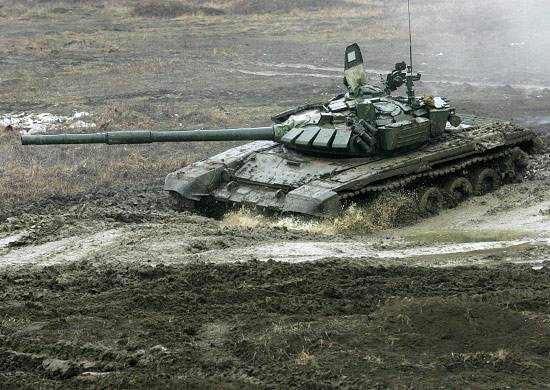 Tankers of the Russian military base of the Southern Military District (South-East Military District), located in Abkhazia, as part of the combat readiness check of the units, carried out combat shooting from modern T-72B3 tanks. The main purpose of the event was to consolidate the skills of tank crews in support and maintenance of motorized infantry in the defense and in the offensive,
says release.
It is reported that "during firing, military personnel from the guns of combat vehicles from the spot and in motion hit up to 100 appearing and moving targets, as well as near 20 air targets from large-caliber machine guns" Kord "mounted on equipment".
When shooting in the dark, the crews used regular tank night vision devices with thermal imagers. The maximum distance to the objects of fire was five kilometers.
The district also noted that "during the shooting, the T-72B3 driver mechanics improved their skills in driving tanks in difficult terrain and overcoming various obstacles, such as limited mine-bombardment passages, gauge bridges and ravines."
A total of 100 military personnel from the base and up to 30 heavy armored vehicles were involved in the exercise.