The Russian Defense Ministry has decided to comprehensively upgrade the 2-7 "Peony" self-propelled artillery systems developed in the 1970s, according to
News
.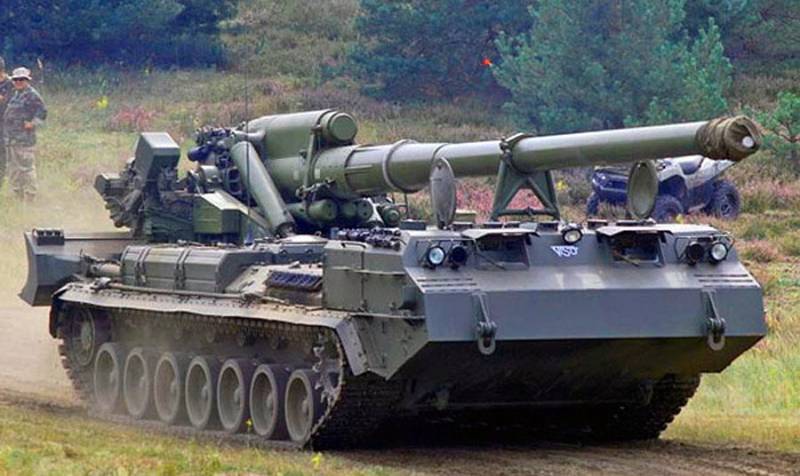 "A large-scale modernization of the Pion artillery systems of 203 mm caliber began. A key element of the update self-propelled guns capable of hitting enemy targets at a distance of 50 km, will be a more advanced combat fire control system. The composition of the divisions of heavy-duty artillery systems in the future will include unmanned reconnaissance vehicles. They will help to direct the guns to the target, "the newspaper writes with reference to the military department.
The Volgograd enterprise Barrikady, which is part of the UralVagonZavod corporation, is involved in the modernization works of Pions.
The weight of the artillery system is more than 45 t, the 2А44 gun has a mass of 14,6 t and a length of 11 m. The unit is capable of producing up to five projectiles in two minutes, each of which weighs about 110 kg.
According to the editor-in-chief of the magazine Arsenal of the Fatherland, Viktor Murakhovsky, the digitization of high-power artillery control systems is an important element of army re-equipment.
Such a modernization allows the artillery divisions to be included in the single reconnaissance and fire circuits of the combat control of our troops. As shown by the fighting in Syria, this reduces the time of preparation and combat use of shock systems. The interval from identifying the target and setting the task for its destruction to a volley is reduced by 3-5 times, the expert said.
noted that for the effective use of 203-millimeter guns at maximum range, new types of projectiles are also needed.
Such developments are underway. High-precision projectiles using various technologies to improve the accuracy of firing, such as radioballistic, corrected, including the use of satellite navigation, are being created. As a result, the most powerful guns become a high-precision scalpel, which at ranges of several tens of kilometers will be able to precisely hit 1-2 with shells of important enemy targets, Murakhovsky said.