Damascus asks UNESCO to stop the bombing of Turkey in order to preserve the cultural heritage in the region of Afrin. The CAA has advanced in the city of Abu Duhur under the guise of the RF AUC. Reports about it
FAN
with reference to Syrian sources.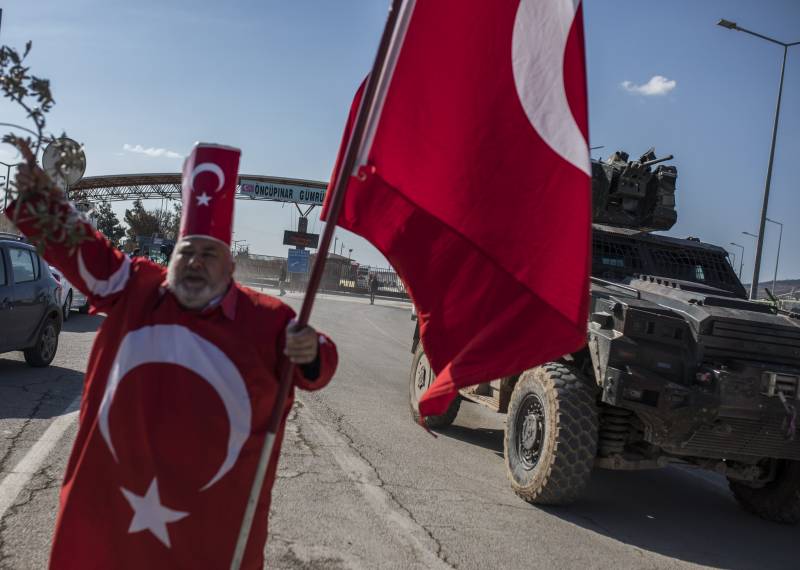 On the Turkish-Syrian border
In the province of Aleppo, the main hostilities unfolded again in the canton of Afrin. after the Bersaya mountain range came under the control of the Turkish divisions and the allied Syrian Free Army (FSA), the combined forces of the Turks and the SSA began to strengthen the positions they had taken, fearing possible counter attacks from the YPG. The Syrian news agency reported the killing of 80 civilians, as well as serious damage to infrastructure, residential areas and ancient monuments as a result of Turkish air raids. Recall, the SAR government perceives Ankara's invasion as a violation of its own sovereignty.
However turkish
aviation
continued to conduct air attacks in the Kurdish canton of Afrin. The positions of Kurdish detachments near the Menah air base were hit. The fighting took place near the settlements of Raju, Bulbul, Ain Dakna and Shaala. During the confrontation, the forces of the YPG lost the village of Ushagi. As a result of continuous bombing of the Turkish Air Force, the ancient
historical
the monument is the temple of Ain Dara of the goddess Ishtar. Additional equipment was deployed from Turkey to support the Allied SSA units.
In the province of Deir ez-Zor, the bombing of American aircraft was resumed. Under the attacks were the settlements of Al-Shafaa and Al-Bahra, where the presence of terrorists had previously been noticed. As a result, at least 30 civilians died, another 20 suffered. About two days ago, coalition aircraft also carried out combat missions in the Al-Shafaa area. Then the victims of the alliance were 15 civilians.
In the past 24 hours, the Syrian Arab Army (CAA), under the guise of the Russian Aerospace Forces, has advanced significantly in the area of ​​the city of Abu Duhur, Idlib province. Initially, Tal Abu Izzo and Mazraha Abu Izzo passed under the control of government forces, and then the settlements of Dahrat Khafiyah and Jafar Al Khafiyah. Aviation of the Russian VKS and Syrian Air Force conducted a series of combat sorties in the south of the region. Thus, the strongholds of the radicals near the city of Khan Sheikhun were subjected to air strikes by military aircraft.