The rescuer submarine "Commune", which was launched in 1913 year, went to the exercises in the Black Sea. In accordance with the combat training plan, he will work out the actions of a single ship at sea for its intended purpose - training divers at a depth of 40 meters. It is reported by the press service of the Southern Military District.
Within a few days, the ship, adapted to the basing of habitable rescue vehicles or a deep-water worker uninhabited complex "Panther Plus", will work out practical interaction with the crew of the underwater inhabited search and rescue apparatus АС-28
- it is spoken in the official report of military department.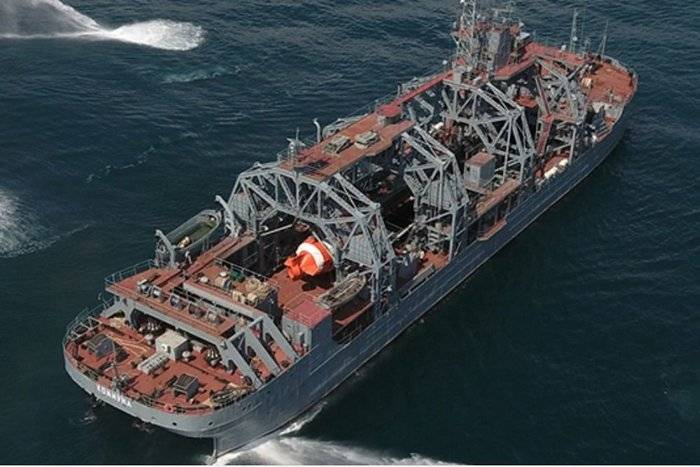 Note that the mobile complex of the remote-controlled uninhabited underwater vehicle "Panther Plus" is capable of diving to a depth of 1000 meters. The control is carried out by the pilot from the board of the surface vessel. To search for sunken objects, the drone uses a round-scan sonar with a range of up to 300 meters. In addition, the device is able to lift to the surface up to 105 kilograms of cargo.
The submarine rescuer Kommuna is the oldest and only functioning ship of the Russian Navy, which has been in operation for more than a hundred years. The Volkhov catamaran (the original name of the "Commune", renamed in 1922) was laid down on November 12, 1912, and on July 14, 1915, it entered the Baltic
fleet
. For the first time, the ship was commissioned in 1917 when lifting the English submarine AG-15 off the Aland Islands. During the Great Patriotic War, the Commune provided repairs for submarines, including the docking of submarines of the Baby type. In 1967, it was relocated from Kronstadt to Sevastopol. The vessel underwent modernization, as a result of which modern rescue equipment, including the Panther Plus underwater robot, was placed on board and continues to serve as part of the search and rescue forces of the Black Sea Fleet, Rossiyskaya Gazeta reports.