In any war, of course, water is one of the most essential things for any soldier except for ammunition, grenades, rations. This is not surprising, since an adult needs to drink only about 2 liters of water per day for drinking, and about 4-5 liters come out with cooking and hygienic needs. Without water, a person can live no more than 10 days, and loses combat effectiveness from dehydration somewhere on the second day.
Therefore, when separate divisions and units fell into conditions of severe water shortages, dramatic and bloody battles unfolded for it, when they paid for a bucket of water with a bucket of blood. This was most vividly and revealingly manifested, for example, during the siege of the Adzhimushkay quarries in the summer of 1942. The only well was outside, under the control of the Germans, and in order to get water it was necessary to take the well every time by storm. Inside the quarries, the most desperate efforts were made to collect water. Although the quarries were dry, the limestone was wet. They collected water from the vodokap, specially selected people literally sucked the water out of the walls: they punched a small hole in the limestone, applied to it, pulled out the water, and spat it into a mug or pot.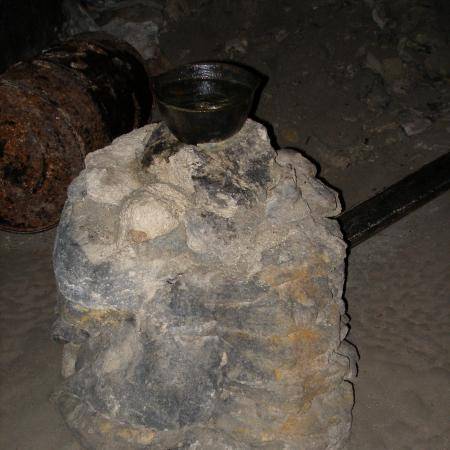 Adzhimushkay quarries. Vodokap.
At one time, I was struck by a 15-meter well, cut down by demining shovels and bayonets in solid limestone inside the stone quarry (pictured below).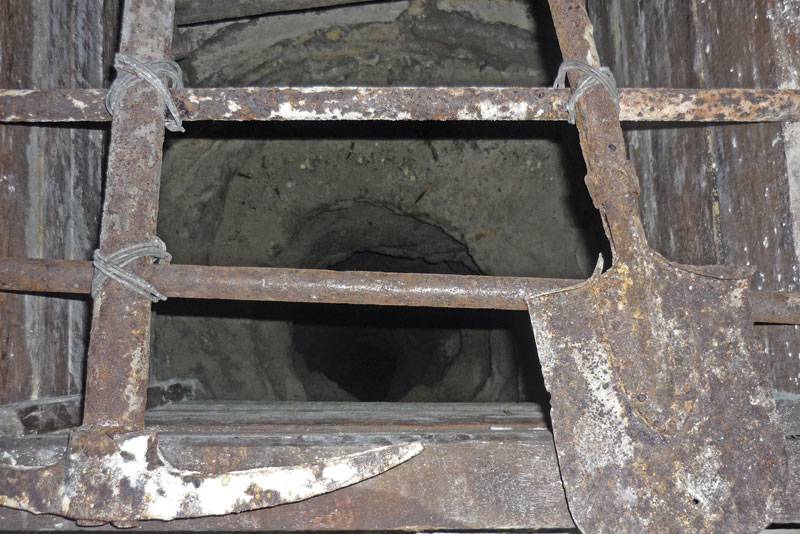 The experience of war shows that the battles for water, if they began, always acquired a fierce and tenacious character. But even if there were no such extreme cases, still the campaign for water often turned into a combat operation. During the Chechen war, gunmen ambushed along the river to bombard soldiers who had come to fetch water. In the battle for Grozny, even the water from Sunzha became a luxury for some units, and the soldiers drank water from holes and funnels.
In general, almost any fight in the conditions of the city is under water scarcity. There are few water sources, the water supply usually fails in the first days of the fighting, and the remaining water supplies and tanks are quickly used up by the soldiers of both warring parties and local residents. After a few days of fighting, water in urban fighting becomes a great value. Outside the cities there are more opportunities to replenish water: there are small rivers, springs, lakes or swamps, sometimes you can dig an improvised well, in winter you can collect snow. But these opportunities are acquired by the fact that water has to be brought from afar, for hundreds of meters and even for kilometers from positions.
Of course, among the military property there are quite a lot of various water tanks, there are tank trucks, field kitchens, a variety of water filtering and disinfection facilities, right up to the VFS-10 military filter stations, and various water tanks. like RDV-40, RVD-1500 or RDV-5000 (index indicates capacity in liters). However, motorized rifle units, as shown by experience of wars, usually use other water tanks. In addition to the standard flask with a capacity of 900 grams, a pot with a capacity of 1500 grams of water, 10-liter buckets, 20-liter cans or 38-liter aluminum flasks are used. These types of containers are very good and tested in practice. For example, the Soviet 38-liter aluminum flask, tightened with steel hoops and equipped with a sealed cover with a rubber sealant, is a good example of a reliable, workable capacity.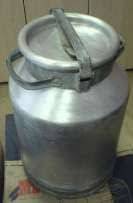 In the Afghan war, it was the most common type of tank under water used by motorized rifle units. Sometimes you can see in the photographs such a flask, bolted with wire to an armor of an BTR or BMP. If it is holed in an exchange of fire - it does not matter, the hole can be plugged with a wooden chopik.
But these containers have one, extremely serious flaw: they are very inconvenient to carry. For example, a flask should be carried by two people, taking it by the short side handles. Its total weight with water is 46,5 kg, that is, 23 kg for each porter and all this weight falls on the arm and ligaments. Hands quickly get tired. In addition, when carrying the flask clings to the legs. To take it on the shoulder does not allow a lot of weight, a rather large diameter (38 cm), and this technique is available only for a very strong person. The 20-liter canister is more convenient, but when you carry it, all the weight falls on the arm and is very inefficiently distributed to the muscles of the forearm, back and hips. Carrying jars or cans, even hundreds of meters, turns into hard, exhausting work.
Generally, reviewing the army WFD, it is impossible not to notice that their creators were clearly influenced by the high motorization of the Soviet army and supplied the army with tanks that need to be transported, not dragged. Ergonomics and rational carrying of weights were completely ignored, and the designers did not think what they would carry, especially over long distances.
The second drawback of these tanks is that it is difficult to draw water from natural sources, even from rivers. To pour it, you have to immerse the container in water. If the water is drawn from a shallow source, such as a brook or lake, you have to draw a mug or pot for a long time, often with silt and mud. It is clear that the longer the process of water gathering lasts, the more opportunities for the enemy to notice water carriers and fire them. At the same time, the water carriers themselves are virtually defenseless and they need protection. Therefore, in combat conditions, in order to collect several flasks or canisters of water, it is necessary to detach a whole compartment, or even more, taking it away from other tasks. In a battle, when every fighter counts, the extraction and delivery of water becomes a non-trivial problem.
Overlooking the entire set of army water tanks, the absence of a specialized collective tank capable of providing water for the day separation is evident (at the drinking standard, 8 liters of water will be needed for a person from 16), while conveniently taking water from natural sources and carrying it to long distances. The only thing more or less suitable for this task is the X-NUMX-liter army thermos T-12, with a total weight of 12 kg. There are thermoses and more, but only this type is provided with shoulder straps for shoulder wear, the most comfortable and rational (although, we note, the design of the shoulder straps is far from ideal). But thermoses have their own important task - carrying hot food. In addition, thermoses also can not solve the problems of a convenient and fast set of water.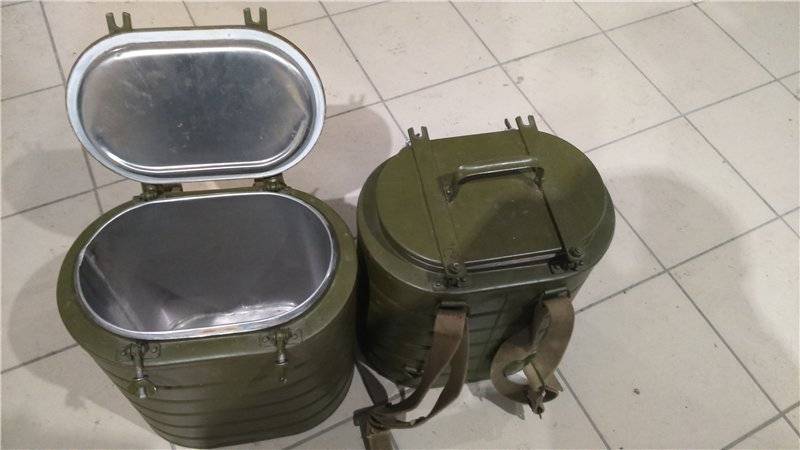 Thermos T-12
So, in the military equipment there is a serious gap - the lack of a collective water tank, convenient for speed dialing from sources, long-distance carrying, disinfection and distribution of water. But such a capacity can be created rather quickly and put into the set of equipment, if we describe the demands put on it.
Firstly, the capacity is about 20 liters, which is enough for a motorized rifle squad. Full weight must not exceed 25-28 kg. Secondly, the container should have shoulder straps to be carried behind the back, similar to the straps of an anatomical backpack, so that the body of the container does not touch the back or hips of the aquifer. Then the tank can be taken in long foot marches, carry it easily and conveniently, without reducing the combat capability of the soldier, who has his hands free. Thirdly, it should be a thermos-container, with thermal insulation. This is required to preserve the chilled water, because when it is heated in water, the oxygen content sharply decreases and it does not saturate and refreshes. Anyone who drank warm water from flasks, knows how disgusting her taste is. The heat insulation of the container will keep the water cool. Fourthly, the container should have not only an upper neck with a screw cap, but also a lower dispensing tap, closed by a folding cheek, so that it can be distributed without loss over the pots or flasks.
Finally, fifthly, and most importantly, the tank should be equipped with a hand pump and a flexible, corrugated hose, similar to a gas mask hose, about a meter long 1-1,5 (the exact size can be selected by testing) that retracts into the container body cavity under the lid. A hand pump with a hose gives the aquifer a decisive tactical advantage. For a set of water, two people are enough: one carries a container, the other guards it. When water is used, one pumps water, the other with
weapons
at the ready monitors the situation. Fighters can change roles. The pump should be designed to allow water to be pumped with one hand while lying down - this will allow water to be taken secretly from a shelter near a water source. The hose should also have a receiving nozzle that allows you to take water from small sources, pits and funnels from the very surface of the water, equipped with a coarse filter for cleaning from sludge and dirt. If necessary, the water can be disinfected by throwing the right amount of special tablets into the container through the neck.
In combat conditions, such a capacity will allow extracting and delivering water with minimal labor and time, with minimal allocation of fighters for this task, as well as covertly, with the lowest possible risk. This is especially important if the motorized rifle squad operates in isolation from its armored vehicles, for example, in combat in the city, on the march, in a raid or in ambush. Having collected such containers from all departments and having transferred them to a temporary separate department or summary group, it is possible to provide an entire company with water for two flights a day, with the possibility of bringing water from a distance. This can already be a very serious tactical advantage over the enemy.